Six dead in New Zealand hostel fire as survivors had to choose whether to 'jump out the window or just burn'
Four-storey, 92-room Wellington hostel was almost fully occupied at time of 'once in a decade' fire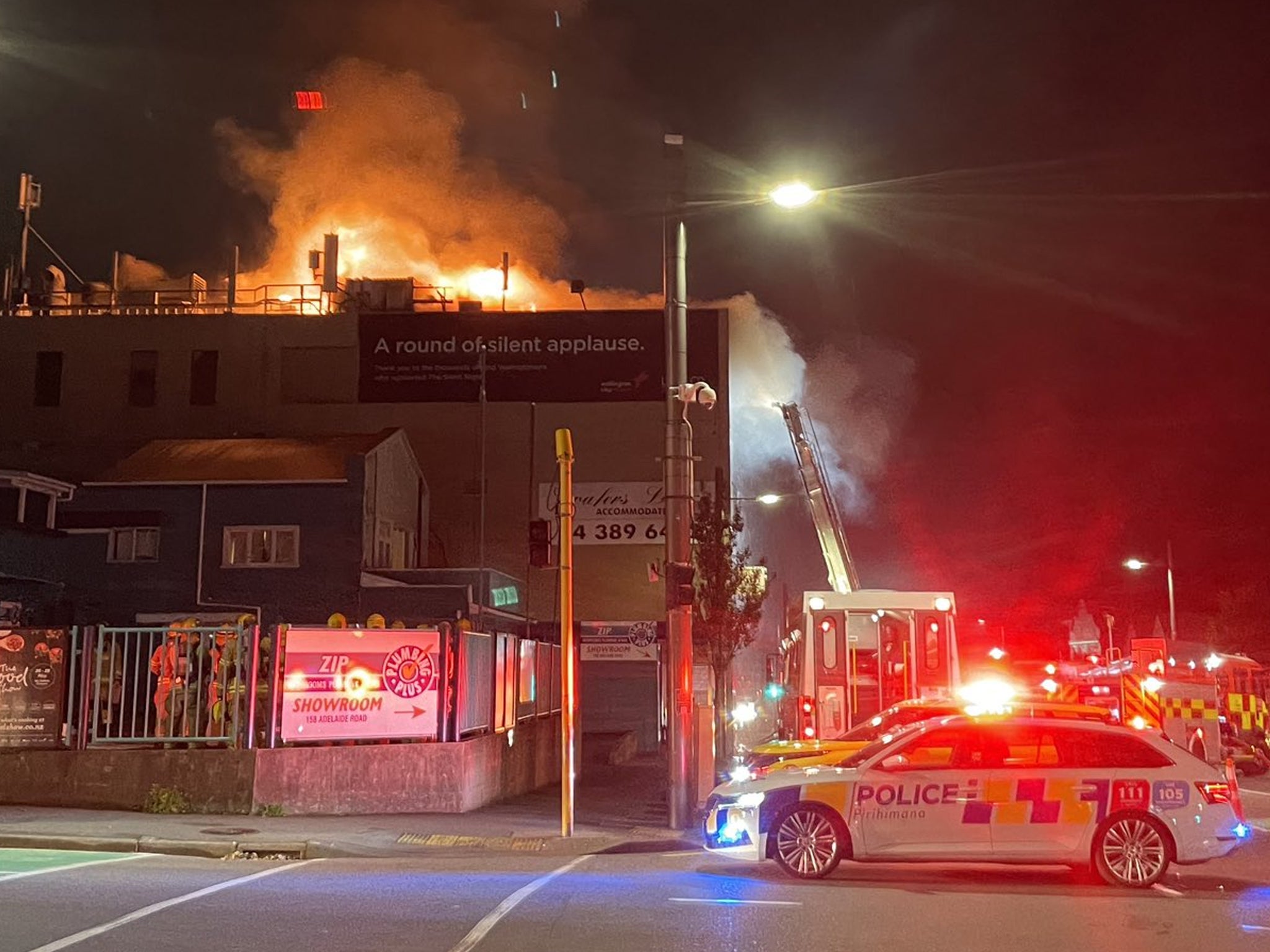 At least six people have died and 11 more remained missing on Tuesday after a fire broke out at a four-storey hostel housing vulnerable people in New Zealand.
Emergency services were called to the Loafers Lodge hostel in the capital city of Wellington just after midnight local time on Tuesday 16 May.
Though dozens escaped safely from the building, with some having to be rescued from the roof, officials said there were still 11 people unaccounted for as well as six confirmed dead.
"I understand six confirmed previously, and it looks like there are likely to be more," prime minister Chris Hipkins said.
A local charity said that many of the hostel's residents had been vulnerable people under its care, describing the fire as "an absolute disaster".
The rescue was impeded by safety concerns about firefighters entering the flame-gutted and partially collapsed building, which reportedly had no sprinkler system.
Officials said that the hostel was full nearly to capacity when the fire broke out, with only a small number of its 92 rooms not booked.
"It doesn't get worse than this," said Nick Pyatt, district manager for New Zealand's national fire and emergency agency FENZ.
"This is a once-in-a-decade fire for Wellington. It's the worst nightmare for us... my heartfelt condolences go to the loved ones of those who have lost their lives."
FENZ deputy national commander Brendan Nally said many residents had not had a clear exit path from the building.
"They had difficulty getting out, and unfortunately and tragically quite a few haven't got out," he said, according to Radio New Zealand.
As of Tuesday evening local time, 52 people had been taken out of the building and five had been rescued from the roof, while 11 others were unaccounted for.
The survivors were being treated at local hospitals and those left without a roof over their heads were being cared for by local agencies.
One resident told New Zealand broadcaster 1Newz that some residents were 80 or 90 years old, and that he was concerned about whether they got out.
"I grabbed my hat on the way and just started crawling," said the man, who asked to be named only as Chris.
"It was hard to crawl because there was only that much airspace on the ground. For me, it was hard, just that little distance – it was a struggle."
Tala Sili, a resident of the lodge, told news outlet RNZ that he saw smoke pouring through under his door and opened it to find the hallway pitch black.
"I was on the top floor and I couldn't go through the hallway because there was just too much smoke, so I jumped out the window," Mr Sili said. "It was just scary, it was really scary, but I knew I had to jump out the window or just burn inside the building."
He said he fell onto a roof two floors below.
Other residents told Radio New Zealand that the fire alarms would often sound without explanation, meaning many residents learned to ignore them. On Tuesday morning, they said, no alarm went off.
Mr Hipkins said the toll was especially heavy given Wellington's relatively small population of 212,000.
"This is a major event. We've not seen something on this scale in recent times," he said.
"Wellington is a small community and... it's a very tight-knit community. People will be feeling this today."
The prime minister told news reporters that a "number of investigations" will be carried out but the focus currently remains on "dealing with the situation."
"It is an absolute tragedy. It is a horrific situation," he told reporters.
"In the fullness of time, of course, there will be a number of investigations about what has happened and why it happened. But for now, the focus clearly has to be on dealing with the situation."
Australian prime minister Anthony Albanese told reporters he had spoken with his New Zealand counterpart and offered Australian assistance.
"This is a dreadful human tragedy," Mr Albanese said. "I expressed my condolences on behalf of Australia to our friends in New Zealand at this very difficult time."
Join our commenting forum
Join thought-provoking conversations, follow other Independent readers and see their replies