Eighth wonder of world 'rediscovered' in New Zealand after years of painstaking research
Pink and white terraces of Lake Rotomahana on North Island, which had been a major Victorian tourist attraction, were believed to have been lost in an 1886 volcanic eruption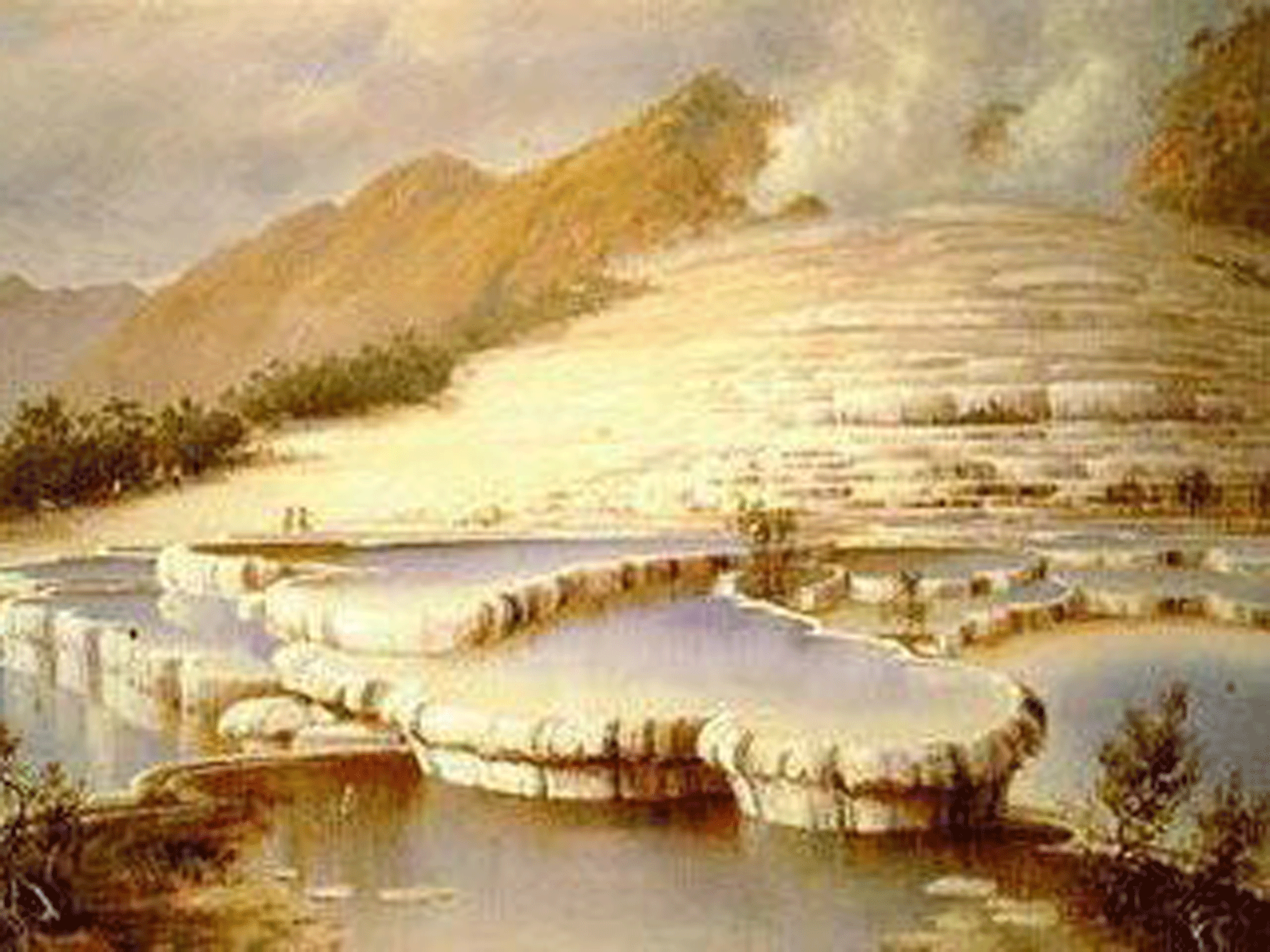 The location of the long lost "eighth wonder of the world" has been rediscovered in New Zealand, researchers claim.
The pink and white terraces of Lake Rotomahana, on the country's North Island, were a major tourist attraction in the 1800s and people travelled from far and wide to see them. It was thought they had been destroyed by a volcanic eruption in 1886 and as they were never surveyed by the government of the time, there was no record of their latitude or longitude.
But the 2010 discovery of a geologist's long-lost diaries in a Swiss collection has allowed researchers to estimate their location, to within 35 metres.
"We have put in 2,500 hours of research in the last 12 months," one of the team, Rex Bunn, told the Sunday Star Times. "We're confident, to the best of our ability, we have identified the terrace locations. We're closer than anyone has ever been in the last 130 years."
The diary was found by Dr Sascha Nolden in the Hochstetter Collection, based in the Swiss city of Basel. It belonged to Dr Ferdinand von Hochstetter, a respected geologist who was employed by New Zealand's government in 1859 to survey the islands. He recorded the bearings of the terraces.
But the 2,000 acre lake area was never officially surveyed and the landscape changed dramatically after nearby Mount Tarawera erupted 27 years later.
World news in pictures
Show all 50
After discovering the diary, the researchers translated and interpreted the works, using a variety of complex geological methods. Publishing their findings in the Journal of the Royal Society of New Zealand, they wrote that they believe the terraces were covered by ash during the eruption and lie at least 10 metres below the surface of the ground next to the lake.
Conventional wisdom was that the volcano had destroyed them. But Dr Nolden and Mr Bunn believe that the terraces are likely to be intact, although. final imaging proof is needed. They also think that they could be restored and turned into a landmark again. "The pink and white terraces may in some small way return, to delight visitors to Rotorua as they did in the 19th century," Mr Bunn said.
The researchers said the local Tuhourangi tribal authority is supportive of their efforts and they are now trying to organise an excavation of the site.
Join our commenting forum
Join thought-provoking conversations, follow other Independent readers and see their replies