World's richest woman Gina Rinehart 'tried to co-opt Australian media'
Mining magnate accused by government of trying to use newspapers to promote her interests
Kathy Marks
Wednesday 20 June 2012 09:34 Comments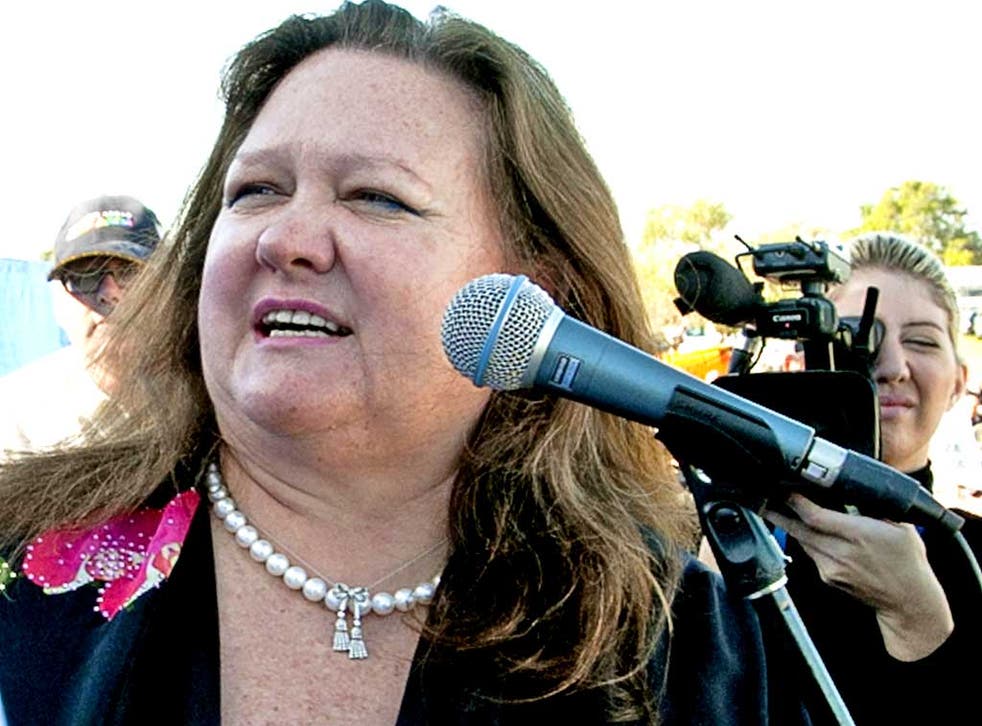 The Australian government launched a bitter attack yesterday on Gina Rinehart, the iron ore magnate recently crowned the world's richest woman, accusing her of seeking to turn the country's oldest newspaper group into a mouthpiece for her business interests.
Ms Rinehart, who has just increased her stake in Fairfax Media to 18.7 per cent, is reportedly demanding three seats on the board and editorial control, including the right to hire and fire editors. Her raid coincided with the announcement of massive job cuts at the ailing company, which publishes Australia's most venerable newspapers, The Sydney Morning Herald and Melbourne's The Age.
A vocal critic of the Labor government – particularly its introduction of a special tax on the "super profits" of coal and iron ore companies – she has made no secret of her desire to influence public debate. The Treasurer, Wayne Swan, warned yesterday that "that has very big implications for our democracy". Stephen Conroy, the Communications Minister, accused Ms Rinehart of trying to turn Fairfax into the "Mining Gazette".
The gloom within Australia's newspaper industry could not be deeper, with Fairfax staff reeling from news that 1,900 jobs are to disappear, and the other main group, Rupert Murdoch's News Ltd, poised to announce similar cuts.
Newspapers are struggling to cope with plummeting circulation and advertising revenues. The restructuring plan announced by Fairfax's chief executive, Greg Hywood – which will see two big printing presses closed, the broadsheet Herald and Age go tabloid and readers charged for online content – will shift the company's focus from print to digital. In their heyday, the Herald and Age were hugely profitable, thanks to their so-called "rivers of gold": the revenue from classified advertising. But the rivers dried up as advertisers migrated online, and Fairfax's share price has dropped by 87 per cent over the past five years. The overhaul of the company is aimed at saving A$235m (£152m) a year from 2015.
That is small change to Ms Rinehart, whose fortune was estimated last month by Fairfax's BRW magazine at A$28.5bn. However, the mining tycoon wants not only money but power. She already owns 10 per cent of Channel Ten, a TV network, and was reportedly instrumental in helping her favourite right-wing commentator, Andrew Bolt, secure his own show.
At Fairfax, editorial independence is protected by a 20-year-old charter – which Ms Rinehart has refused to sign. For that reason her demand for seats on the board has been rebuffed.
Noting that she and her powerful allies "reserve the right to impose their political views" on Fairfax, Mr Swan said: "I think we should all be very concerned at this turn of events."
The opposition communications spokesman, Malcolm Turnbull, said the company's business model would be dramatically undermined if it were "seen to be a mouthpiece for Gina Rinehart and the mining industry".
Register for free to continue reading
Registration is a free and easy way to support our truly independent journalism
By registering, you will also enjoy limited access to Premium articles, exclusive newsletters, commenting, and virtual events with our leading journalists
Already have an account? sign in
Join our new commenting forum
Join thought-provoking conversations, follow other Independent readers and see their replies