Banana fungus could be 'potentially devastating' if it spreads across the Americas, warn experts
Dr Gert Kema says the need to find new variety of disease-resistant banana is 'extremely pressing' as the prodcution of the world's favourite fruit is at risk 
Chloe Farand
Sunday 24 January 2016 19:21 Comments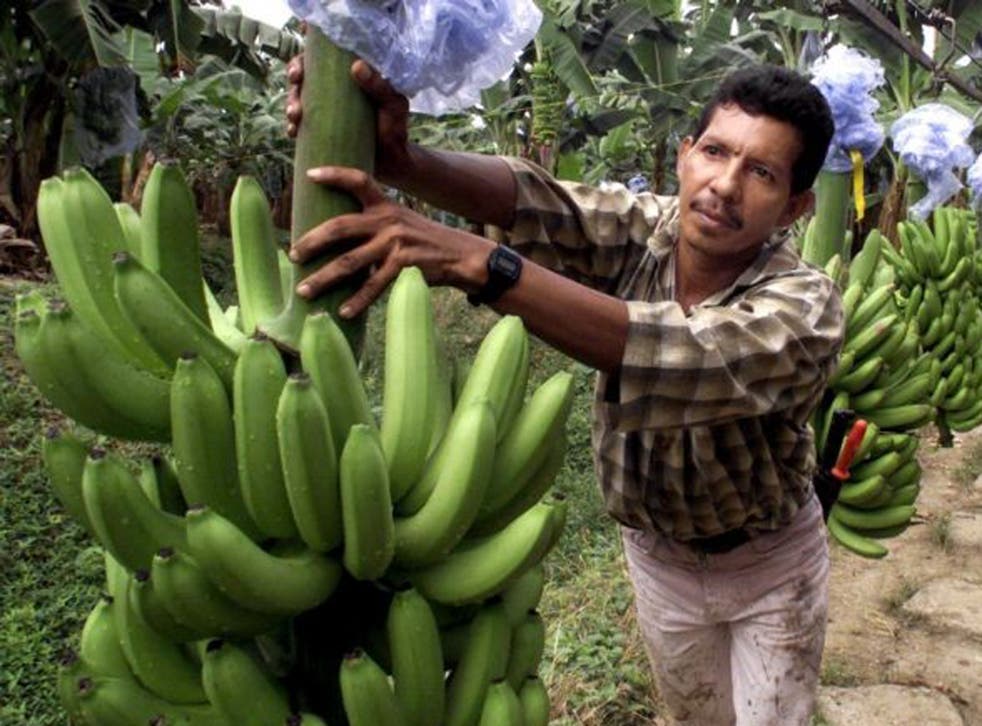 The spread of a banana disease to the American continent could have a "potentially devastating" impact on the global production of the world's favourite fruit, an expert has warned.
A fungus, dubbed Tropical Race 4, has already decimated the crop in Southeast Asia over the last decades and is now threatening to wipe out banana crops across the globe.
The Tropical Race 4 has had a damaging effect for growers in places like the Philippines and awareness about the disease is growing in the Americas, which have not yet been hit, explained Alistair Smith, international co-ordinator for Norwich-based Banana Link, a group which works with growers and farmers around the world,
"The potential for devastation if it does reach them is almost total," he told the BBC.
This is why, finding a new variety of disease-resistant banana, is "extremely pressing" warned Dr Gert Kema, an expert in global plant production from the Wageningen University and Research Centre in the Netherlands.
The Cavendish banana, a small variety of the fruit, cloned after the banana crop of the Cavendish family's plantation in Chatsworth House in the Peak District, is exported to nearly all foreign markets and is affected by the disease.
A quarter of bananas consumed in India and nearly all bananas eaten in Europe, the UK, North America and China are Cavendish bananas.
"I try to avoid dramatising this story but look at what happened previously with the Gros Michel," Dr Kema told the BBC.
The Gros Michel was a variety of banana largely consumed in the first half of the 19th century, until a deadly illness called the Panama disease wiped out almost all banana plantations in Central and South America.
Despite the best efforts of growers, the most flavourful of fruits became virtually extinct, according to Panama Disease.org.
The organsiation reports 10,000 hectares of Cavendish bananas have alreday been destroyed and warn many more plantations are at risk if the fungus is not stopped.
"If that happens again we have a very serious issue, and it is happening now," said Dr Kema.
The expert explained supermarkets in the UK will not run out of bananas in the next couple of weeks, but finding a new disease-resistance variety will take some time."
Dr Kema said the solution to the crisis was to contain the epidemic thanks to advanced technology and urgently find a genetically-diverse banana, which would be resistant to the disease and would be more likely to survive wide-sweeping epidemics.
"We have nothing to replace the Cavendish right now," he added.
In the meantime, bananas continue to grow at the Chatworth House's plantation in the UK, where they are used for private consumption.
Register for free to continue reading
Registration is a free and easy way to support our truly independent journalism
By registering, you will also enjoy limited access to Premium articles, exclusive newsletters, commenting, and virtual events with our leading journalists
Already have an account? sign in
Join our new commenting forum
Join thought-provoking conversations, follow other Independent readers and see their replies