Reports Syrian regime hanged 13,000 prisoners branded 'fake news' by Bashar al-Assad
'Amnesty International, it is always biased and politicised and it is a shame for such an organisation to publish a report without a shred of evidence' the Syrian leader says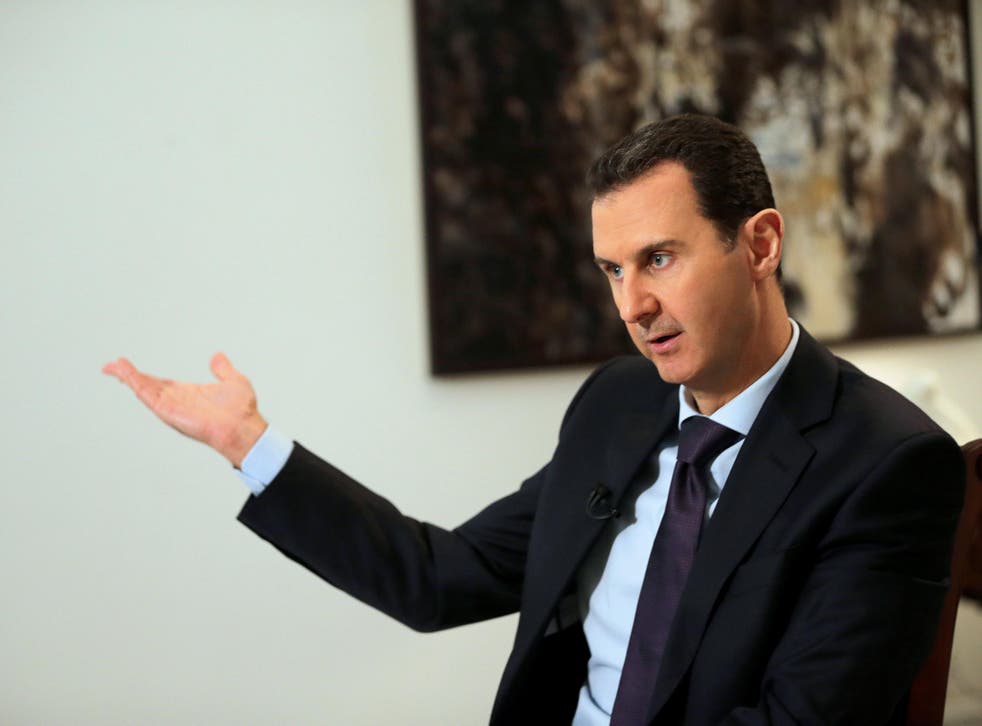 An Amnesty International report which claimed that up to 13,000 people have been hanged in a Syrian prison as part of an "extermination" campaign, has been called "fake news" by the country's president, Bashar al-Assad.
The Syrian leader insisted it had been fabricated on fake allegations in a bid to undermine the government.
"Put into question the credibility of Amnesty International, it is always biased and politicised and it is a shame for such an organisation to publish a report without a shred of evidence, he told Yahoo News. "They haven't been to Syria, they only made their reports on allegations. You can forge anything these days - we are living in a fake news era."
Amnesty's report said that mass hangings were taking place at the Saydnaya Prison on the outskirts of Syria's capital Damascus, was part of a systematic campaign of torture and "extermination" against dissidents.
Detainees referred to the prison as "the slaughterhouse", it said, adding that the hangings had been authorised by officials at the highest level government from 2011.
Amnesty International carried out 84 interviews to compile the report, which included 31 men who were detained at Saydnaya and four prison officials or guards who previously worked at the prison.
They also spoke to, three former Syrian judges, three doctors who worked at Tishreen Military Hospital, four Syrian lawyers, 17 international and national experts on detention in Syria and 22 family members of people who were or still are detained at the prison.
The human rights organisation is barred from entering the country by the Syrian authorities and so interviews were carried out in southern Turkey, via telephone or by other remote means.
But Mr Assad accused the organisation of having deliberately fabricated information.
"They said it is based on interviews but what about the documents," he said. "What about the concrete evidence?
He added: "It means nothing. When you make a report you need evidence, concrete evidence. You can make any report and pay money to anyone."
Previously, the justice ministry claimed the findings were "totally untrue" and were part of a smear campaign, in a statement published by state-controlled media.
Asked whether he knew what was going on inside the prison and whether he had been there, Mr Assad replied: "No, I have been in the Presidential palace".
He added that the US had no grounds on which to condemn Syria for human rights abuses considering its own record.
"The US is in no position to talk about human rights since the Vietnam War. Since that moment, when they killed millions of civilians and 1.5 millions in Iraq without any assignment by the Security Council," he said.
"Your own the questions, I own the answers," the Syrian President also told his American interviewer.
Aleppo before the Syrian Civil War

Show all 12
Executions by the Syrian government or by affiliated institutions were "legal actions" following a trial, he insisted.
After the report's publication, Boris Johnson said he was "sickened" by the reported executions, adding: "Assad responsible for so many deaths and has no future as leader."
The report covers the period from 2011 to 2015, when Amnesty said 20 to 50 people were hanged each week at Saydnaya Prison in killings authorised by senior Syrian officials, including deputies of President Bashar al-Assad, and carried out by military police.
The report referred to the killings as a "calculated campaign of extrajudicial execution".
Before detainees were hanged, the victims were allegedly condemned to death in "trials" lasting between one and three minutes. The decisions were made without the presence of a lawyer and the victims were not given any information about their sentence, the report said.
Register for free to continue reading
Registration is a free and easy way to support our truly independent journalism
By registering, you will also enjoy limited access to Premium articles, exclusive newsletters, commenting, and virtual events with our leading journalists
Already have an account? sign in
Register for free to continue reading
Registration is a free and easy way to support our truly independent journalism
By registering, you will also enjoy limited access to Premium articles, exclusive newsletters, commenting, and virtual events with our leading journalists
Already have an account? sign in
Join our new commenting forum
Join thought-provoking conversations, follow other Independent readers and see their replies