Mysterious oil spill marks fresh environmental crisis for Brazil, affecting more than 100 beaches
Emergency may lead to renewed scrutiny of president Bolsonaro's controversial environment policies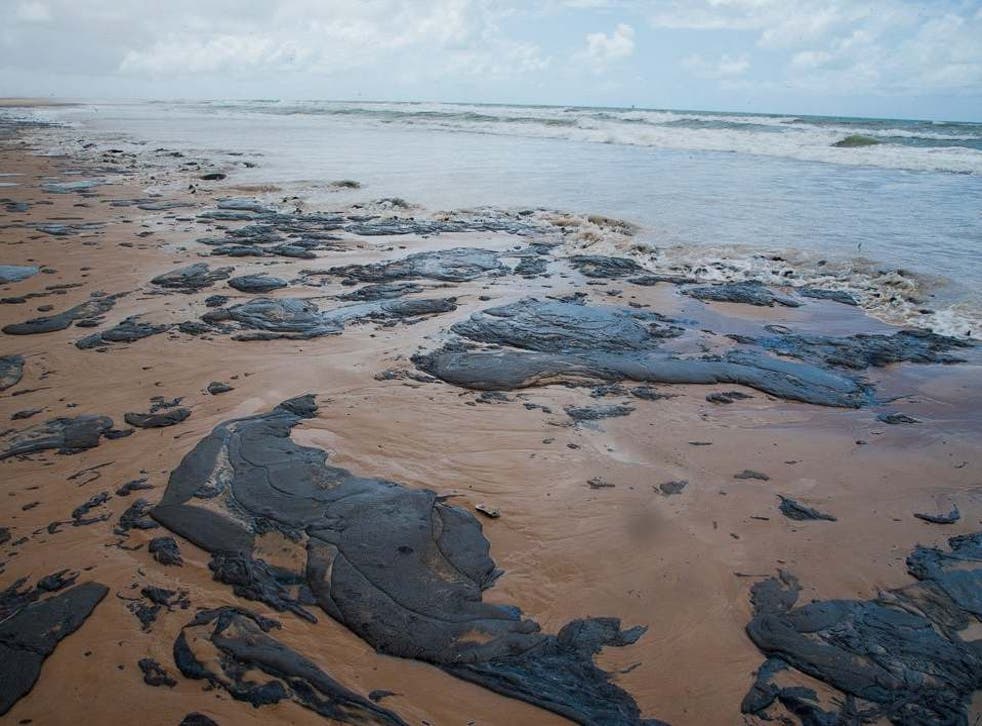 A mysterious oil spill that has polluted shores along a vast area of Brazil's northeast may have resulted from unspecified criminal activity, and a foreign country could be responsible, President Jair Bolsonaro said on Tuesday.
An estimated 100 tons of crude has drifted towards land since early September, polluting some of the country's most pristine beaches and forcing Brazilian officials to grapple with yet another environmental crisis. The government has already come under close scrutiny and heavy criticism after an unusually intense season of forest fires in the Amazon.
Now, oil has been spotted on at least 132 beaches affecting 61 municipalities in nine states, the country's Environment Ministry said.
Officials have said the state oil company, Petrobras, is not responsible for the spill and that the crude is neither produced in nor exported to Brazil.
Mr Bolsonaro told reporters on Tuesday that the government had a theory of what led to the spill, adding that a country is on "the radar". He declined to elaborate, saying: "I can't accuse a country. If it turns out it's not that country, I don't want to create problems with other countries."
Amazon rainforest swept by fires: In pictures

Show all 25
Ricardo Salles, the minister of the environment, flew over part of the affected area on Sunday and said the government was taking "urgent measures to address pollution".
The spill prompted the state of Sergipe to declare an emergency last week, and officials there have warned residents to stop going to certain beaches. The crude oil has also set off concern about wildlife. Biologists have treated several turtles that have washed ashore covered in crude, but some have died.
The spill comes as Mr Bolsonaro's government has come under withering criticism from abroad for weakening environmental policies and agencies while taking steps to open up protected lands in the Amazon to industries.
The New York Times
Join our new commenting forum
Join thought-provoking conversations, follow other Independent readers and see their replies