Child refugees being detained in 'dirty' police cells due to 'severe shortage' of safe shelters in Greece, charity warns
An estimated 75 per cent of lone child refugees in Greece are without a safe place to stay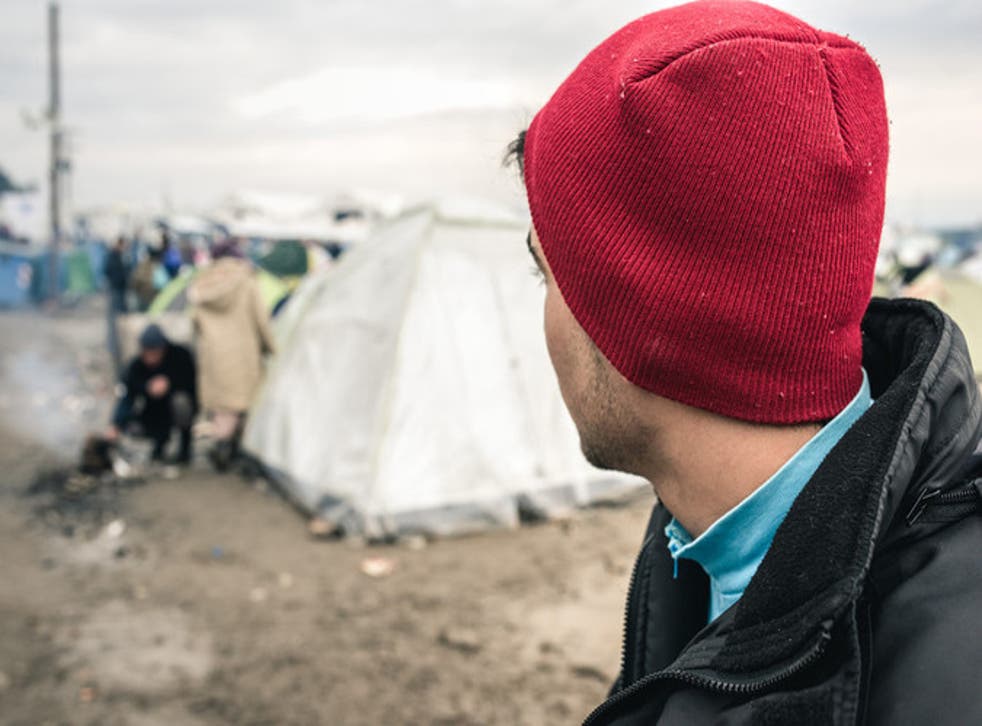 Hundreds of vulnerable, lone children in Greece are being detained in "dirty" police cells because of a severe shortage of designated shelters, a children's charity has warned.
More than 1,500 unaccompanied child refugees have nowhere safe to stay, and many are being held in detention centres and police cells for long periods of time, according to Save the Children.
"There is a severe shortage of accomodation. The shelters deisgned for unaccompanied children are full to capacity, but lone young refugees are still arriving," the charity's Sacha Myers told The Independent.
"The law says a child can only stay in a detention centre for 25 days and then need to be moved to a more permanent shelter, but because they're full, the children are either staying in detention or being moved into police cells.
"We do not have access to these children. They are not getting support they need. We believe the conditions in this section are very dirty and are not cleaned properly. There aren't enough beds so children are sleeping wherever they can."
In the past week, 57 unaccompanied children who have arrived in the country have been put in a section of police-run Moria detention centre in Lesbos.
There are an estimated 2,000 unaccompanied child reguees currently in Greece, but only 477 shelter spaces available for them.
Since the borders were closed under a deal between the European Union and Turkey last month, the Greek authorities have been overwhelmed.
"We estimate that there are at least 2,000 unaccompanied children in Greece – we know there are hundreds potentially thousands more," said Ms Myers.
"Many unaccompanied children are not properly registered when they arrive because of the lack of resources here in Greece, meaning they don't have the access to protection and other legal services that other children do."
The majority of unaccompanied child refugees in Greece are boys between the ages of 10 and 14 who have made the journey alone.
Some have relatives in Europe who they hope to join, but the process of reuniting unaccompanied children with relatives in Europe can take months or drag on indefinitely.
"Lots of children are scared to say give their true age or admit they are alone because they are scared of being locked away," said Ms Myers.
"But then the risk is that they end up sleeping outside, exposing them to risks including emotional and physical abuse, as well as trafficking.
"These children are distressed because they are carrying the weight of responsibility. In many cases their families have given a lot to send them to safety. In other cases they have lost their parents. Now they're locked inside a detention centre and don't know how long they'll be there."
In pictures: Refugees on the Greek island of Lesbos

Show all 12
A 17-year-old Syrian, given the name Salim by Save the Children to protect his identity, has been sleeping outside on Lesbos. He was sent by his parents to make the journey to Europe because of concerns for his safety after he was jailed for three months in Syria.
"When the boat landed on the coast in Greece, I felt sad," he said. "I was without my family, all alone. I thought of them back in Syria. I think of my family more than I think of myself.
"At the start I slept in the big tents, then for a few days I slept outside in the rain, in the water and mud. I don't want to think about the situation here. I want to stay busy, to stop thinking about all that has happened to us."
Salim is now staying in a shelter set up by Save the Children in partnership with local humanitarian organisation Praksis, which provides an alternative to detention and accommodation for unaccompanied children in Greece.
The conditions for all refugees in Greece have deteriorated since the border closure, putting children's health and safety at risk.
"Families are living on top of each other. There are no beds, just large mats on the floor. We're seeing a lot of children getting sick," said Ms Myers.
"I spoke to a Syrian mother and an Iraqi mother this year, both with babies under one year old, and they both had diarrhoea and fever. Lots of children are also coughing and are developing chest infections."
Children in the detention centres are also getting caught up in violence stirred up by the frustration and fear among refugees.
"Many of these people have given up everything," Ms Myers added. "They've sold their homes and everything they own just to seek safety. This has led to an increase of violence and protests, which is also putting children at risk."
Save the Children spoke out as Pope Francis' visited Lesbos and went to the Moria detention centre where there are more than 150 lone children are being held.
Save the Children's team leader in Lesbos, Amy Frost, said: "The Pope and Patriarch's example and gesture of solidarity in travelling to Lesvos should be followed by Europe's leaders.
"Instead of resorting to expulsions and detention centres, they should be sharing the responsibility of helping families and children – particularly children traveling alone – who are fleeing violence and destruction.
"The EU has let down children travelling alone and has abandoned its obligations by rushing to close borders and implement the EU-Turkey deal without ensuring that legal safeguards are in place."
Join our new commenting forum
Join thought-provoking conversations, follow other Independent readers and see their replies