Church of the Flying Spaghetti Monster conducts first legal wedding in New Zealand
The wedding was conducted by the world's first legally ordained 'ministeroni' on Saturday.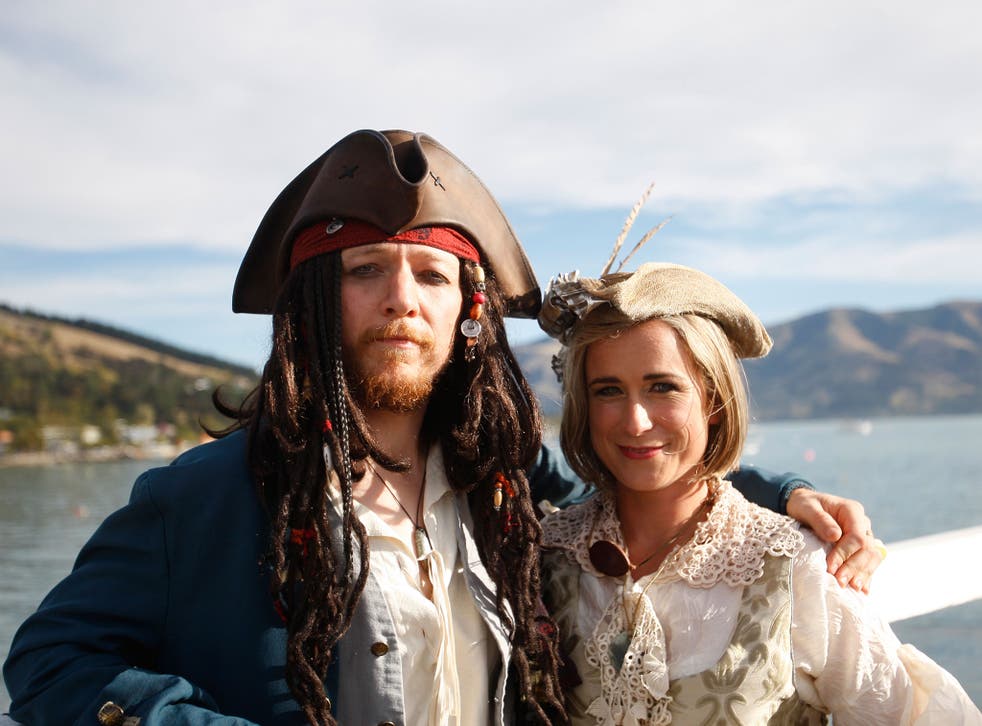 A Pastafarian couple in New Zealand have become the first to tie the "noodle knot" in a legally recognised ceremony conducted by the Church of the Flying Spaghetti Monster.
Toby Ricketts and Marianna Fenn were legally married on a charter vessel decorated as a pirate ship in the New Zealand South Island town of Akaroa.
In accordance with Pastafarian religious guidelines, the wedding congregation dressed as pirates and watched the couple exchange rings made of pasta.
Ms Fenn said: "I wouldn't have got married any other way. A conventional marriage just didn't appeal."
Members of the church, which began in the US as a protest against organised religion encroaching into public schools, believe that the world was created by an airborne spaghetti and meatballs-based being and humans evolved from pirates.
The group has gained legitimacy in New Zealand, where officials last month announced the religion as an officially-recognised faith.
Wellington-based Pastafarian Karen Martyn is the first person to be granted the legal right to conduct marriages, and carried out her inaugural wedding as an ordained "ministeroni" on Saturday.
"The Flying Spaghetti Monster created the world. We know that," said Ms Martyn. "We weren't around then and we didn't see it, but no other religion was around to see it either, and our deity is as plausible as any other."
The ministeroni confirmed that more weddings are planned, including same-sex unions that were legalised in New Zealand in 2013.
"I've had people from Russia, from Germany, from Denmark, from all over contacting me and wanting me to marry them in the church because of our non-discriminatory philosophy," she said.
"We will marry any consenting legal adults who meet the legal requirement."
Poland became the third country to grant The Church of the Flying Spaghetti Monster legal recognition this month. The group is also recognised in the Netherlands.
Register for free to continue reading
Registration is a free and easy way to support our truly independent journalism
By registering, you will also enjoy limited access to Premium articles, exclusive newsletters, commenting, and virtual events with our leading journalists
Already have an account? sign in
Register for free to continue reading
Registration is a free and easy way to support our truly independent journalism
By registering, you will also enjoy limited access to Premium articles, exclusive newsletters, commenting, and virtual events with our leading journalists
Already have an account? sign in
Join our new commenting forum
Join thought-provoking conversations, follow other Independent readers and see their replies