Coronavirus could force millions more girls into child marriages, report warns
Poverty and hunger to reverse decades-long trend of practice's decline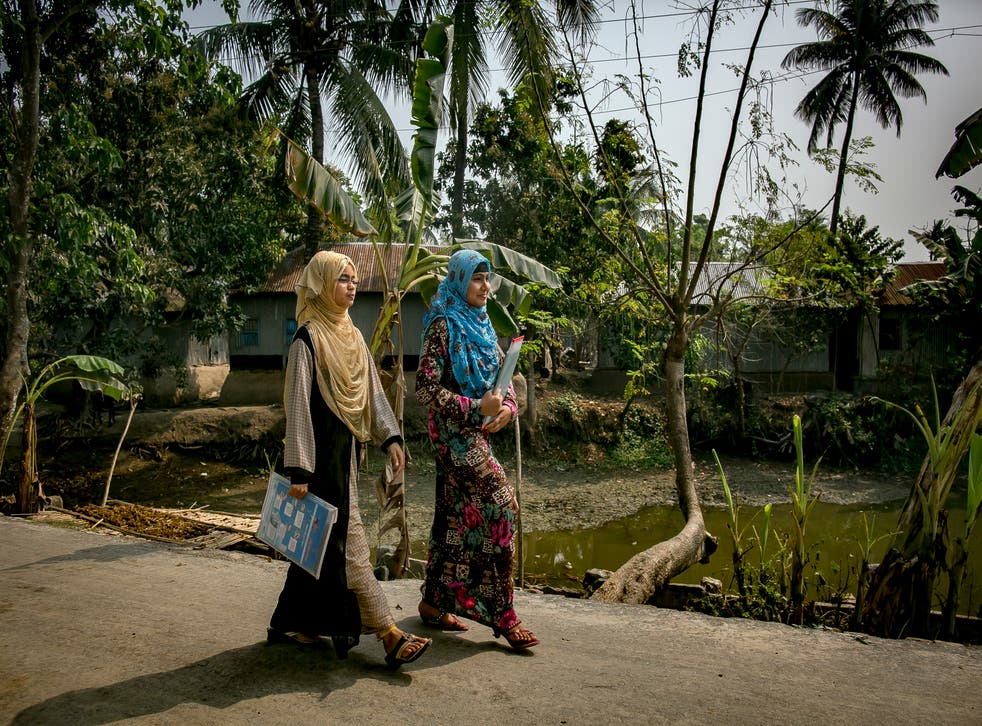 The coronavirus pandemic may cause the largest surge in child marriage rates for 25 years, new analysis suggests, with half a million more girls at risk this year alone as a result of the crisis.
With the virus wreaking economic havoc, conservative estimates by Save the Children suggest 2.5 million more girls could be forced into marriage by 2025 — creating a staggering total of 61 million — but the charity warns this may only be the "tip of the iceberg".
The surge will most likely contribute to the vast number of school dropouts expected as a result of the pandemic, and could see an additional one million teenage pregnancies in 2020 alone. Childbirth is still the leading cause of death among 15 to 19-year-old girls.
Girls in South Asia are the most vulnerable to the increase, followed by those in West and Central Africa, and Latin America and the Caribbean, the UK charity's Global Girlhood Report 2020 found.
"The pandemic means more families are being pushed into poverty, forcing many girls to work to support their families, to go without food, to become the main caregivers for sick family members, and to drop out of school — with far less of a chance than boys of ever returning," said Save the Children CEO, Kevin Watkins.
"A growing risk of violence and sexual exploitation combined with growing food and economic insecurity — especially in humanitarian emergencies — also means many parents feel they have little alternative but to force their girls to marry men who are often much older.
"These marriages violate girls' rights and leave them at increased risk of depression, lifelong violence, disabilities, and even death from childbirth.
"Every year, around 12 million girls are married, two million before their 15th birthday. Half a million more girls are now at risk of this gender-based violence this year alone — and these only are the ones we know about. We believe this is the tip of the iceberg."
While girls' health, nutrition and access to education have steadily improved over the last 25 years — during which period a child marriage has been effectively stopped every six minutes — progress to end the practice and reduce adolescent pregnancy had slowed even before the pandemic hit.
Now, the United Nations estimates that 100 million children will be pushed into poverty as a result of the pandemic, and nearly 10 million of the 1.3 billion children whose education has been disrupted may never return to school.
Meanwhile, the crisis of gender-based violence also appears set to worsen as intervention efforts are interrupted, with the report citing UN predictions of an additional two million cases of female genital mutilation over the next decade.
Humanitarian crises and child marriage are closely linked, a growing body of limited data suggests.
Nine of the 10 countries with the highest rates of child marriage as of 2017 — led by Bangladesh, Chad and Niger — are considered fragile states, Save the Children said.
War, extreme weather and disease are all emerging as major drivers, the report found, with climate change increasingly recognised as a risk.
It cited data from Girl Child Rights, a Mozambique organisation which reported more than 124 child marriages across just 12 villages in the country's Mossurize district in the aftermath of Cyclone Idai, noting that "this is just the tip of the iceberg".
World news in pictures

Show all 50
Contributing factors to rises in child marriages during humanitarian crises were found to include: school closures; family poverty; limited access to sexual and reproductive health services; and breakdowns in law and order, which can increase the risk of gender-based violence.
And in the face of destitution, some are forced by necessity to trade sex for food, as evidenced during the pandemic.
"Certain girls my age give their bodies to older men because if they don't they'll go hungry," Esther, a 16-year-old living in the Democratic Republic of Congo's capital told the charity. 
But lockdown measures saw many aspects of life in Kinshasa grind to a halt at the start of the pandemic, including school.
"Many parents from my neighbourhood once sold goods at the big open-air market. But because of confinement, they don't do anything any more," Esther said. "Girls have to turn to older men to support themselves."
Mr Watkins added: "There's no doubt the pandemic has made existing gender inequalities worse and risks reversing hard-won progress made over the last few decades. We cannot, and must not, let things spiral even further.
"It's time for world leaders to come together to protect a generation of girls so they don't miss out on the life-changing opportunities they're just as entitled to as boys, including education. Girls must have a seat at any decision-making table that involves their rights so they can design the future they choose.
"Having made a commitment to stand up for the right of all girls everywhere to have access to 12 years of quality education, Britain must now play a leadership role to make sure this happens. Getting girls back to school during a global pandemic will be a significant positive step in helping to reduce the high rates of child marriage we are likely to see over the coming years."
Join our new commenting forum
Join thought-provoking conversations, follow other Independent readers and see their replies