'Hard and crazy times': Families split apart by coronavirus lockdowns and travel bans
Some of the many millions affected by restrictions share their stories of separation with Adam Forrest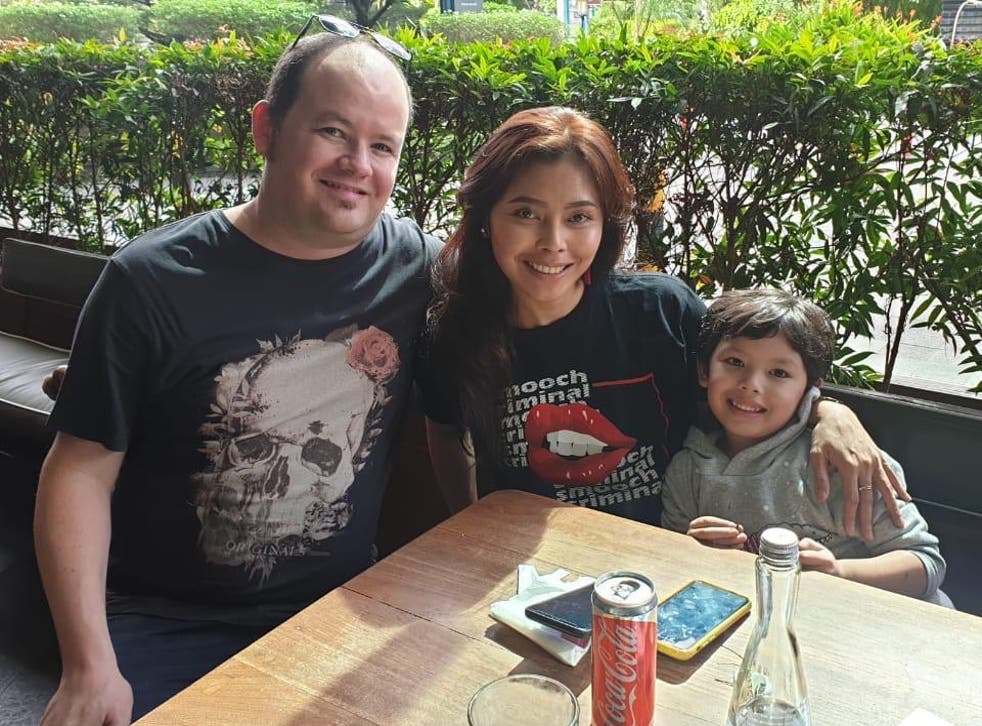 O
ne-third of the planet's population is now living under lockdown due to the coronavirus pandemic, the most significant disruption the world has seen outside of war for more than a century.
For many, the worst part is being cut off from the people they love.
Millions of travellers find themselves unable to get home as travel bans come into force. The hard borders going up across the globe have – in some cases – come between married couples, and even separated children from their parents.
Øystein Lund Andersen was forced to say a painful goodbye to his wife Irma last week, when he and their four-year son Einar left the family home in Indonesia and flew to Norway, his country of origin. "It's hard and crazy times for us," Mr Andersen told The Independent. "I'm working on getting [Irma] to Norway, but at the moment we are not sure how long it will be before we will get reunited."
Mr Andersen, a 38-year-old photographer, has been living in Indonesia since 2003 and got married there in 2012.
Worried about the spread of the coronavirus, he and his wife – an Indonesian citizen – decided it was the right time to move to Norway, with its excellent health care system.
Arriving at the airport on 16 March, they were told Ms Anderson would not be allowed on the flight, since the Norwegian government had changed the rules and was only allowing Norwegian citizens and people with permanent residence entry.
"Without arguing with the staff, we sat down to make a decision together," he said. "We landed on her returning to our apartment in Jakarta, and me and my son continuing the journey. It was a hard decision, but bringing our son to Norway was the tipping point."
Others face arduous journeys as they try to get back home. Tim Kikke is stuck in Guatemala along with dozens of other British citizens after the country closed its borders. The 32-year-old doesn't know when he'll next see his mum Tineke, at home in Dumfries in the Scottish borders.
The 62-year-old is also due to go into hospital this week for an operation for a serious illness not related to the coronavirus. "She's worried of course – but I should still be able to FaceTime and WhatsApp her when she's in hospital," Mr Kikke told The Independent.
The traveller is currently with three friends at an Airbnb house in the small Guatemalan city of Antigua. The group is planning to head over the border into Mexico and attempt to get a flight to the US before heading back to Britain, if they can.
"We know with so many travel bans coming in it's possible we'll get stranded in one of those countries. It's been a strange time for all of us – but we're looking after each other to get through it. We're possibly okay for money for at least one more month, but after that it gets more difficult."
Louise Capel and her partner Peter Fitzpatrick are stranded in Peru along with hundreds of other British citizens.
The Londoners – currently in Cusco after ditching plans to see Machu Picchu in the Andes – are hoping to be on one of the repatriation flights the Foreign Office has said it is trying to arrange for later this week.
"My mum has underlying health issues from Graves' disease, which attacks the immune system, so I'm worried about her," Ms Capel, 33, said. "And she's been worried about me."
"I have brothers, my nieces and my nephew who I'm missing too. We just want to get home. I'd just like to get the chance to come home and at least be closer to friends and family."
Some are now reconciled to the idea they will not see loved ones for many, many months.
Cristian Angeloni, 25, has been living in London for the past five years and decided to stay in the city rather than head home to Rome to be with his 53-year-old parents and 18-year-old brother earlier this month.
"There were so many unknowns," said the Italian journalist.
"I didn't know if I might have [coronavirus] and give it to them, or whether it was sensible to travel, or what it would be like trying to get back into the UK again. It was a tough, tough conversation to have with my parents."
"Thank God for FaceTime," he added. "They've shown me how they rearranged all their furniture, how the music and the national anthem has been playing in the street each evening. But it's not quite the same as seeing someone, as giving them a hug. It's sad to be 1,500km away."
He added: "Maybe can see each other again in August or September, if everything goes as well as it can. Let's hope so."
The thought of hugging family and friends again, one day soon, will keep many of us going in the tough times ahead.
Join our new commenting forum
Join thought-provoking conversations, follow other Independent readers and see their replies