Mountain gorillas face extinction due to threats of both coronavirus and poaching
We are protecting wildlife at risk from poachers due to the conservation funding crisis caused by COVID-19. Help is desperately needed to support wildlife rangers, local communities and law enforcement personnel to prevent wildlife crime. Donate to help Stop the Illegal Wildlife Trade HERE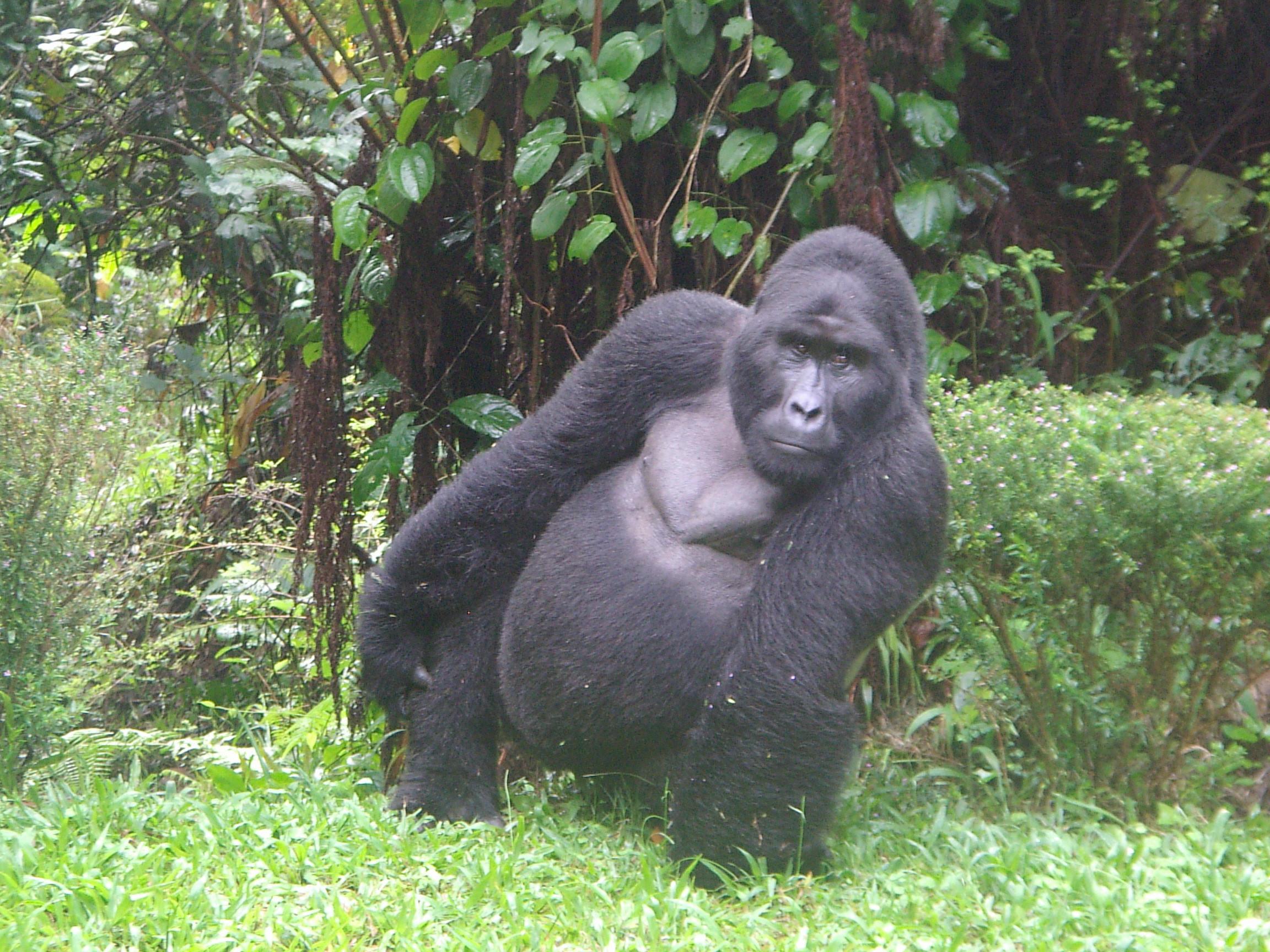 There are only around a thousand mountain gorillas left on Earth. More than half live in Uganda, where decades of intensive conservation action had given rise to hope for their future.
However experts warn that an increase in poaching levels due to Covid-19 could have 'catastrophic' implications, risking the extinction of this sub species of great ape.
Craig Sholley, a conservationist renowned for his work with gorillas and vice president of the African Wildlife Foundation, told The Independent; "anti-poaching activities throughout Africa have been diminished due to the loss of important tourism revenue."
"But, for the mountain gorilla there is the added danger of transmission of the virus which could be catastrophic. It could be their demise.
"Mountain gorillas live in two relatively closed populations, which makes them very vulnerable and their future incredibly fragile."
In June, the tragic loss of a silverback called Rafiki to poachers in Uganda's Bwindi Impenetrable National Park sent shockwaves through the conservation community.
It led park authorities to step up efforts to safeguard the remaining apes. However, the pandemic means that rangers themselves pose a potentially fatal threat to the gorillas.
Our evolutionary 'cousins' share 98% of human DNA, and can catch respiratory diseases from people. Research in 2008 revealed the first evidence of virus transmission from humans to wild apes.
Leading scientists warn that the introduction of a new, highly-infectious virus such as Covid-19 to mountain gorillas could push them to the brink of extinction.
No great apes have yet reported positive for the virus, but a gorilla at a zoo in Florida was recently tested after falling ill.
Dr Gladys Kalema-Zikusoka, founder of Conservation Through Public Health, works in Bwindi. She told The Independent that the biggest danger to apes in Uganda "is that any poacher who comes near them could have Covid.
"There have already been two studies saying that primates have exactly the same protein receptors as humans that the virus attaches to."
She said that Rafiki likely became a casualty because his killer encountered him while hunting other species.
But the loss of the 25-year-old male had "disrupted the group of gorillas, causing some to leave the group," said Kalema-Zikusoka, adding that poachers getting close to the animals was "very worrying."
As well as a steep increase in the number of snares - traps laid to catch wildlife - found in Bwindi's thick rain forests during lockdown, earlier this month rangers discovered a baby gorilla tangled in a poacher's snare in neighbouring Democratic Republic of Congo's Virunga park.
Reports of a spike in poaching across Africa have sparked fears of a conservation crisis left in the pandemic's wake, and show the urgency of The Independent's Stop The Illegal Wildlife Trade campaign.
Shareholder Evgeny Lebedev launched the campaign to call for an international effort to tackle the illegal trade of wild animals.
Sholley said: "gorillas may die when the right people aren't in the forest. The proactive steps taken to quickly shut down tourism to protect gorillas from coronavirus were welcomed by the conservation community, but they have left gorillas vulnerable to people who should not be in the forest"
UNESCO's Rapid Response Facility has provided emergency support to Bwindi's rangers, helping to monitor the gorillas to ensure a swift response to any possible virus outbreak, as well as supporting extended patrols to deter poachers.
New mandatory measures have been introduced to shield the animals from the virus. All rangers are now required to wear face masks, use hand sanitiser and keep an even greater distance from the gorillas than usual.
Kalema-Zikusoka told The Independent: "We helped train staff in how to prevent the spread of virus, now everyone's temperature is taken every day before they go in [to the Park].
"Uganda had run out of personal protective masks when we desperately needed them for rangers. A lady in the community near Bwindi who usually makes tablecloths to sell to tourists learnt how to make fabric masks, using forest green material. She employs a group of 54 women who make them.
"A lot of people benefit from jobs that rely on tourists coming to see gorillas, so Covid has been a wake up call. Without tourism, their future is less secure, so the community is doing everything it can to protect them."
Uganda's President Yoweri Museveni acted decisively in March by halting all primate tourism.
Now, as the tourism sector tentatively makes steps to reopen, a large question mark still hangs over mountain gorillas' susceptibility to the virus, as those who have dedicated their lives to protecting them hold their breath.
Join our commenting forum
Join thought-provoking conversations, follow other Independent readers and see their replies