'Risk death or risk jail': Health workers around the world detained and attacked during the pandemic
More than 3,000 medics have died from Covid-19 worldwide – but despite their sacrifices, many healthcare workers face threats from authorities attempting to silence their protests. Bel Trew reports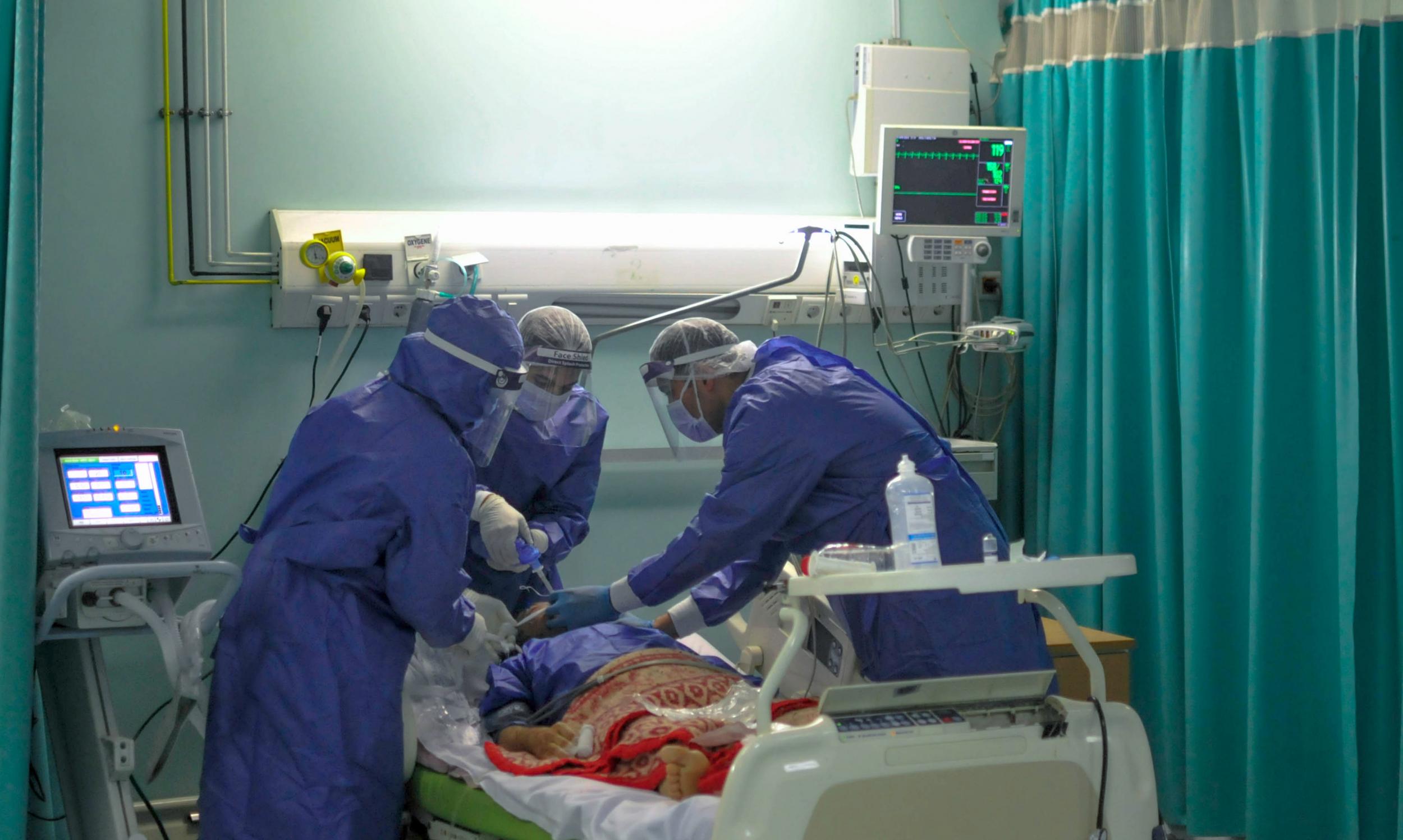 Egyptian health officials have likened doctors wary of working because of concerns about missing personal protective equipment (PPE) to soldiers deserting a battlefield.
One hospital director even warned that health workers could stand military trial "like deserters" if they didn't go to work, in a WhatsApp voice message shared with The Independent.
In another, a regional health ministry official told doctors that those who absconded would face "maximum penalties" as "traitorous soldiers".
The general manager of a medical centre in the north of the country, meanwhile, threatened to send the names of medics who disobeyed orders to the feared National Security Agency (NSA).
"This is happening across all the hospitals in the pandemic," says one Egyptian medic, who received similar warnings and asks to remain anonymous, fearing arrest. The doctor tells The Independent that medical staff are often forced to purchase their own masks because the authorities did not provide him with any, despite the fact that Egypt has donated PPE to the US, Italy and China.
"Either you are obliged to work in dangerous circumstances without complaining, or risk your freedom and be sent to jail," the doctor says.
At least nine healthcare workers in Egypt were arbitrarily detained between March and June on sweeping charges such as "spreading false news" and "terrorism". All of those behind bars had expressed safety concerns or criticised the government's handling of the coronavirus pandemic, which in Egypt has infected at least 86,000 people and killed over 4,000 more.
According to documents shared with The Independent, the Doctors Syndicate, a medical union, has sent regular communiques to various government bodies pleading for help with the lack of PPE, contact tracing, testing and protocols to protect health workers, as well as poor-quality locally made masks that were putting the lives of medics at risk.
Many remain unanswered. And at least 112 Egyptian doctors have died from Covid-19, which is among the highest medic death tolls in the pandemic. No one knows how many nurses, hospital orderlies or other related staff have also perished from the deadly disease.
But Egypt is not an exception.
Across the world during lockdown, grateful citizens took to their windows, balconies and front yards each night in an unprecedented outpouring of support for those on the front line of the "war" against the deadly virus.
Simultaneously, several governments have used that very same military rhetoric to justify jailing, silencing, threatening and dismissing workers who have dared to complain about the risks they have been forced to take while treating the infected.
According to a new Amnesty International report, there were incidents of serious PPE shortages in nearly all 63 countries they surveyed, including Egypt, Brazil and India. In some countries, hospital staff have been forced to wash and reuse single-use protective suits or repurpose rubbish bags and raincoats to try to protect themselves.
And so, as the world has struggled to stamp out the pandemic, doctors, nurses and hospital staffers in dozens of countries have launched industrial strikes, hunger strikes and protests over their unsafe working conditions. In places like Egypt, Russia, and Malaysia, police have arrested those healthcare workers who have spoken out, on charges ranging from "organising unlicensed gatherings" to publishing fake news and terrorism.
For many, protesting is too late. Amnesty reports that globally at least 3,000 health workers have died from Covid-19 – a figure that is likely to be a significant underestimate because of the lack of testing.
The highest recorded medic death toll is in Russia. An unofficial count collated by medics says at least 584 healthcare professionals have died from Covid-19 (although the official number is just over 100). The UK is not far behind with 540 recorded deaths, followed by the US, Brazil, Mexico, Italy and finally Egypt.
"It is not just about human rights; it has direct health implications for everyone," says Hussein Baoumi, Egypt researcher at Amnesty, which is urging states to take the lives of health workers seriously.
"When you silence the people on the ground expressing valid concerns, this has implications for all the lives of the health workers and the entire population."
Egypt is not alone in trying to muzzle critics. In Russia, the government has expanded existing "false news" legislation to incorporate people speaking out about the state's response to the pandemic.
While Amnesty says this has mostly impacted normal citizens, medical workers have also been targeted.
The Alliance of Doctors, a union that has been critical of Russia's handling of the pandemic and has links with unofficial opposition leader Alexei Navalny, said that two of their members are facing retaliation after complaining about a lack of PPE.
Yulia Volkova, an endocrinologist, was charged under Russia's fake-news laws and faces a fine of up to 100,000 roubles (£1,107) after she published a video in March asking that physicians be given better protective equipment. Tatyana Revva, an intensive care unit doctor, is facing disciplinary proceedings that may result in her dismissal after she also complained about a lack of protection.
Even the union's own leader, Anastasia Vasilyeva, was beaten and briefly held by police in April when she tried to deliver boxes of PPE to a village in western Russia.
Last week, the group's spokesperson, Ivan Konovalov, was arrested and drafted into the military service in northern Russia, the group tells The Independent.
"The authorities want to hide the problem; they don't want to make it public. And those who publicly state this are intimidated," a spokesperson says.
There are unconfirmed reports that at the start of the crisis in Russia, when conditions were particularly dire, some doctors may have been coerced into signing non-disclosure agreements. Damelya Aitkhozhina, a researcher for Human Rights Watch, said medics were now concerned that the authorities will reclassify administrative "fake news" offences as criminal ones, which could carry three-year jail terms.
This has had a profound impact on the physical and mental health of the medics. Between 24 April and 2 May, three frontline workers fell out of windows, even sparking wild speculation that they had been pushed. But an Independent investigation showed that the three individuals were working under intolerable strain, including being inadequately protected. The incidents may have been suicides.
Healthcare workers have also been harassed in the west. In the US, Amnesty recorded several incidences of employers stopping health workers from speaking out, with a range of reprisals including harassment, disciplinary procedures, and unfair dismissal. In April, Tanika Somerville was fired from her role as a nursing assistant in Cook County, Illinois, after she posted on Facebook about the lack of PPE in the facilities.
In the UK, early studies indicate that Bame health workers (those who identify as black, Asian, or minority ethnic), make up the lion's share of the total number of health worker deaths related to Covid-19, with some reporting that up to 60 percent of health workers who died identified as Bame.
Doctors are not just facing unsafe working conditions within hospitals, and backlash from the authorities if they speak out. In India, medics say they have been attacked by mobs of panicked citizens who were fearful that doctors were actually spreading the coronavirus.
Back in Egypt, documents sent by the Doctors Syndicate to the authorities paint a picture of a chaotic response to the outbreak. In the letters The Independent has seen, doctors describe cases being diagnosed by sight, patients dying at home without being tested and an absence of contact tracing meaning there are undocumented clusters of infections among medical staff.
The letters have largely been ignored as have complaints about potentially faulty locally manufactured PPE, including N95 masks made by military factories.
Meanwhile, doctors have been subjected to threats, penalties, interrogations by the NSA, and administrative questioning. Egypt's health ministry did not reply to The Independent's request for comment. The state has denied it is harassing its health workers.
Like doctors around the world, those in Egypt fear they are not being properly protected and so are putting their own lives and the lives of their families at risk.
"There is a high chance of getting infected, and if you get Covid-19, even as a doctor you cannot guarantee you'll get a hospital bed," says one Egyptian medic.
"On top of the safety issues, I have to watch myself and not complain on social media, or I might be arrested and interrogated. They are giving us the choice: risk your life or risk jail."
Join our commenting forum
Join thought-provoking conversations, follow other Independent readers and see their replies