From Wuhan to the rest of the world: Numbers that reveal how Covid-19 hit 1m global infections
In just a few months life has utterly changed for all of us, writes Andrew Buncombe
Saturday 25 April 2020 23:54 Comments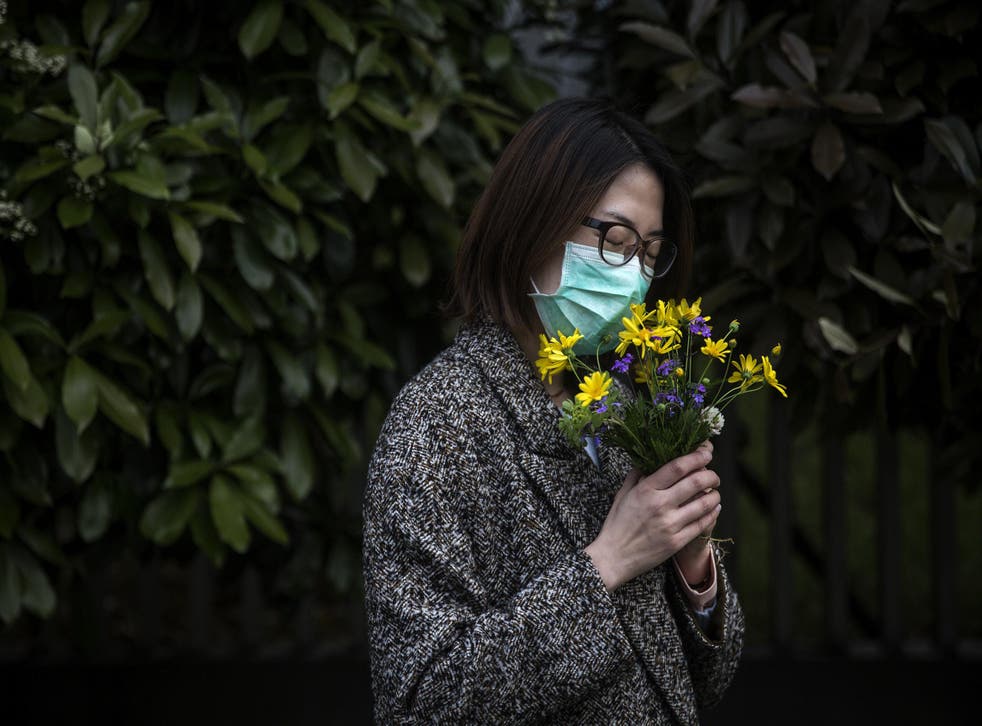 How did it happen? And how did it happen at such speed? How could what appeared to be a few cases of a new strain of flu in China – and with even that news largely being lost amid religious festivities and new year celebrations – spread and snap the world shut?
While there are nations where its vice-like hold has been most life-transforming and deadly – China, Italy, Iran, Spain, and now the US – perhaps without exception, nowhere has escaped its impact.
For many of us, the first reported cases and deaths felt far away and literally foreign. Now, as the global number of confirmed infections (collated by Johns Hopkins University) passes one million, they are close to hand and among us.
We know of people who have died, or else been taken sick. Lots of us have most likely already been infected, but without testing we cannot be certain.
Those of us fortunate enough to have jobs and homes are hunkered down, anxious and grey-edged, learning new skills such as social distancing, on which our health, or that of our neighbours, somehow depends. We cannot see the virus but we know it is there.
Everyone whose lives are now upended will have their own mark on the calendar for when the coronavirus crisis became truly real. Was it the day there were long, long lines at the shop, and shelves were bare? Was it when stern-faced politicians told us to stay inside? Was it when Tom Hanks and Rita Wilson said they too had tested positive, or when the heir to the British throne was forced to self-quarantine at Balmoral?
It may have been something much more personal – when a child's school was ordered to be shut, a favourite music festival was cancelled, or sports competition such as the Premier League shuttered for the season. Fear and disappointment, and even some guilt for feeling such frustrations, mingling into one.
Here are some of the key points of this unfolding story:
10 December 2019: 'Patient Zero'​
There are few certainties about the coronavirus crisis, but is believed Wei Guixian, 57, a shrimp seller at Wuhan Huanan Seafood Market, was the first person infected with the virus, itself thought to have originated in bats. According to The Wall Street Journal, she reported feeling ill on this day and would be among several dozen from the market subsequently diagnosed with the virus. "I felt a bit tired, but not as tired as previous years," she told Chinese media. "Every winter, I always suffer from the flu. So I thought it was the flu."
Precisely how she was infected remains unclear. The South China Morning Post said Chinese government documents suggested the infection dated to 17 November. While doctors in Wuhan were alerted to the illness, the world was not. On 31 December, Chinese authorities confirmed to the World Health Organisation there were dozens of cases of pneumonia from an unknown cause. On 1 January 2020, the US Centres for Disease Control identified the seafood market as the likely hotspot. On 7 January, China isolated the virus and said it was a new kind of coronavirus, named 2019-nCoV, similar to severe acute respiratory syndrome (Sars). On 11 January, China confirmed the first fatality, a 61-year-old man from Wuhan. The next day, China shared the virus's unique genetic code with the rest of the world.
13 January 2020: Not just China
That this was not just China's problem became clear when the WHO confirmed the first cases outside of the country, namely in Thailand, and then later Japan and South Korea, albeit of people who had travelled from Wuhan. At that point, the WHO said there were just 282 confirmed infections, in four countries. On 21 January, the US reported its first case, a US citizen of Chinese origin who had visited family in Wuhan, and felt ill after returning home to Snohomish County, north of Seattle.
"This is certainly not a moment for panic or high anxiety, it is a moment for vigilance," said Washington state governor Jay Inslee. "There's nowhere in Snohomish County I'd be reluctant to take my new granddaughter or family members." Soon afterwards, India, the second most heavily populated country after China, announced its first case. On 31 January, Spain, Russia, Sweden and Britain confirm their first cases. Chris Whitty, chief medical officer for England, says the first two infections were members of the same family. "The patients are receiving specialist NHS care, and we are using tried-and-tested infection control procedures to prevent further spread," he said.
21 January: 500 global Infections
22 January 2020: Trump and the virus
The president's first public remarks about what he frequently termed the "Chinese virus" was in a TV interview with CNBC at the World Economic Forum in Davos, Switzerland, a day after the first US case was confirmed. Was he fearful of pandemic? "No. Not at all. And we have it totally under control," he replied. "It's one person coming in from China, and we have it under control. It's going to be just fine."
Trump would repeatedly play down its threat, accusing his political opponents of hyping it to try to bring him down. He questioned top scientists and disputed it was "inevitable" that it would spread across the US. On 31 January, in a rare piece of decisive action, he barred travellers from China. He told state governors, his own supporters and Fox News anchors it would disperse with the onset of warmer weather and on 28 February claimed: "It's going to disappear. One day, it's like a miracle, it will disappear." On 4 March he voiced "a hunch" the mortality rate was lower that the WHO predicted. Even when the US was obliged to enact closures and social distancing, Trump insisted he knew best. On 24 March he said at the White House he hoped shuttered businesses would be open by April.
24 January: 1,000 global infections
31 January: 10,000 global infections
19 February 2020: Spain's love of the beautiful game turns deadly
Spain recorded its first case of infection on 31 January. But the day that may have been crucial to turning the nation into a hot spot – it currently has the second highest number of deaths (10,003) – may have been 19 February.
That day, almost 3,000 Valencia football fans travelled from Spain to Milan to watch their team play Atalanta in a Champions League game. Some 40,000 Italians were also at the game, many of them from Bergamo and surrounding towns. "It is clear on that evening there was an opportunity for a strong spread of the virus," the mayor of Bergamo, Giorgio Gori, told CNN. Others agree. Immunologist Francesco Le Foche told Corriere dello Sport: "It's probable that there were several major triggers and catalysts for the diffusion of the virus, but the Atalanta-Valencia game could very well have been one of them. With hindsight, it was madness to play with a crowd present, but at the time things weren't clear enough."
The virus rapidly spread, overwhelming hospitals in way Italy and other nations also experienced. On 15 March, Spain reported about 2,000 new coronavirus cases and more than 100 deaths over a 24-hour period. This week, the death toll in a single day hit 849, triggering anger among a population already frustrated after three weeks of lockdown ordered by the government. Al Jazeera reported that anger worsened after video footage emerged of police in the Basque region hitting a man of Moroccan background with a baton after stopping him and asking him to see his papers, while trying to enforce a curfew.
24 February 2020: Italy's first-world horrors
The first reports of the disease in Italy were on 30 January, when prime minister, Giuseppe Conte told a press conference two Chinese tourists had the disease and flights from China were being suspended. He declared a national emergency, but said: "We have already prepared all the precautionary measures to isolate these two cases. There is no reason to create social alarm or panic."
How unfortunate his words now appear. On 20 February, a man in the northern Lombardy region tests positive. He is believed to have infected many others. Three days later, small towns reported outbreaks, and infections reached 150. By 24 February, the spike made Italy the worst hit nation in Europe, with six deaths. With hindsight, 24 February was a mere presage of what was to come, as the authorities struggled to react quickly enough. Hospitals, part of one of the best healthcare systems, were soon overrun, newspaper obituary pages began to explode and burials of the dead had to be performed many miles from where people died. On 9 March, with 9,172 cases reported, the nation was placed under lockdown. In cities such as Rome, people stood on their balconies to bang pots or sink the national anthem to try to lift their spirits. Elsewhere in Europe, people looked on with horror and wondered if they would be next. Several nations, most notably Spain and France, would also soon be reeling.
"Italy looked at the example of China, not as a practical warning, but as a science fiction movie that had nothing to do with us," Italian health minister Sandra Zampa told The New York Times. "And when the virus exploded, Europe looked at us the same way we looked at China." Infections in Italy have now passed 100,000, with at least 13,000 deaths.
25 February: Iran's deputy health minister says he has virus
Few things more clearly underscored the threat to Iran from the virus than images of deputy health minister Iraj Harirchi Tabrizi sweating profusely at a press conference. The following day, he confirmed he had tested positive.
"I wanted to tell you that I got corona," he said in a video posted on social media. "I had a fever yesterday. The tests came back positive last night. I isolated myself."
The country's first reported cases of the virus had come less than a week earlier, on 19 February, and related to two deaths in the pilgrimage city of Qom. They were apparently triggered by a merchant who had travelled to Wuhan. Within days, cases started being reported in much of the country. Before long, 1,000 new infections were being reported every day, with up to 100 deaths. Iranian officials, seeking to avoid public anger, as they sought to establish field hospitals and additional facilities, blamed US sanctions, reimposed after Washington pulled out of the 2015 nuclear deal.
"Health is a principle for us, but the production and security of society is also a principle for us," Iranian president Hassan Rouhani told a cabinet meeting. "This is not a time for political war."
The US claimed it offered to provide help to Tehran, with secretary of state Mike Pompeo telling Congress it had made the offer through the Swiss authorities, given there was no formal diplomatic contact. In all likelihood, he knew it would not be accepted, such was the fractured relationship. Pompeo would accuse Iranian leaders of failing their people. "The Iranian leadership is trying to avoid responsibility for their grossly incompetent and deadly government," he claimed.
Iran quickly became overrun with the disease, emerging as having the seventh highest number of infections, currently at 50,468, and the fifth highest number of deaths at more than 3,000.
29 February: South Korea flattens the curve
Having detected its first confirmed case on 20 January, within a month the disease had spread wildly in South Korea, a country of 51 million. On 29 February, officials reported 909 new cases that day alone. But it also marked the worst day, a day from which things would start to get better, not worse. From that point, new infections started to drop, the result of an aggressive programme of testing, and the production of more than 100,000 testing kits. In cities such as Daegu, where the virus spread through a religious cult, officials rapidly imposed emergency measures.
But it was the widespread and repeated testing – one estimate suggested South Korea per capita has carried out 40 times more tests than the US – that lay at the core of its ability to halt the spread. This was how infected people could be treated and isolated.
"In mid-January, our health authorities quickly conferred with the research institutions here [to develop a test]," foreign minister Kang Kyung-wha told the BBC. "Then they shared that result with the pharmaceutical companies, who then produced the reagent [chemical] and the equipment needed for the testing." She added: "Testing is central because that leads to early detection. It minimises further spread."
South Korea remains the only major nation other than China to have "flattened the curve" and has become and example others are trying to emulate. South Korea currently lists fewer than 10,000 infections, with 150 deaths. Data also shows more than 5,000 who were infected have since recovered.
6 March 2020: 100,000 global infections
12 March 2020: Markets plunge
The spread of the virus and the impact on economies – lay-offs, furloughs and downturn – has had a devastating impact on stock markets around the world. In the US, among the most dramatic days was 12 March when stocks tumbled to their worst losses since the Black Monday crash of 1987.
The S&P 500 plummeted 9.5 per cent cent, for a total drop of 26.7 per cent from its all-time high, set just last month. The Dow Jones Industrial Average sank 10 per cent in its worst day since a nearly 23 per cent drop on 19 October 1987.
European markets lost 12 per cent in one of their worst days ever, even after the European Central Bank pledged to buy more bonds and offer more help for the economy. The Associated Press pointed out the losses came amid a cascade of cancellations and shutdowns across the globe including Donald Trump's suspension of most travel to the US from Europe.
A few days later, on 16 March, markets plunged again as the president said it was possible emergency measures to counter the virus could need to be in place until August, a comment he subsequently sought to pull back from.
"The news just continues to get worse, and the travel ban puts an exclamation point on the weakness we're going to see in global GDP and, in turn, the US," Liz Ann Sonders, chief investment strategist at Charles Schwab, told AP. "We're starting to get a sense of how dire the impact on the economy is going to be. Each day the news doesn't get better, it gets worse. It's now has hit Main Street to a more significant degree."
Markets have recovered somewhat, mainly as a result of the calm that was created when Trump and Congress worked to pass a $2 trillion coronavirus relief package that the president signed into law on 27 March.
20 March 2020: China exonerates hero whistleblower
Li Wenliang, a 33-year-old doctor in Wuhan, started sharing messages about cases of a mysterious illness in late December. He was not certain, but he believed it was a new kind of coronavirus, a belief that was reinforced when he saw details of a report from Wuhan Central of Sars-like symptoms. In a group chat he believed was private, he posted under a headline that said: "Seven cases of Sars from the Huanan Seafood Wholesale Market". His comments got widely spread, and officials pounced, arresting him and forcing him to say he had "seriously disrupted social order".
He was allowed to continue seeing patients, doing what he could to help stop the disease that was spreading across his adopted home. It was little surprise he would be among its victims, having apparently caught the illness from a patient he treated on 8 January. On 1 February, in his final note on Weibo, he said: "The test results come out positive today. Everything is settled. It is confirmed."
On 6 February he died of the illness. A final photograph showed him in a hospital bed, wearing a ventilator, and holding up his ID card as he lay dying, which only helped accentuate what the disease had taken from him.
His death caused widespread anger in China. People felt let down by the authorities. It was also a focus for criticism of Beijing from the west, which accused authorities of covering up how bad the situation was, and then silencing whistleblowers. Fearful of protests, officials deleted a number of posts from social media. Yet in a sign of the continuing public indignation, on 19 March, the authorities posthumously exonerated Li and cleared him of any charges. They also issued a "solemn apology" to his family, including his pregnant wife, and his son. To date, China has recorded more than 82,000 infections and 3,000 deaths.
23 March 2020: British PM addressees the nation: 'We need a huge national effort'
Britons often like to refer to the "Blitz spirit", a perhaps historically inaccurate term intended to echo how people pushed through during the Second World War amid adversity. It is a phrase much overused, not least by newspaper headline writers. Yet, Britons have nevertheless prided themselves on trying not to take things too seriously, Brexit accepted.
This was what Boris Johnson was probably reaching for when he addressed the nation on the evening of 23 March and ordered what was in effect a lockdown for much of the country. Businesses would be closed, but people could visit the supermarket and pharmacy, and – following an amendment to his plan – liquor stores. They could also exercise by taking a walk, but they were not permitted to do much else. People got angry when images were showed on social media of crowded Tube carriages.
But Johnson, who a few days later would announce he had tested positive for the disease, faced criticism over what was seen by many as a slow response, especially compared to the actions of European nations which had closed schools and non-essential businesses some time before.
"The government has been too slow to act on this, and they've been slow as individuals. I was surprised to see prime minister's questions going ahead this week – it was clearly unnecessary," Dr John Ashton, a former regional director of Public Health England, told The Guardian. "It reinforces the view that lockdown measures taken earlier this week should have been taken sooner."
24 March 2020: India seeks to avoid catastrophe
The word's second most populous country recorded its first case on 30 January. Almost two months later Narendra Modi ordered a three-week lockdown in a move that may prove to be one of the most significant. While it has a comparable population to China, India is much poorer, with a rudimentary public health care system and where half the population does not have access to sanitation. There is widespread illiteracy, which makes educating people about the virus and steps to try to halt it more difficult.
And as India is a lively democracy, officials will seek to avoid taking the sort of authoritarian measures China was able to. In cities such as Delhi and Mumbai, huge, dense metropolises of 20 million people, social distancing will be impossible for the bulk of people. Access to testing, and reporting of such figures, is also likely to be a challenge. Ramanan Laxminarayan, an economist and an epidemiologist, has estimated between 300 million to 500 million Indians were likely to be infected by the end of the summer. Perhaps a tenth of those were likely to be severe. Some have estimated between one to two million people could die. The country currently reports around 2,000 infections and just 68 deaths.
Aware of the challenge facing the population, Modi has sought forgiveness for the measures imposed. "I apologise for taking these harsh steps that have caused difficulties in your lives, especially the poor people," Modi said in a radio address. "I know some of you will be angry with me. But these tough measures were needed to win this battle."
25 March 2020: 500,000 global infections
26 March 2020: US becomes worst hotspot
The journey that led the US to occupy this unwanted first place, surging past Italy and China with more than 80,000 cases to have the most Covid-19 infections, will be hashed over for years to come.
We already know it started with a failure at the very highest levels to listen to the scientists.
Yet America's failings are not simply those of the president. Rather, they include a for-profit healthcare system made up of many different parts, often working against each other – a point made powerfully by Democratic senator Bernie Sanders.
It resulted in individual states unilaterally taking action against the disease, while others did nothing. As a result, cities such as New York and Seattle enforced a lockdown, while places like Miami Beach and New Orleans remained open for play.
States also found themselves bidding against each other to obtain basic equipment such as ventilators and masks, while being accused of stocking items for spikes governors had identified in their own hotspots.
"The government has said they have sent us 4000 ventilators; those 4000 ventilators are not currently in use. Why? Because we don't need them," stormed Andrew Cuomo of New York. "What we're doing is we're planning for that apex, we're planning for the critical need, and making sure we have the equipment, the staff, the beds for that critical need."
Did arrogance and disbelief play a role? Probably. The US has long seen the oceans that surround it as bulwarks and barriers against threats from overseas. And how could something like this happen to the world's superpower. This isn't China. This isn't Iran. This isn't even Italy.
As the disease has continued to spread, medics have also been testing more people. The latest figure stands at more than 215,000 infections and 5,000 deaths. The president, who claimed businesses would be open by Easter Sunday, now claims that target was simply "aspirational". The lockdown is to stay in place at least until the end of April.
Register for free to continue reading
Registration is a free and easy way to support our truly independent journalism
By registering, you will also enjoy limited access to Premium articles, exclusive newsletters, commenting, and virtual events with our leading journalists
Already have an account? sign in
Join our new commenting forum
Join thought-provoking conversations, follow other Independent readers and see their replies