Cyclone Pam: 'Monster' storm that devastated South Pacific island of Vanuatu caused by climate change
President claimed that development on the tiny country - among the poorest in the world - had been 'wiped out'
Rose Troup Buchanan
Monday 16 March 2015 09:10 Comments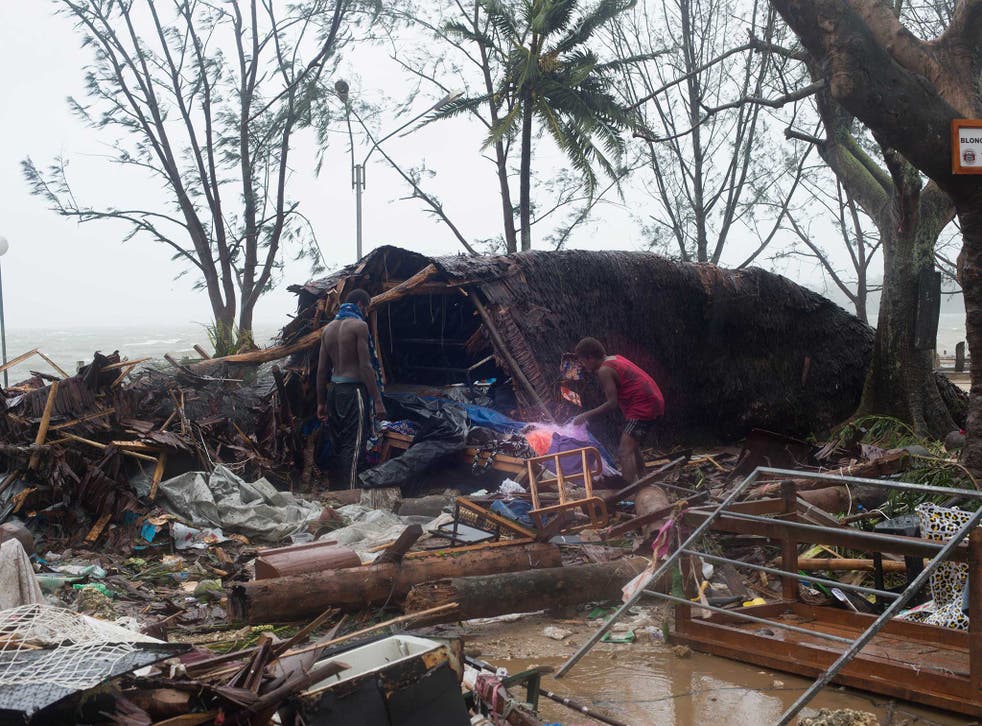 The "monster" cyclone that hammered a tiny South Pacific archipelago over the weekend was caused by climate change, it was claimed today.
"We see the level of sea rise … the cyclone seasons, the warm, the rain, all this is affected … This year we have more than in any year … yes, climate change is contributing to this," he told reporters.
He was backed by the president of fellow South Pacific nation Kiribati, Anote Tong, who claimed: "For leaders of low-lying island atolls, the hazards of global warming affect our people in different ways, and it is a catastrophe that impinges on our rights … and our survival into the future. There will be a time when the waters will not recede."
Although the storm has passed over the islands, travelling in the direction of New Zealand, officials are struggling to access the full extent of the damage after winds of up to 168mph tore over the land, home to 267,000 people, on Saturday.
"This is a very devastating cyclone in Vanuatu. I term it as a monster, a monster," Mr Lonsdale said from Sendai, Japan, where he had been attending a UN disaster conference when the cyclone struck. He will return to his country today.
"It's a setback for the government and for the people of Vanuatu. After all the development that has taken place, all this development has been wiped out."
Cyclone Pam hits Vanuatu island

Show all 6
Officials have been unable to contact outlying islands as communications have fallen making a proper assessment of Vanuata's 65 islands impossible.
"We do not know if our families are safe or not. As the leader of the nation, my whole heart is for the people, the nation," the president said, adding he had been unable to discover if his own family was safe.
There have been reports of entire villages disappearing. An Australian Red Cross official claimed: "Virtually every building that is not concrete has been flattened."
Today, the coordinator of Vanuatu's National Disaster Management Office Paolo Malatu said he plans to send what little light aircraft possessed by the government to fly over the outer islands.
"The damage to homes and infrastructure is severe," Mr Malatu said. "The priority at the moment is to get people water, food and shelter."
The UK and France, previous rulers of the tiny nation until 1980, have pledged aid. Australia has promised A$5 million and also sent medical experts, emergency supplies and a search and rescue team.
Additional reporting by Associated Press
Register for free to continue reading
Registration is a free and easy way to support our truly independent journalism
By registering, you will also enjoy limited access to Premium articles, exclusive newsletters, commenting, and virtual events with our leading journalists
Already have an account? sign in
Join our new commenting forum
Join thought-provoking conversations, follow other Independent readers and see their replies