Emmanuel Macron challenges Vladimir Putin on gay rights in Chechnya and Syria conflict
'I will be constantly vigilant on these [LGBT] issues, which are in keeping with our values'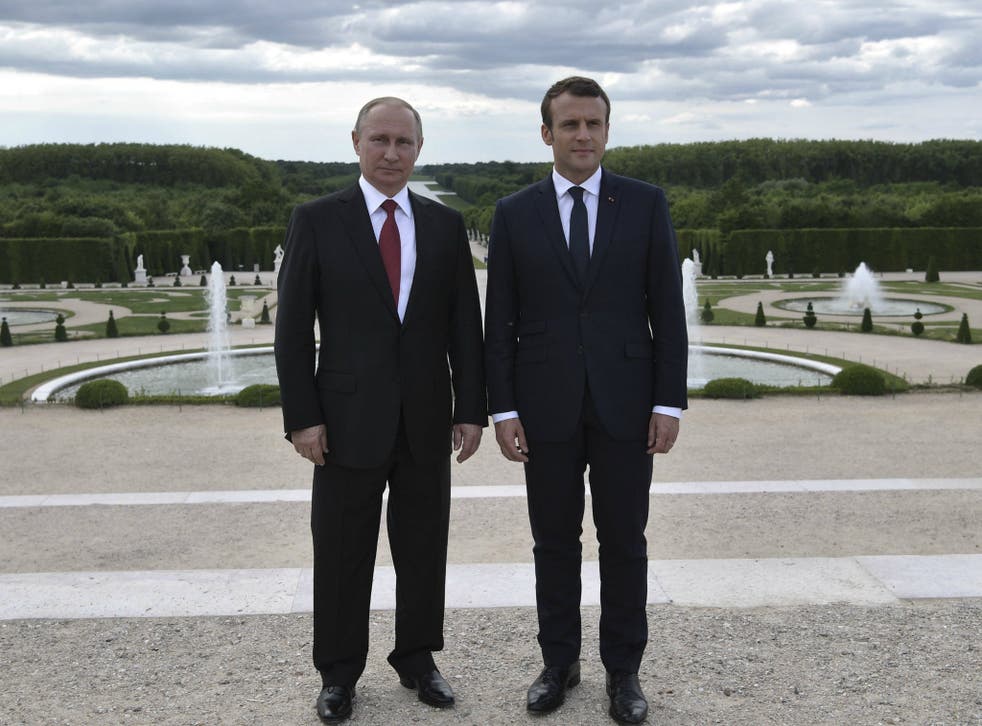 French President Emmanuel Macron did not mince his words during his first meeting with Russian leader Vladimir Putin on gay rights, chemical weapons and alleged cyberattacks.
Mr Macron warned Mr Putin that chemical weapons in Syria were a "red line" for France and that he would monitor further civil rights violations of gay people in Chechnya.
The pair of leaders shook hands for the cameras in front of the Palace of Versailles, but their body language appeared tense.
Mr Macron told journalists he had raised the concerns around the treatment and imprisonment of transgender and gay people in Chechnya, led by pro-Kremlin leader Ramzan Kadyrov.
"I had the chance to bring up how important it is for France to respect all people, all minorities and all sensibilities in a civil society," he said, as Mr Putin stood beside him listening to the translation.
He confirmed that Mr Putin had agreed to a "very regular monitoring" of the curtailing of gay rights in Chechnya, where hundreds of gay men were rounded up, sent to prison and tortured. At least 26 gay men have reportedly been killed.
Human Rights Watch report confirms 'gruesome' extent of gay persecution in Chechnya
Mr Macron said the Russian leader told him he had attempted to "establish the complete truth on the activities of local authorities" but did not provide details.
"As for me, I will be constantly vigilant on these issues, which are in keeping with our values," Mr Macron said.
His words follow condemnation from other European leaders, such as German Chancellor Angela Merkel, who said she urged Mr Putin after a meeting in May to "use his influence to protect these minority rights".
Mr Putin did not mention gay people during the conference with Mr Macron.
Chechen leader Kadyrov denied earlier this month that gay people were being persecuted, saying homosexuals "do not exist in the republic".
President Trump and President Macron have awkwardly long handshake
Mr Macron has previously addressed the rights of LGBT people. He blamed the "obsession" with his sexuality and his older wife on "rampant misogyny and homophobia". Of all the tweets about his meeting with Mr Putin, Mr Macron pinned the one where he addressed gay rights at the top of his twitter profile.
Regarding the conflict in Syria, the French President also had strong words for Russia and its allies, including Syrian leader Bashar al-Assad.
In Pictures: The crisis unfolding in Syria

Show all 30
"The use of chemical weapons by anyone will be the object of reprisals and immediate retaliation on the part of France," he said.
Mr Putin's purpose of the meeting was to underscore his demands for Europe to lift sanctions against Russia and to re-establish a warm relationship Russia previously had with France.
Mr Macron, who was elected three weeks ago, had information that groups tied to Russia had tried to hack his campaign – which Mr Putin denied – and propel rumours about him in Russia-backed news outlets.
As he stood beside Mr Putin, Mr Macron also accused two media outlets, Russia Today and Sputnik, of acting like "organs of influence" rather than objective news channels.
The claim has been denied by Russia Today editor Margarita Simonyan, who said that Mr Macron's denouncing of news he did not agree with would set a "dangerous precedent that threatens both freedom of speech and journalism at large".
Join our new commenting forum
Join thought-provoking conversations, follow other Independent readers and see their replies