4 charts that show the Mediterranean is the most dangerous place in the world for migrants
And how the EU needs to bring back Mare Nastrum
Zachary Davies Boren
Tuesday 21 April 2015 00:15 Comments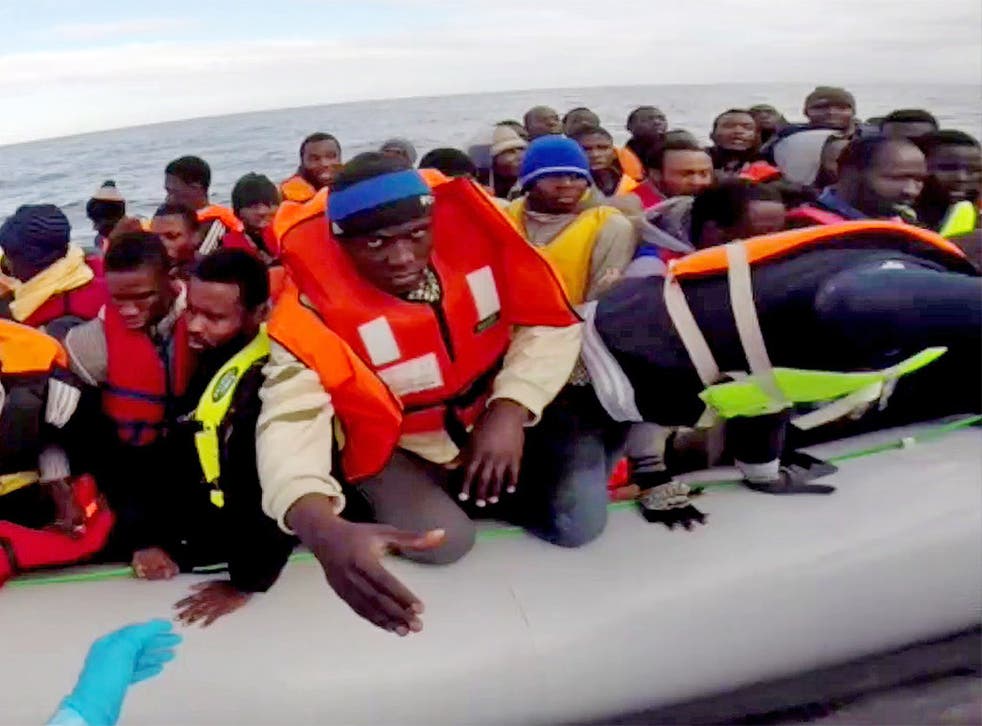 It took two of the Mediterranean's worst boating disasters to draw the eyes of the world towards the escalating humanitarian crisis at the door to Europe.
More people from warzones and dangerous developing nations are seeking refuge in Europe every year, though many aren't classed as refugees.
And more of those people are dying every year.
According to new statistics from the International Organisation for Migration (IOM), the number of migrants that have died in the Mediterranean this year dwarfs the combined total of every other migrant route in the world.
More than 1,650 people have died in the waterway that separates southern Europe from northern Africa, compared to 86 in the Horn of Africa, 43 in the Caribbean, 41 on the US-Mexico Border and 37 in the Bay of Bengal.
---
Following this month's two enormous disasters, 2015 looks set to surpass last year's death count, even if it's unlikely as many will attempt to make the journey.
There have already been more than half as many deaths as the entirety of last year and it's only April — the number of people migrating will probably increase significantly in the coming months.
The UNHCR, where the figures above derive, says more people have been travelling as the Mediterranean weather has improved.
Italian authorities handled well the unprecedented number of migrants, rescuing more than 150,000 people in the year after October 2013.
---
The reason Italy was so equipped to handle and rescue as many migrants as it did was because of operation Mare Nostrum.
In the wake of a similar shipwreck around Lampedusa in late 2013 - in which around 360 people died - the Italian government ordered its Navy to get involved.
Using 900 military troops, 32 naval units and 2 submarines, the operation performed 421 operations in just one year, saving more than 150,000 people, seizing 5 mother ships and capturing 330 smugglers.
The initiative was heralded by humanitarian groups, but ended in October 2014.
The problem with Mare Nostrum was one of expense; it had cost 9 million euros a month. For recession-hit Italy, that was just too much.
They have since introduced a more affordable operation, Triton, but that is now facing scrutiny after failure to prevent the Mediterranean's latest tragedies.
---
Last year, in which a record number of migrants crossed the Mediterranean, most came from war-torn Syria.
To be smuggled aboard one of these death trap boats from Libya, people are often required to pay up to €1,500.
Numbers from the IOM reveal that the countries from which the migrants originate are unsurprisingly ravaged by conflict and food insecurity.
So far in 2015, most of the migrants started their journey in west Africa where the Ebola virus and violent Boko Haram insurgents have devastated the region and left many thousands displaced.
---
According to data from intergovernmental intelligence group Frontex, there has been a major shift in which route migrants are choosing to take to Europe.
Less than three years ago, more migrants were travelling by way of the eastern Mediterranean — which often entailed leaving from Istanbul and arriving in Greece, Cyprus or southern Bulgaria.
But as the eastern Mediterreanean continues to see its usual activity of around 50,000 migrants per year, the number travelling from Libya to Italy - the so called 'central Mediterranean' route - has skyrocketed from just 4,500 in 2010 to more than 170,000 last year.
Register for free to continue reading
Registration is a free and easy way to support our truly independent journalism
By registering, you will also enjoy limited access to Premium articles, exclusive newsletters, commenting, and virtual events with our leading journalists
Already have an account? sign in
Join our new commenting forum
Join thought-provoking conversations, follow other Independent readers and see their replies