Far-right protesters in Brussels confronted and intimidated Muslim women on peace march
'They marched into the square and started a major confrontation', one eyewitness said
Matt Broomfield
Monday 28 March 2016 11:46 Comments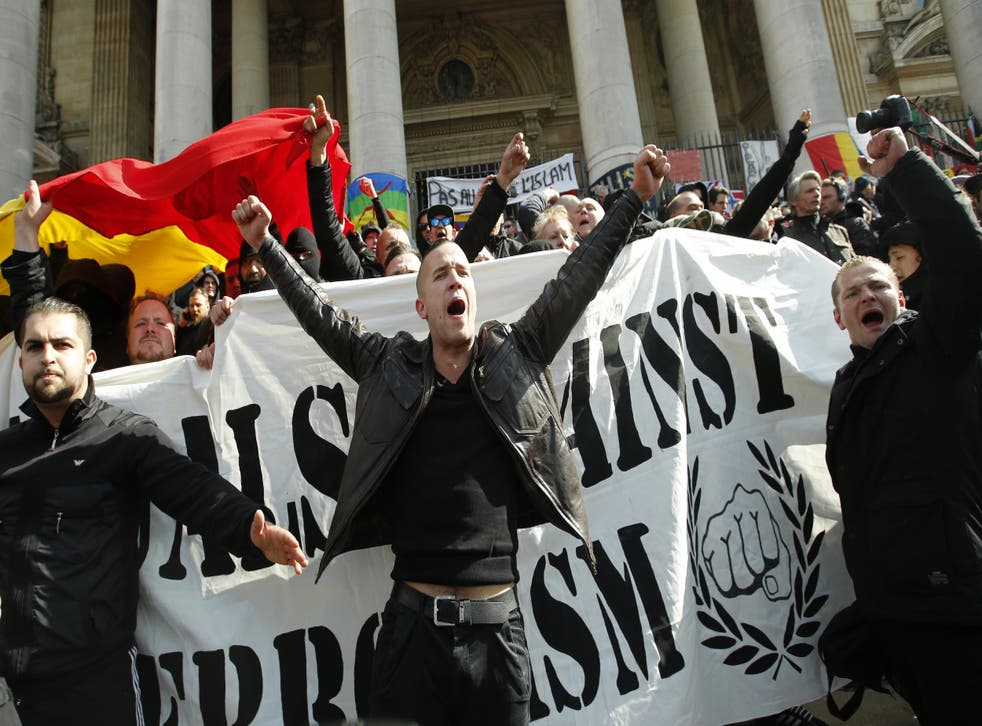 Muslim women were confronted and intimidated by right-wing protesters disrupted a peace vigil dedicated to victims of the Brussels attacks.
The women were singled out by members of a group of 400 demonstrators at an initially peaceful gathering held to remember the victims of last week's terror attacks in the Belgian capital.
As members of the public laid floral tributes to the victims of Tuesday's attacks at a makeshift memorial, police clashed with the group, which was seen making Nazi salutes and confronting ethnic minority groups including women, according to the BBC.
Adrian Liston, who was present at the vigil, told the BBC that the memorial had been disrupted by a "bunch of skinheads" who had turned up "in force".
"They marched into the square and started a major confrontation with the peace protesters," he added.
On Monday, the death toll rose to 35, not including the three suicide bombers, officials confirmed.
The additional deaths include two more American citizens, bringing the total number of US citizens killed in the attack to four.
Belgium's crisis centre website said there were 35 victims, but said only 28 of the victims had been formally identified.
The foreigners killed were British, Chinese, Dutch, French, German, Italian, Swedish and US nationals.
The formal "march against fear" through the city was cancelled by Belgian police, as they felt they could not ensure the safety of the crowds and wanted to focus on tracking down people involved in the attacks.
But significant police resources were eventually drawn to the Place de la Bourse, where a peaceful crowd containing Muslims and non-Muslims was confronted by around 400 fascists.
They were seen picking out Muslim women from the crowd at the vigil and singling them out for aggressive, confrontational abuse.
The group carried a banner identifying themselves as "Casuals Against Terrorism".
Many of the men wore balaclavas or 'Anonymous' masks, and they chanted nationalist, anti-immigrant and anti-Isis slogans.
They also made Nazi salutes and waved flares in the air, before being dispersed by riot police using truck-mounted water cannons.
Brussels attacks: tributes are paid to the victims

Show all 27
AFP report that around 10 of the far-right protestors were arrested.
Register for free to continue reading
Registration is a free and easy way to support our truly independent journalism
By registering, you will also enjoy limited access to Premium articles, exclusive newsletters, commenting, and virtual events with our leading journalists
Already have an account? sign in
Join our new commenting forum
Join thought-provoking conversations, follow other Independent readers and see their replies