400 migrants feared drowned in Mediterranean after boat bound for Sicily capsizes
The Italian coastguard has launched a search operation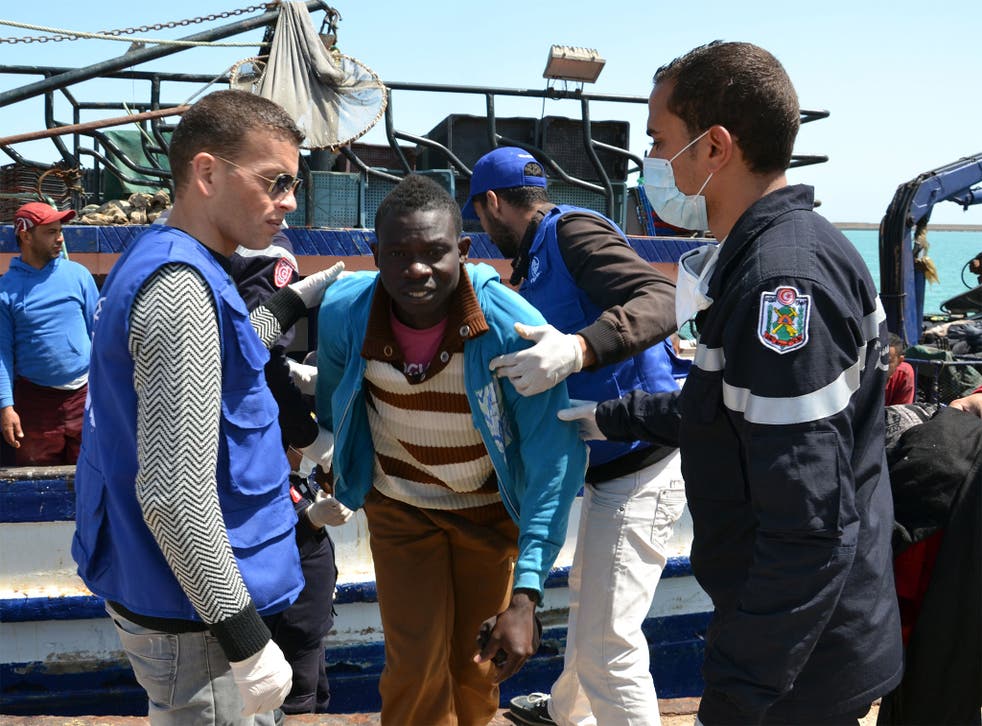 Nearly 400 migrants attempting to cross the Mediterranean Sea from Libya are feared to have drowned after their vessel capsized.
It follows other similar incidents that have happened this week.
Details of their plight are still emerging as hundreds of rescued migrants arrived in the Sicilian capital, some of the 8,480 saved from the water since an armada of rickety boats began to sail from Africa earlier this week.
Those rescued said that one vessel carrying between 500 and 550 people was barely 24 hours into its journey when it capsized.
Harrowing testimony detailed how, as the situation became more frantic, one victim's body was tossed overboard and torn apart by sharks. Another is said to have died from asphyxiation from diesel fumes.
One of the suspected traffickers, a Guinean man named as Aboubakarma Banghoura, was arrested after he was brought ashore by Italian Coast Guard with 110 rescued passengers. He faces charges of manslaughter.
The tragedy is the latest in a growing crisis of migrants that are dying on the Mediterranean's waters. While travelling illegally many are thought to be attempting to flee war torn areas and oppressive regimes.
"A 17-year-old Nigerian whose brother was killed by Muslim fundamentalists told me he was tortured with electric shocks by traffickers because he didn't have money to travel," Giovanna Di Benedetto, a Save the Children official who assisted the new arrivals, told The Times. "Many are now talking about fleeing fundamentalists."
Flavio Di Giacomo, a spokesman for the International Organisation for Migration, said those rescued had arrived at Reggio Calabria in southern Italy after being picked up by the Italian coastguard. "We are continuing to investigate in order to understand how the shipwreck happened," he said.
The attempt to cross the Mediterranean has become one of the great humanitarian crisis of recent years giving rise to an industry of traffickers and harrowing tales of those who never live to make the journey. More than 500 migrants are already thought to have died crossing the Mediterranean so far this year.
More than 170,000 people arrived on boat to Italy in 2014, while more than 3,200 people were estimated to have died at sea making the attempt.
In November the Italian authorities ended their "Mare Nostrum" programme, which had been designed to rescue migrants adrift in the Mediterranean.
Many claim that the EU should be doing more to support their efforts to prevent further deaths at sea. But EU leaders are uncomfortable with such schemes, claiming that it encourages migrants to make the crossing.
Register for free to continue reading
Registration is a free and easy way to support our truly independent journalism
By registering, you will also enjoy limited access to Premium articles, exclusive newsletters, commenting, and virtual events with our leading journalists
Already have an account? sign in
Register for free to continue reading
Registration is a free and easy way to support our truly independent journalism
By registering, you will also enjoy limited access to Premium articles, exclusive newsletters, commenting, and virtual events with our leading journalists
Already have an account? sign in
Join our new commenting forum
Join thought-provoking conversations, follow other Independent readers and see their replies