Poland abortion laws: Ruling party to revive ban despite mass strike by women and defeat in parliament
'We will strive to ensure that even in pregnancies when a child is sure to die, strongly deformed, women end up giving birth so that the child can be baptised, buried, and have a name,' Jaroslaw Kaczynski says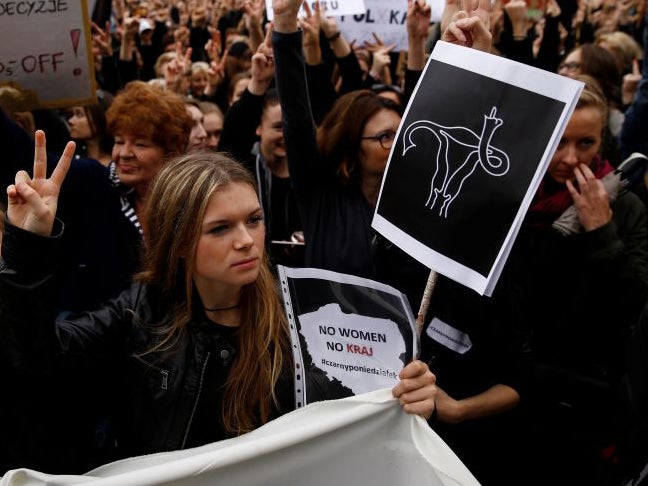 The ruling party leader in Poland has said his politicians will return to the drawing board in their efforts to tighten the country's anti-abortion laws.
Jaroslaw Kaczynski said his Law and Justice party (PiS) aimed to further restrict legislation despite the resounding victory for people power.
Poland's parliament rejected the party's draft law for a near-blanket abortion ban after protests and strike action across the nation.
Abortions are illegal in the Catholic country unless the woman's life is threatened, she is pregnant as a result of a crime or if the foetus is incurably ill. The draft law sought to remove the latter two exceptions.
Mr Kaczynski said in an interview with the Polish PAP news agency that he did not agree with all of the draft law, but said: "We will strive to ensure that even in pregnancies which are very difficult, when a child is sure to die, strongly deformed, women end up giving birth so that the child can be baptised, buried, and have a name."
The Catholic leader said there were around a thousand legal abortions each year, primarily because of Down's Syndrome.
He added: "We hope that soon this will not be the case. This is our goal. This must be prepared in the right way, however. The public also need to be convinced, particularly women, and we will do it."
Mr Kaczynski said the party was working on a new restrictive abortion bill.
Thousands of Polish women protested the anti-abortion proposal by dressing in black and going on strike on 3 October.
"Black Monday" forced government offices, universities and schools across 60 cities to close their doors.
The proposal for the stricter law came from a church-supported anti-abortion citizens' initiative that had gathered 450,000 signatures.
Thousands march in Dublin for Irish abortion rights
Show all 5
Campaigners claim tens of thousands of terminations happen in the country illegally every year, but even by conservative estimates, far more women have illegal than legal abortions.
Many women must travel to Slovakia or Germany to undergo the procedure
Join our commenting forum
Join thought-provoking conversations, follow other Independent readers and see their replies