Adam Osmayev: the public schoolboy and a plot to kill Vladimir Putin
In 1998 he was doing his A-levels at an elite college near Stroud. Now he's on trial in Ukraine for trying to kill the Russian President. Shaun Walker investigates in Odessa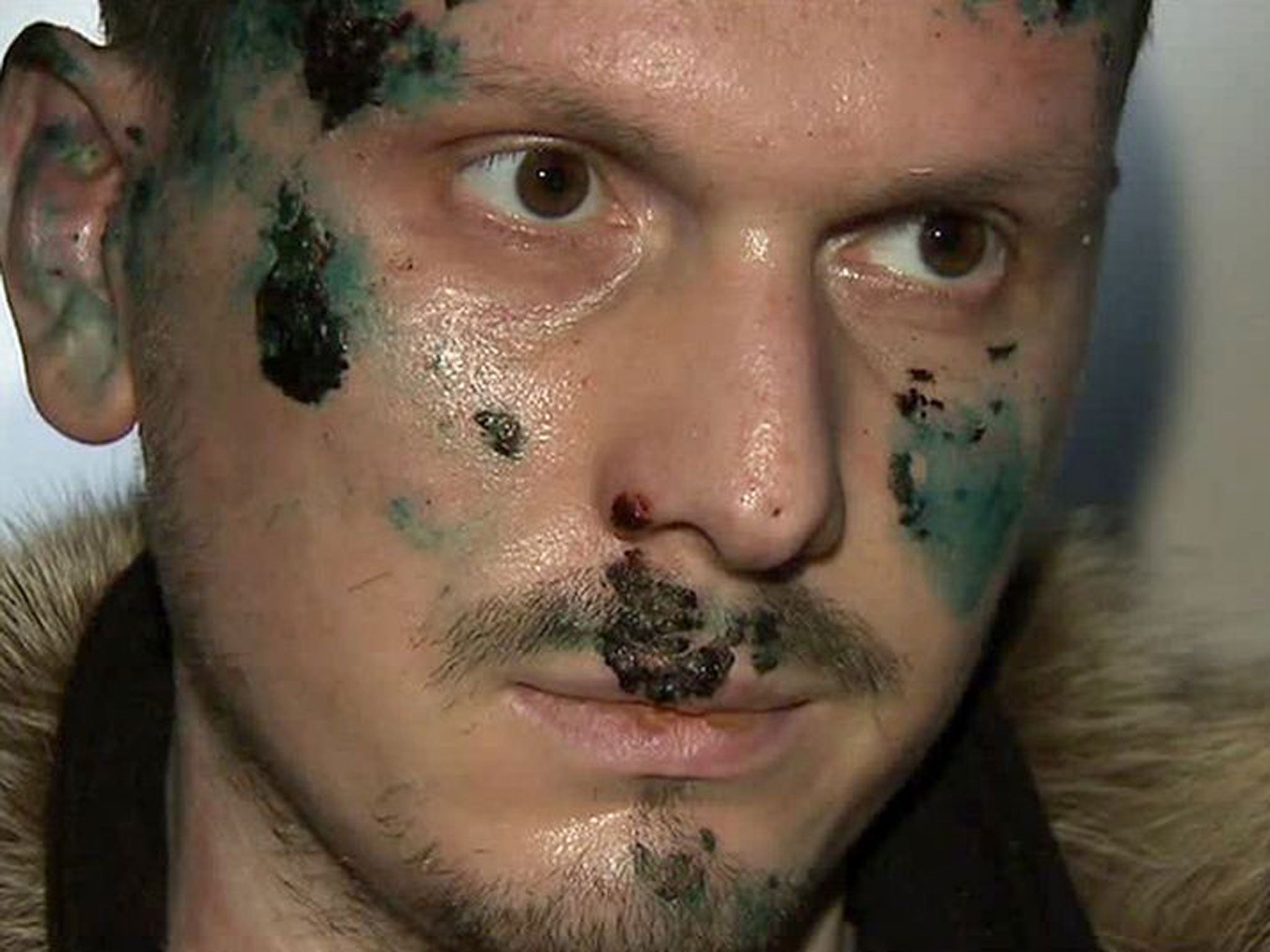 The state prosecutor, dressed in a regulation navy jacket with gilded buttons and insignia, reads in a monotone from the thick sheaf of papers that make up the indictment. Several hours in, she gets to the key phrase: "To carry out a terrorist act with the aim of the elimination of the head of the government of the Russian Federation, V. V. Putin." Locked behind the black metal bars of the courtroom's cage, surrounded by armed police, the defendant Adam Osmayev smiles wryly.
Mr Osmayev has an unusual biography for an alleged Chechen terrorist. Son of one of the troubled republic's most successful businessmen, he spent his youth in Britain where he was educated at a boarding school in the Cotswolds before studying economics at the University of Buckingham. In an interview from prison, the first time he has spoken out since his arrest over a year ago, he claimed that the charges against him are totally fabricated.
Just how the 31-year-old Osmayev went from bucolic Gloucestershire to a Ukrainian prison cell, where he stands accused of planning one of the most audacious terrorist acts in history, is a strange tale featuring allegations of torture, vendettas in the Russian secret services and rivalries in the murky world of Chechnya's pro-Kremlin leadership.
Last February, a week before the presidential election, Russians woke up to dramatic news footage of a foiled assassination attempt on Vladimir Putin, then the Prime Minister, who was standing for a return to the Kremlin as president. Grainy footage showed dozens of heavily armed, masked special forces troops storming an apartment in the Black Sea resort of Odessa, Ukraine, and arresting an obviously injured man. The reports, aired on state-controlled television, said three men had planned the attack on Mr Putin on the orders of the Doku Umarov, the leader of a radical Islamist terror group in the war-torn republic.
Adam Osmayev was named the main organiser, and Russian television filmed the Chechen, his face covered with cuts and bruises, admitting that "the plan was to go to Moscow and carry out an attack on Putin". The strike was due straight after the presidential elections, and was in the final stages of planning, he said. The men were stopped when they accidentally detonated a bomb they were preparing. One of them was killed, another arrested, and Osmayev went to ground until he was captured in the raid several weeks later.
Ever since, Russia has been trying to extradite Mr Osmayev, but after he appealed to the European Court of Human Rights the process was halted, and so now the case has come to trial in Ukraine. Mr Osmayev is now facing a 15-year prison sentence if found guilty. In a court hearing last week, he retracted his confession and the trial proper will now begin on Thursday.
Through a channel which cannot be revealed, The Independent was able to interview Mr Osmayev directly. Although he refused, on the advice of his lawyer, to talk about details of his case before he reveals them in court, he was categorical that the charges against him are false, and spoke at length about alleged torture that he faced in the early stages of the investigation.
"When they broke into the flat to arrest me, they put me face down on the floor," recalls Mr Osmayev, speaking softly in perfect, almost accentless English learned during his seven-year stay in Britain. "I wasn't resisting, but they put handcuffs on me with my hands behind my back, and started beating me, on the back of the head, and with guns." He was told that what he was going through was nothing compared to what they would do if he did not co-operate, he says.
"They said they would chop my penis off and put it in my mouth. Then they covered my head with a plastic bag. They told me they had my father and stepmother as hostages, and they would be arrested if I didn't confess."
He also says that he was injected with unknown substances that made him alternately dazed and euphoric. He was told that if he did not admit to a plot against President Putin, he would be handed over to Russia and find himself in the notorious torture chambers of Ramzan Kadyrov, Chechnya's ruthless Kremlin-backed leader. Admit to the crime, they told him, and he would be given a short prison sentence in Ukraine. "I was ready to admit to anything, even plotting to kill the Pope. Because what Kadyrov does is well known to the world. More than anything I was worried about my father. He had a heart attack a few years ago and I was more worried for him that I was for myself."
The role of Mr Osmayev's father in the case is intriguing. Aslanbek Osmayev, 52, was the head of Chechnya's oil resources in the early 1990s, a key source of wealth in a region that was about to undergo more than a decade of bitter warfare. Coming from a background of high-ranking Chechen Communists, he was able to exploit well-placed contacts in the late 1980s, and says he made his "first million" during Perestroika, before the Soviet Union had even collapsed. By 1994 he could afford to send his son Adam to Wycliffe College, a £10,000-per-term school in the Cotswolds, where he took A-levels in 1998.
In 2001, shortly after former rebel Akhmad Kadyrov was installed as leader of the region with the Kremlin's blessing, he asked Aslanbek Osmayev to return to Grozny and run Chechennefteprodukt, the regional oil company. Working closely with Mr Kadyrov, Mr Osmayev says he fought off attempts from Russian oil companies, backed by elements of the FSB secret services, to seize the region's assets. "There was a major battle for resources going on between different clans in the FSB, and I was in the middle of it," he recalls, in a Skype conversation from Tbilisi, Georgia, where he fled after the arrest of his son. "Adam had come back from the UK and he was my right-hand man, we worked together."
In 2004, Akhmad Kadyrov was assassinated during an army parade at a stadium in Grozny, and his son Ramzan became the effective head of the republic. "I met with Ramzan a month after Akhmad's death and he said he had signed a deal with Rosneft [a Russian state oil company] and I wasn't needed any more." Aware that crossing Kadyrov junior was a bad idea, Mr Osmayev and Adam left for Moscow.
Enemies of Mr Kadyrov have a habit of meeting sticky ends, and in recent years there has been a series of suspicious and unexplained assassinations of whistleblowers or political rivals of Mr Kadyrov in cities as far apart as Dubai, Moscow, Istanbul and Vienna. Although Mr Kadyrov has always denied any involvement in illegal killings, it is not surprising that Mr Osmayev was worried for himself and his son. He hid abroad for some time, but Adam remained in Moscow where in 2007 he was accused of plotting a terrorist attack against Mr Kadyrov. He was released when the evidence didn't stack up.
"They couldn't get to me so they went for Adam," claims Aslanbek Osmayev. "There wasn't an ounce of truth in those allegations, and there is no truth in these latest ones, either. Ramzan knows that I know too much, but I don't think he is behind it, I think it is people around him trying to please him. This is all thought up by Russian military intelligence, and I even know the name of the person behind it. I think it is partly personal revenge against me, and partly it was an attempt to please superiors with a 'convenient' terrorist plot just before the elections." Aslanbek Osmayev himself was also held for several days after Adam's arrest, effectively as a hostage, in an Odessa hotel room. He was watched over by agents from Ukraine's SBU secret service and Russia's FSB, he claims, who demanded he gave evidence against his son. He refused to talk, and was eventually released after Adam himself confessed.
Adam Osmayev's wife Amina Okuyeva says her husband hardly knew the two other men allegedly involved in the plot, and his lawyer, Olga Chertok, claims that the prosecutor's case is full of inconsistencies. She leafs through a sheaf of court documents patterned with notes in spidery writing, at regular intervals jabbing a finger at a particularly implausible detail and muttering "Madness! Insanity!" Working from a small office in a shabby Odessa courtyard, Ms Chertok is an independent lawyer who usually takes on corporate raiding cases, and says that the authorities did everything they could to keep her away from the Osmayev case. Since she took it on, she has noticed people following her, and suspects that her telephone has been bugged. "They wanted a pliant lawyer, and they knew that wasn't me," she says. "There's not a single piece of evidence that implicates him in any way."
Much of the indictment does indeed seem far-fetched. The idea that the three men operating out of an Odessa apartment could kill Mr Putin by driving cars filled with explosives into the path of his motorcade is highly implausible. "Putin is perhaps the best protected leader in the world," says Andrei Soldatov, a security analyst. "Attacking his motorcade is unrealistic, he travels much faster than any Western leader would be able to as the streets are always cleared of all other cars before his motorcade arrives." Most Russian analysts believe the whole story to have been a plot concocted to boost Mr Putin's ratings.
Nevertheless, there is no doubt that Adam Osmayev has some questions to answer. While the details of a plot targeting Mr Putin seem fanciful, was he handling explosive devices, and if not, why was there an explosion? How did he know the other two men involved, one of whom died in the explosion and the other, Ilya Pyanzin, who has been extradited to Russia? Most importantly, why did he hide from police for several weeks after the explosion, until he was found by the security forces in the raid that was later shown on Russian television? He claims that he has answers to all these questions that prove his innocence, but cannot speak about them publicly before he gives evidence in court, which is due at the next hearing on Thursday.
Asked if there is a message he would like to pass on to those who knew him in the UK, or anyone else interested in his case, Mr Osmayev says that although he is a devout Muslim, he has never been interested in radical Islam or terrorism. "I was educated in Britain, I feel like a very European person," he says. "I don't believe in terrorism, I believe in freedom of speech and human rights. That's why I'm against Kadyrov in Chechnya. I have never been involved in any kind of terrorism."
Timeline
1981 Born in Grozny, Chechnya
1994 Sent to study in Britain
2001 Returns to Chechnya
2007 Arrested in connection with an assassination attempt on Ramzan Kadyrov. Moves to Ukraine
February 2012 Arrested in Odessa where he was hiding with his father over plot to kill Vladimir Putin
December 2012 Court case begins
14 February 2013 Osmayev due to give his testimony to the court