Adolf Hitler's autobiography 'Mein Kampf' is back in print - and three times as big
After a 70-year ban in Germany, Hitler's diatribe has gone on sale again, along with academic context
Tony Paterson
Munich
Friday 08 January 2016 21:06 Comments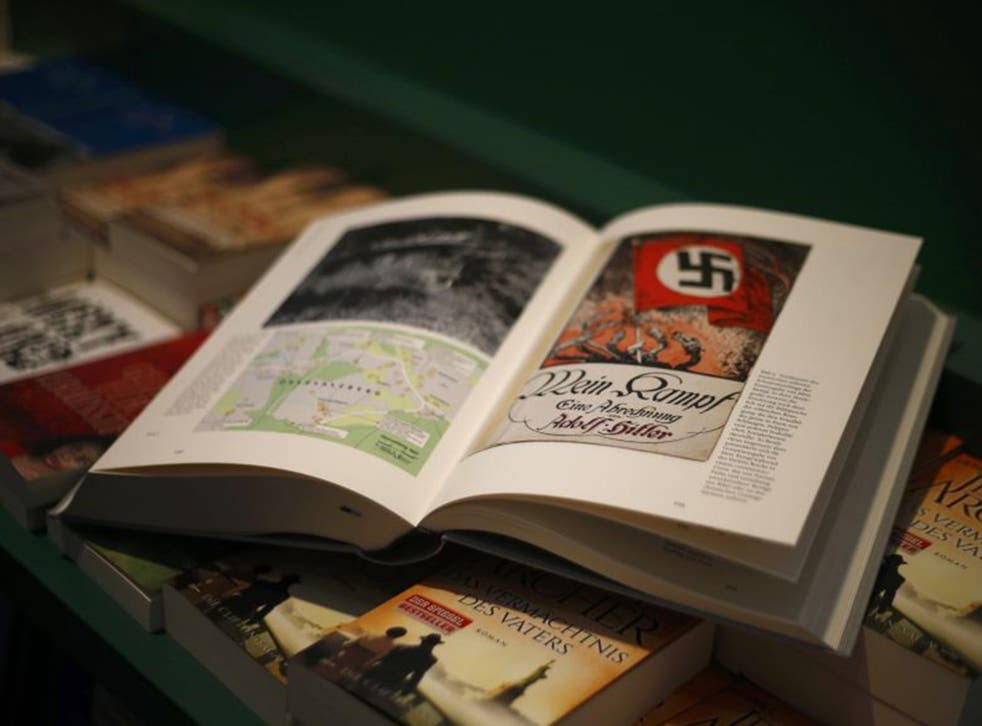 It comes in two volumes and is 1,966 pages long; it weighs 10kg and it contains more than 3,500 largely academic footnotes. The long-awaited new German edition of Adolf Hitler's anti-Semitic diatribe Mein Kampf is not the sort of work easily handed round at a political rally.
The book emerged from a 70-year ban in Germany today, going back on sale for the first time since 1945, despite its continued reputation as one the most pernicious pieces of writing ever to have emerged from the country.
Yet the new edition of the Nazi leader's autobiographical and racist rant seems unlikely to inspire even the most ardent of Germany's new generation of neo-Nazis or of its budding anti-immigration movements. If sheer weight and bulk were not a deterrent, the €59 (£44) price tag for the first print of 5,000 copies surely will be.
"Our aim is to debunk and demystify this book," said Dr Christian Hartmann of Munich's Insitute for Contemporary History, one of a team of historians who have spent three years preparing the "critical edition". "We wanted to surround Hitler with our own words," he said at a press launch.
For 70 years, the state of Bavaria, which owned the copyright, refused to allow it to be republished, but its copyright expired on 31 December. Most German Jewish organisations have welcomed the publication.
Andreas Wirsching, another of those involved, said the ending of the copyright left historians with a problem. "We could have simply ignored the book and done nothing – but we were convinced that we had to do something. We wanted to put Mein Kampf firmly in its historical context," he said.
The critical edition, seen by The Independent, will delight academics but would challenge school pupils or the readers of popular historical novels. There are two pages of footnotes and comments to every half page of text.
A cursory glace shows that Hitler's anti-Semitisim is omnipresent. Mein Kampf is packed with references to supposed sub-humans, such as "the black-haired Jew boy with an expression of Satanic joy" as he prepares to prey on an "unwitting" German maiden. But often the footnotes merely tell us that the term was a 19th-century cliché.
Professor Ian Kershaw, the British author of a two-volume biography of Hitler, who was in Munich for the launch, described the new edition as "excellent" and said it was long overdue. "There was never any sense in banning this book in the first place," he said.
Register for free to continue reading
Registration is a free and easy way to support our truly independent journalism
By registering, you will also enjoy limited access to Premium articles, exclusive newsletters, commenting, and virtual events with our leading journalists
Already have an account? sign in
Register for free to continue reading
Registration is a free and easy way to support our truly independent journalism
By registering, you will also enjoy limited access to Premium articles, exclusive newsletters, commenting, and virtual events with our leading journalists
Already have an account? sign in
Join our new commenting forum
Join thought-provoking conversations, follow other Independent readers and see their replies