Aerial video shows migrants trying to board lorry in Calais as strikes take place
3,000 migrants are now stranded in Calais, with another 2,000 expected over the summer
Kiran Moodley
Wednesday 24 June 2015 09:01 Comments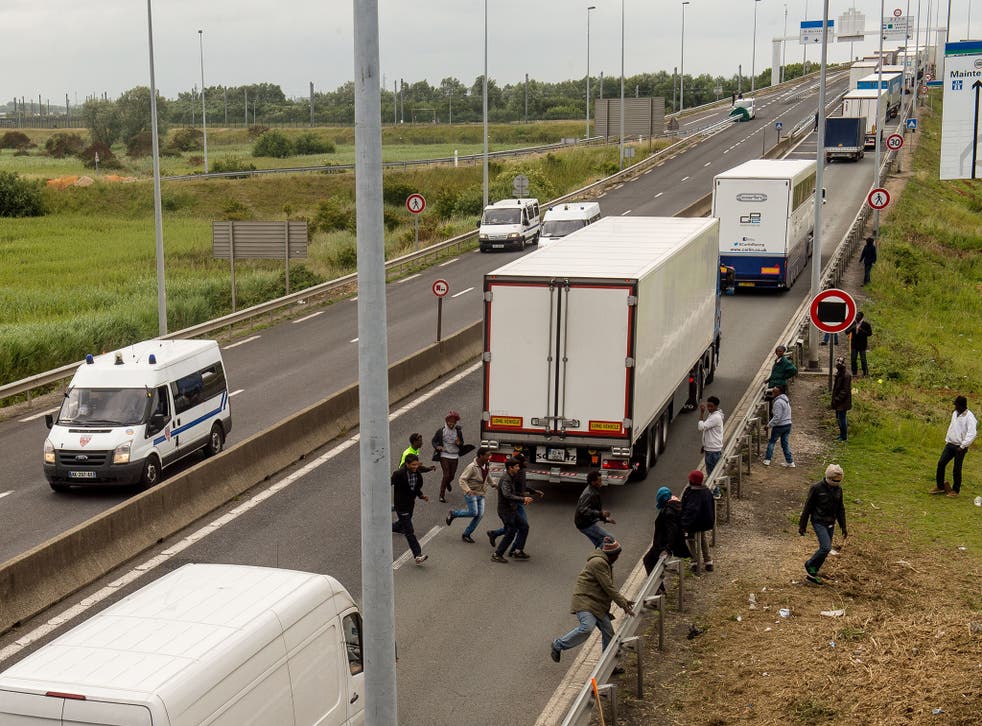 Footage from France shows migrants in Calais trying to take advantage of a strike by French ferry workers to sneak onto UK-bound lorries.
The aerial footage is the latest in a number of video clips showing the growing number of migrants trying to travel between the French port and Dover in recent weeks.
British freight officials claim drivers are dealing with a "war zone" in Calais, while prosecutors claim that up to a hundred Britons have been jailed in France over the last 12 months for trying to smuggle people into the UK.
The video below shows several migrants opening the back doors of a truck and piling on as the lorry slowly moves forward in the traffic. The last migrant slams the doors shut as he jobs behind the truck as it moves away.
Eventually however, the driver pulls up and forces the migrants out of the back of the vehicle, leaving them by the side of the road.
The migrants in the video were just a dozen among thousands who were looking to take advantage of the slow-moving lorries due to traffic because of a strike by French ferry workers.
Tyres and hay bales were burnt at blockades created by striking MyFerryLink workers. They are concerned that they could all lose their jobs by next month. While ferry services were disrupted, Eurotunnel said their crossings were unaffected.
In pictures: Calais crisis

Show all 15
According to estimates, the number of migrants at Calais has reached over 3,000. Aid workers believe 2,000 refugees from Eritrea, Syria and Afghanistan could arrive over the next few months.
Lorry drivers are being told not to stop within 60 miles of Calais, ensure their padlocks are always in place and to stick with other drivers when crossing the Channel.
The Freight Transport Association's international manager, Donald Armour, said that he was also worried about someone getting hurt, with thousands of migrants crowding the lanes around Calais a disaster waiting to happen.
"There is a lot of fighting between the migrants who all want to be on the best part of the road to get on to the lorries," he said. "We haven't had a fatality but it's not good. The situation is definitely worse than it has ever been."
The strike action started in Calais at roughly 3.50am.
Additional reporting by the Press Association.
Register for free to continue reading
Registration is a free and easy way to support our truly independent journalism
By registering, you will also enjoy limited access to Premium articles, exclusive newsletters, commenting, and virtual events with our leading journalists
Already have an account? sign in
Join our new commenting forum
Join thought-provoking conversations, follow other Independent readers and see their replies