Public support for German anti-immigration party at lowest level since start of refugee crisis
Drop comes amid rising support for centre-left Social Democrats party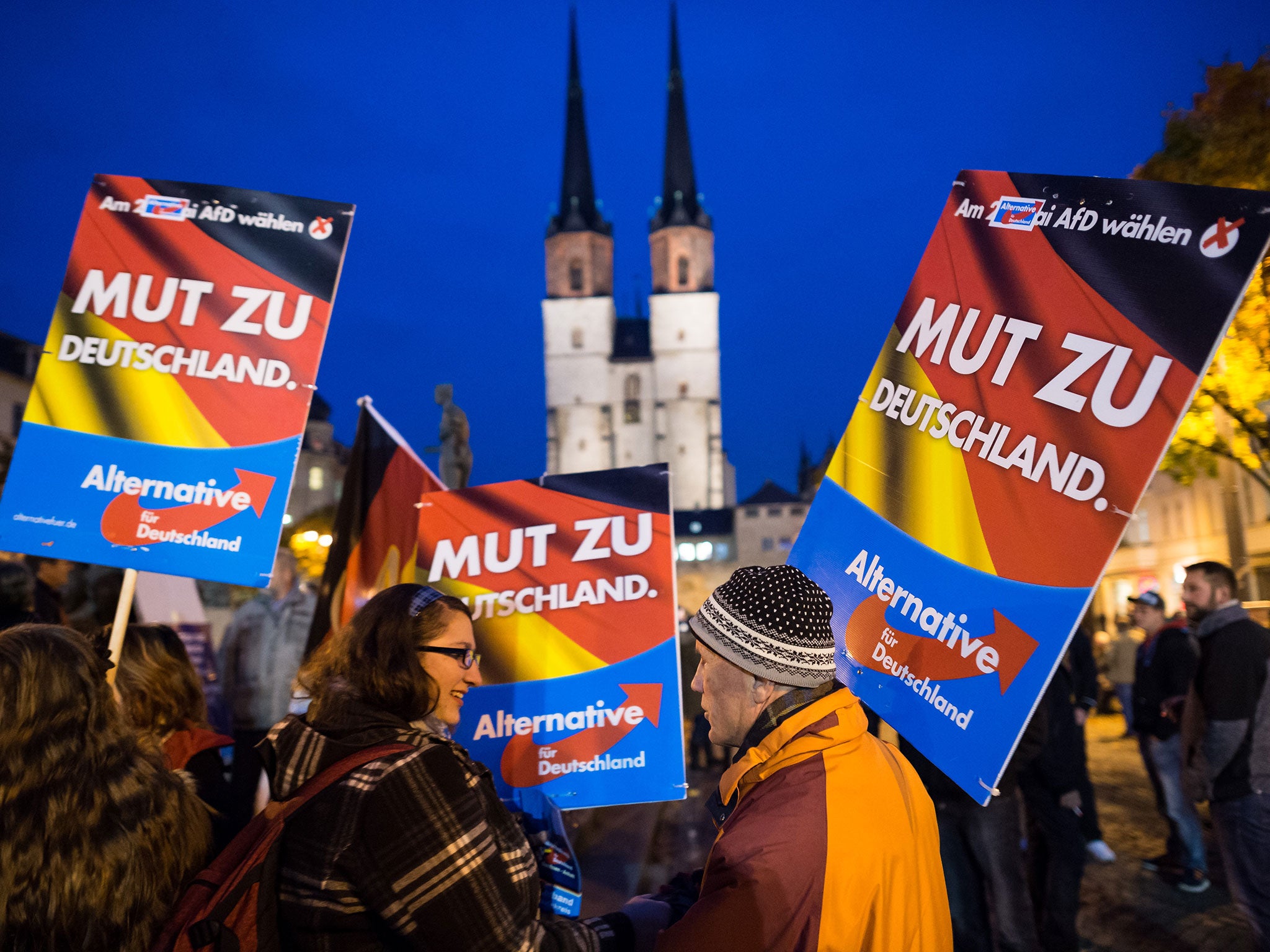 Support for the anti-immigration Alternative für Deutschland (AfD) party is plummeting in Germany, according to a new poll showing a surge for its left-wing rivals.
Only 7 per cent of Germans said they supported the AfD in the latest survey – the lowest figure since support for the populist group was bolstered by the refugee crisis in 2015.
Moving away from its Eurosceptic roots, it sought to capitalise on concerns over the arrival of more than a million asylum seekers in Germany and enjoyed an unprecedented surge in last year's local elections.
The AfD's policies include leaving the euro, ending "irregular migration", opposing multiculturalism, a burqa ban and the commitment to "traditional family models".
But the message of "our homeland, our Germany, our goals" appears to be wearing thin as support rises for the centre-left Social Democrats (SPD).
The party, on 32 per cent, narrowed the gap with Chancellor Angela Merkel's conservatives in Wednesday's Forsa poll for Stern magazine and RTL television.
The German Chancellor's Christian Democrats (CDU) and their Bavarian sister party (CSU) still hold a narrow lead at 34 per cent but the poll warned of a 2.5 per cent margin of error, putting the conservative bloc and the SPD neck-a-neck.
Germany reacts to Cologne New Year's Eve attacks
Show all 13
The far-left Linke gained one point to reach 8 per cent, making it the third-strongest party, with the Greens stood on 7 per cent and the business-friendly Free Democrats (FDP) at 6 per cent – above the 5 per cent threshold needed to enter parliament.
The poll came less than six months before Germany's federal election, where Ms Merkel will be battling for a fourth term against the reinvigorated SPD under new leader Martin Schulz.
The SPD and CDU/CSU are currently part of a "grand coalition", with key government positions shared out as part of an agreement reached following the 2013 election.
Whichever party emerges as the largest in the Bundestag, which the AfD is expected to enter for the first time in September, will be hoping to gain enough seats to form a coalition with smaller allies.
The election is being closely watched as a gauge of emerging populism and anti-immigration movements across Europe, following the defeat of Geert Wilders's Dutch Party for Freedom in the Netherlands earlier this month.
Marine Le Pen, leader of the far-right Front National, is considered a serious contender for the French presidency ahead of elections starting on 23 April.
Join our commenting forum
Join thought-provoking conversations, follow other Independent readers and see their replies