Head of far-right German party AfD accidentally votes for pro-refugee bill
'The mistaken way in which he voted naturally does not reflect his political opinion,' says AfD spokesperson
Maya Oppenheim
Monday 05 February 2018 20:02 Comments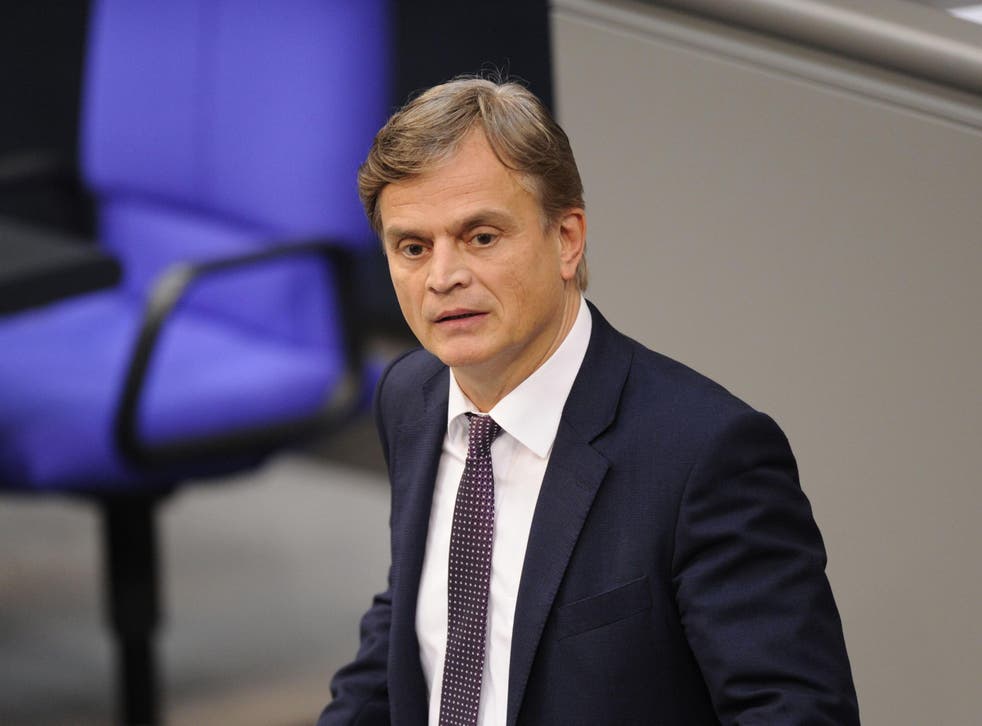 The head of Germany's far-right Alternative für Deutschland (AfD) party has inadvertently helped a pro-refugee bill pass a vote in parliament.
Last week German lawmakers voted to partially reintroduce a law allowing migrants who have been granted temporary refugee status to bring their closest relatives with them to the country.
A maximum of 1,000 additional migrants will be allowed to settle in Germany every month as long as they are direct relatives of refugees already residing in the country.
Unlike the AfD who voted against the government bill on family reunifications for people with subsidiary protection, the anti-Muslim party's own party manager accidentally helped the vote get through parliament.
Bernd Baumann voted for the government bill which continued a moratorium on family reunifications until the end of July and permits a small number of reunifications beginning in August.
The bill, which was tabled by Chancellor Angela Merkel's Christian Democrat Union and the Social Democrats (SPD), passed by a margin of 376 against 298.
The AfD said Mr Baumann had not performed a drastic ideological U-turn but simply made an error.
"The mistaken way in which he voted naturally does not reflect his political opinion," AfD spokesperson Christian Lüth told Spiegel on Friday.
The AfD proposed their own alternative bill which suggested family reunifications should be totally abolished for individuals with subsidiary protection - many of whom are Syrians.
World news in pictures

Show all 50
The AfD won seats in parliament for the first time in September by capitalising on a surge of discontent against Ms Merkel's decision in 2015 to open Germany's borders to more than a million asylum-seeking migrants.
The far right party is now the third largest party in parliament, recasting the German political landscape and taking voters from Ms Merkel's conservatives and the centre-left Social Democrats.
The party, which claims Islam is not compatible with the German constitution, was originally founded as a Eurosceptic party in 2013. Since then, it has focused its efforts on anti-refugee sentiment in the country by attacking Ms Merkel's decision to open Germany's borders.
The AfD, who wants a ban on minarets and the face-covering burqa, has taken an explicitly anti-Islam approach at times and has contacts with the far-right anti-Islam Pegida movement. It previously adopted some of Pegida's anti-press rhetoric such as the slogan "Luegenpresse", meaning "lying press", a term which Hitler applied in Nazi Germany.
At the end of last month, an Afd politician quit his leadership role and converted to Islam. Arthur Wagner stepped down from his post in the eastern Brandenburg state.
Register for free to continue reading
Registration is a free and easy way to support our truly independent journalism
By registering, you will also enjoy limited access to Premium articles, exclusive newsletters, commenting, and virtual events with our leading journalists
Already have an account? sign in
Join our new commenting forum
Join thought-provoking conversations, follow other Independent readers and see their replies