A year after Alan Kurdi's death, I rescue refugee children making the same treacherous journey every day
An rescue worker writes exclusively for The Independent about life patrolling the Mediterranean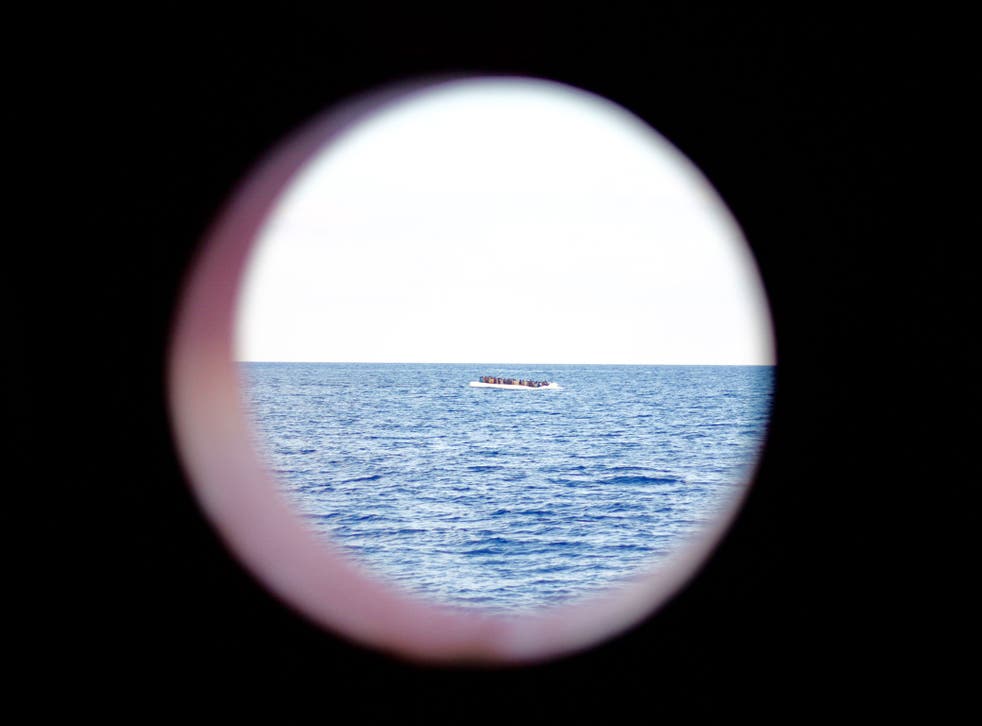 It has been a year since three-year-old Alan Kurdi died as his family tried to cross the Mediterranean Sea. Today, children continue to drown alongside thousands of refugees dying in desperate attempts to reach safety in Europe.
Jacob Goldberg, who works on a rescue ship patrolling the Mediterranean Sea operated by Doctors Without Borders (MSF) and SOS Méditerranée, reflects on three months saving asylum seekers on the deadliest sea crossing in the world.
One boy will always stay with me. For me, he represents the many children and teenagers we meet at sea who are traveling alone. And there are many. Out of the 2,750 people we have rescued since May, over 600 have been under the age of 18 and 89 per cent of those were without a parent or guardian. Totally alone.
Some have been as young as eight years old. This boy was 13 years old and alone. We rescued him from a particularly overcrowded rubber boat and he was terrified. I spotted him standing alone – he told me that he'd lost both his parents in Libya and managed to find his way on to a rubber boat by following some older boys he'd met in the detention center.
I cannot even fathom what he could have endured making this journey. Beatings and abuse are common for almost all those we speak to. He knew no one in the world, he had nothing but the dirty clothes on his back, he sat small and hunched on the chair in our clinic, he didn't know where we were going or why he'd left his home in Somalia.
I started to explain that we would make sure he was looked after when he arrived in Italy. I asked him if he understood what I was saying. He stayed silent for a moment or two, then he asked if he could have a glass of milk.
We are here because people die crossing the Mediterranean – I have seen it with my own eyes, people who have died a horrific death. A medic like me always goes out for the first approach to see if anyone is need of urgent medical attention.
On this particular day we headed to a rescue of two rubber boats – as is normal. When we arrived the people on the rubber boats were strangely silent, something felt different. When our teams approached they saw a mass of dead bodies floating in a mix of fuel and sea water in the centre of the boat.
In pictures: Life on board a refugee rescue ship

Show all 10
The survivors were plastered around the edges, wide-eyed and silent desperately trying to distance themselves from whatever catastrophe had happened. After the rescue we recovered the bodies, 21 women and one man. They were all Nigerian. We later learned that due to the low quality of the rubber boat the plywood floor had cracked and water had started to come in and mix with petrol from the open jerry cans.
Panic had caused a mass of scrambling; fighting for survival, and the more vulnerable people had been crushed and had drowned in the chaos. We recovered the bodies one by one and our doctor estimated their ages at between 16 and 32.
I was terrified that the next one we found would be a child but that day there were no children. It was difficult to identify the bodies. One man was looking for his wife – he looked at the photos we had taken to aid the identification of those who died, he couldn't recognise her. The way these people had died meant they no longer looked like their living selves. But on one photo he stopped: "That's my shirt, she was wearing my shirt," he said as tears were streaming down his face.
That night we thought we lost 124 people in the sea. We finished a rescue at 6pm and we were told about another boat in distress about two hours away. We started heading towards the location at full speed to try to get there before it went dark. Two hours later everyone was up on the bridge with binoculars, desperately searching the horizon for a tiny dot of a boat. As the sun set the mood grew tense. Every person on the boat had their eyes fixed searching.
As the sun set and the light faded I've never felt hope sink so quickly. We kept looking, it was so dark. You couldn't work out where the sea stopped and the sky started – it was just blackness. We knew they were out there but finding them felt nearly impossible.
Looking for a tiny pin with a tiny torch in the dark. After hours of zig-zagging the black with the ship's two search lights the captain spotted something – a tiny white dot. As we moved closer it started to come into focus. A rubber boat packed full of people, they were waving at us. Cheers sounded all around the boat as we started donning our lifejackets to go and bring them to safety. The people we rescued were exhausted, hungry, thirsty and truly scared. They had been on the water for over 20 hours.
Some days when we are waiting for a rescue but the sea is too choppy for rubber boats to leave the Libyan shore we spend time doing things around the boat, putting up shade netting, packing rescue kits (we give every rescued person a kit with some food and blanket, some water, socks, a coverall and a towel), training the team on rescue techniques and CPR.
We have a mass casualty plan for what to do in an emergency situation. We teach all the new crew who come on board so everybody knows their job in that event, for example if a boat capsizes during a rescue or we find many people in the water drowning – we have to be prepared for the worst but I really hope we never have to use it.
Once we have people on board it takes about 36 hours to reach Italy. We do our best to take care of them, make sure they are dry, safe, have food to eat, a cup of tea, the opportunity to talk and of course medical assistance for those who need.
Not so long ago we had about 250 rescued people on board and the sea was quite rough and got worse throughout the day. It was so bad that nearly everyone started to feel seasick.
I gave out a lot of anti-sea sickness tablets and injections but as the day wore on the waves grew bigger and started crashing over the sides of the ship. All people could do was to find some small dry space and lie down and shut their eyes to try to overcome the nausea.
Everywhere you looked there were people curled up on the floor trying to shake off the nausea, I gave out a lot of vomit bags that day. It's a horrible feeling to not be able to do to more for people when they have suffered so much.
They didn't want to move, or eat, or do anything. As if they hadn't endured enough. The next day we reached the shore and they were faced with the next stage of their difficult journey.
Last week, we rescued a wooden boat. The difference is that there are a lot more people in them and the can easily capsize during a rescue. This one had over 400 people on it.
It was so full all you could see was a face of faces and barely any boat. We started the rescue as quickly as possible as so not to delay – each one of us knowing full well what could happen if things didn't go well.
The risk of the boat unbalancing as people try to get off in haste. There were so many little children on this boat, three babies under one and nine pregnant women.
The boat had a lower deck where people were crammed inside with little air. Suddenly we heard that water was entering into the hull. I kept thinking "please don't let this boat capsize". Over the radio the rescue team was calling: "We need some more assistance here, there is water entering into the lower deck and we need to get people out now".
Once people get on board Aquarius they are safe. They hugged each other and some were crying. The little children started running around playing with each other while their mothers collapsed in fatigue, overwhelmed with what they'd all just been through. It was such a relief when the last person came on board; smiling at us he firmly shook our hands and hugged everyone.
By Jacob Goldberg, MSF Medical Team leader, on the MV Aquarius
Join our new commenting forum
Join thought-provoking conversations, follow other Independent readers and see their replies