Alexander Litvinenko murder suspect to avoid taking part in inquest
Andrei Lugovoy said he had 'lost all faith in the opportunity of an unbiased investigation in Britain'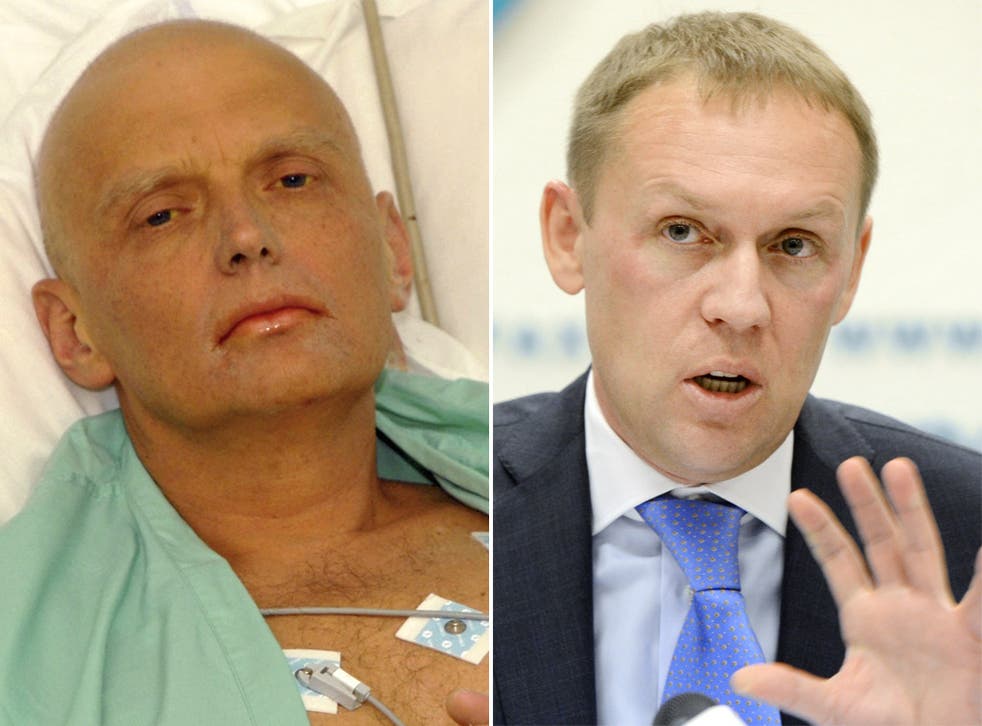 A former KGB officer suspected of murdering Alexander Litvinenko has announced he will not take part in the coroner's inquest due to take place later this year and attacked the British police and courts as "politically motivated".
Andrei Lugovoy, now a politician in Russia, told a hastily assembled press conference that he had lost faith in British justice and said he would take no further steps to clear his name.
It emerged last year that at the time of his death in 2006, after being poisoned with radioactive polonium, Mr Litvinenko had been a paid agent for MI6 and was dealt with by a handler known as "Martin".
The Foreign Secretary, William Hague, has asked for unspecified evidence relating to the case to be heard in secret for national security reasons. The move has been opposed by Mr Litvinenko's widow, Marina, but last month the coroner, Sir Robert Owen, ruled that he would hold a hearing behind closed doors to see the Government's evidence. The inquest is due to formally open on 1 May.
Russia has refused to extradite Mr Lugovoy, who is wanted by the Metropolitan Police in connection with the killing of Mr Litvinenko, who died after an agonising ordeal in hospital. Doctors diagnosed his condition as polonium poisoning just before he died.
Mr Lugovoy said: "I lost all faith in the opportunity of an unbiased investigation in Britain. It's not clear how I can defend myself and oppose arguments that are not going to be made public. Who will evaluate the truthfulness of secret facts?"
During the press conference, he held up a Scotland Yard report to the coroner, which he said had been provided to him by British authorities under a non-disclosure agreement. He said the few facts contained in the report proved his version of events, claiming it established that the polonium trail led from London back to Moscow, rather than the other way round. He said the rest was a mix of "politically motivated rumours and gossip" designed to smear him and Russia.
"I read this document and was absolutely horrified, not because it has any facts or proof against me, but because it has so much nonsense in it," Mr Lugovoy said. "It became clear to me why London police never presented a single piece of evidence of my guilt; this evidence is nonexistent."
Mr Lugovoy, who met Mr Litvinenko three times in London prior to his death, has always denied involvement in the murder. After the scandal he won a place in parliament, which guarantees him immunity from prosecution in Russia.
Today he again denied all involvement and put the blame on Boris Berezovsky, an exiled oligarch who lives in London and was close to Mr Litvinenko. "All the Ramon Mercarders died out in Stalin's time," said Mr Lugovoy, referencing the assassin sent by Moscow to kill Leon Trotsky in Mexico in 1940. "And Litvinenko was no Trotsky either. He wasn't a person of the scale that secret services would send assassins around the world after him with ice-picks in their hands."
Register for free to continue reading
Registration is a free and easy way to support our truly independent journalism
By registering, you will also enjoy limited access to Premium articles, exclusive newsletters, commenting, and virtual events with our leading journalists
Already have an account? sign in
Register for free to continue reading
Registration is a free and easy way to support our truly independent journalism
By registering, you will also enjoy limited access to Premium articles, exclusive newsletters, commenting, and virtual events with our leading journalists
Already have an account? sign in
Join our new commenting forum
Join thought-provoking conversations, follow other Independent readers and see their replies