Alexei Navalny moved to prison hospital as concerns grow over jailed Putin critic's health
Mr Navalny is almost three weeks into a hunger strike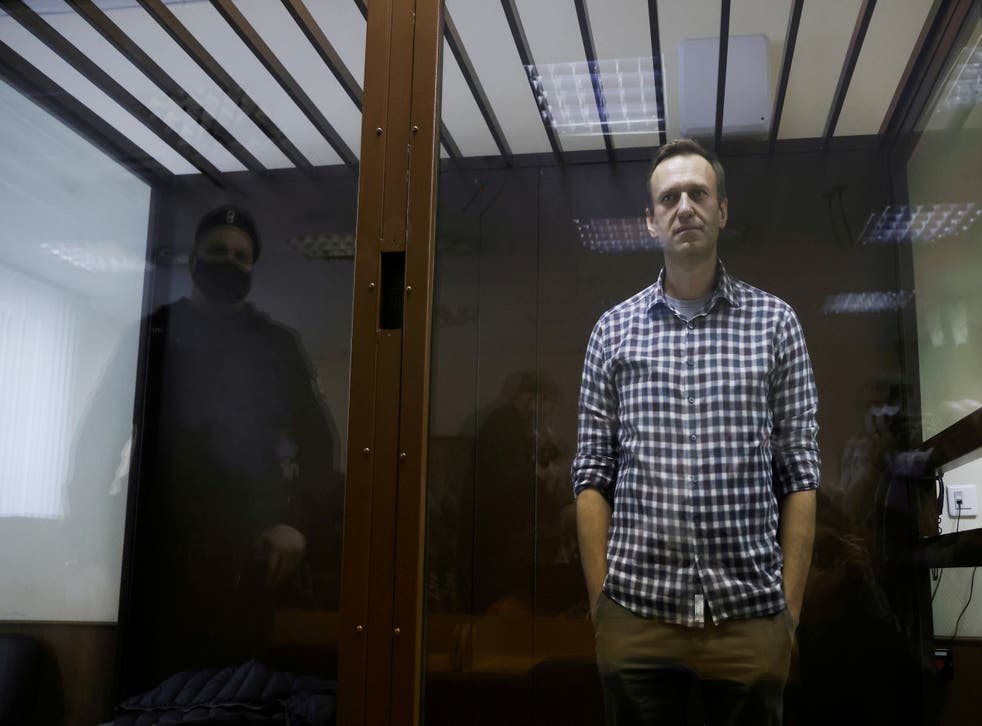 Jailed Russian opposition leader Alexei Navalny has been transferred to prison hospital amid concerns he has become critically ill.
Mr Navalny is now nearly three weeks into a hunger strike he declared in protest at not being allowed access to doctors he trusted. Associates of the Putin critic say he is "days away" to death, with his press secretary claiming the Kremlin was instigating a slow-motion "murder".
The oppposition politician, who returned to Russia in January after a near-death scrape with Novichok, appears to be in poor and deteriorating health. For over a month he has complained of serious problems with his spine and nervous system, likely now exacerbated by the continued hunger strike. Prison authorities have denied his requests to be seen by anyone other than heavily controlled prison doctors.
On Sunday, four of his trusted doctors made their way 100 kilometres (62 miles) east of Moscow to the infamous IK-2 prison colony that Mr Navalny has for the last five weeks called home. They asked for an audience with their patient, but after two and a half hours waiting were turned away.
Alexey Erlikh, the leading intensive care specialist who made the trip, said there are grounds to be seriously concerned about Mr Navalny's health. Blood results released by prison authorities showed elevated levels of potassium and creatinine that suggested renal failure, he said.
"This needs intensive care, more tests and treatment," Mr Erlikh told The Independent.
Responding to claims Mr Navalny was close to death, the doctor said that such language was a matter of interpretation. "High levels of potassium is something that is fraught with the danger of sudden and fatal disturbances in heart beat," he said. "Everyone responds differently, so I can't say if he is or isn't close to death."
Mr Navalny's history of nerve agent poisoning – and his harsh reality of prison life – did increase the probability of a bad outcome, he added.
On Sunday, Daria Navalnaya, Mr Navalny's daughter, made a desperate plea to prison authorities via social media. "Allow a doctor to see my dad," a post read on Twitter and Instagram.
Responding to what they described as the urgency of the situation, on Sunday Mr Navalny's team brought forward plans for nationwide protests. These were originally planned once 500,000 people signed up to participate but with numbers still 37,000 short, key lieutenants Leonid Volkov and Ivan Zhdanov announced a change in strategy.
Protests will now take place on Wednesday evening, the same day that Vladimir Putin is due to make a State of the Nation speech, they said.
The Kremlin has already indicated protests will be met with a heavy hand. 
"If there will be unsanctioned protests, they will be illegal, and law enforcement will do what it needs to do," spokesperson Dmitry Peskov told journalists on Monday.
It was not the Kremlin's job to undertake "real-time monitoring of the health of Russian prisoners", Mr Peskov added.
The state prison service, which confirmed Mr Navalny's move into a medical facility inside another prison, has continued to insist the Kremlin critic's health remains "satisfactory".
"He is seen daily by a doctor," a statement read. "With his agreement he has been prescribed vitamin therapy."
Mr Navalny's colleagues interpreted those words as acknowledgment his condition had deteriorated significantly.
"Things have got so bad that even a torture farm have admitted it," said Ivan Zhdanov.
"They are just trying to pretend all is well with Alexei's health ahead of the rallies – don't fall for it."
At the weekend, the US warned Russia of "consequences" if Navalny were to die in jail.
Join our new commenting forum
Join thought-provoking conversations, follow other Independent readers and see their replies