Theatre of the absurd: Exasperated Navalny in court on slander charges as he asks for cucumber recipe
Kremlin critic is accused of slandering a 94-year- old Second World War veteran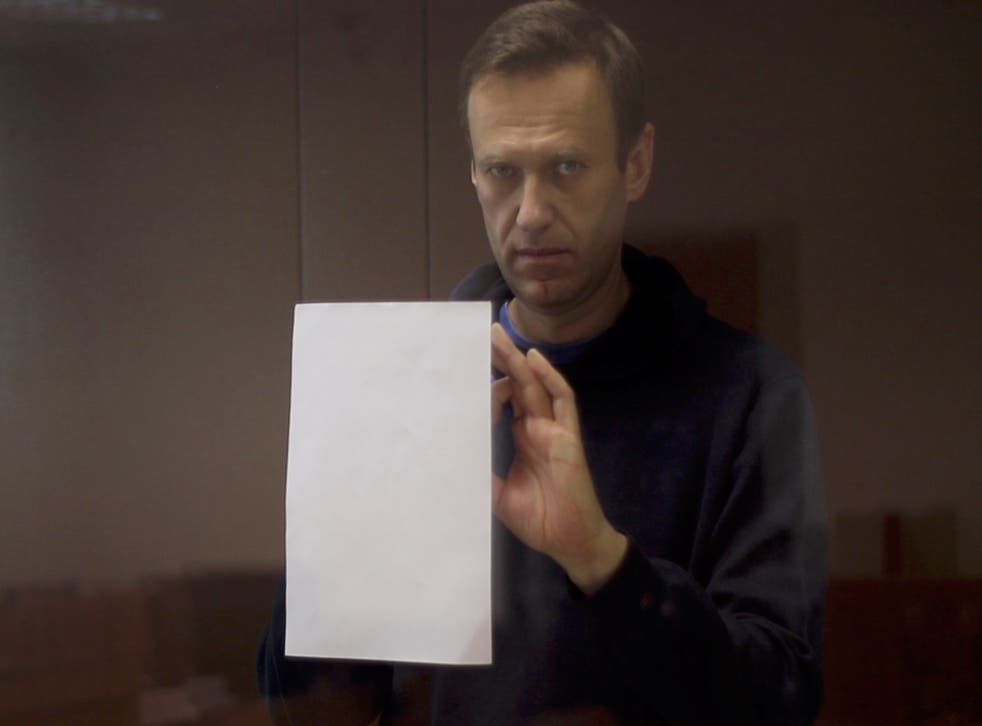 Leer en Español
In the third day of a show trial, a theatre of the absurd, Russian state prosecutors on Tuesday demanded Alexei Navalny be fined 950,000 roubles (£9,500) for allegedly defaming a Second World War veteran.
It is the second case the Kremlin has thrown at their most prominent critic since he recovered from his near-death acquaintance with the nerve agent novichok. Mr Navalny was jailed for nearly three years after returning to Russia earlier this month in a process widely condemned as a corrupt political exercise.
The latest prosecution centres on Mr Navalny's criticism of a promotional video recorded ahead of a vote on constitutional amendments to extend Vladimir Putin's rule.
The Kremlin-funded clip brought together C-list celebrities speaking out in favour of the amendments. It also included a short section featuring 94-year-old veteran Ignat Artemenko.
Mr Navalny has said he did not have Mr Artemenko in mind when voicing "an opinion". He criticised the Kremlin and the war veteran's family for putting the elderly man through a trial. In evidence given on the first day of the trial, Mr Artemenko certainly did not appear aware of what was happening, and had to abandon his submission to receive urgent medical assistance.
In Mr Navalny's submission, Mr Artemenko's grandson had decided to "sell his grandpa" to the Kremlin.
In closing arguments - ahead of a verdict on Saturday - the jailed opposition leader told Judge Vera Akimova that her process was so "absurd" that he had nothing left to say other than talk about pickled gherkins.
"Perhaps you have a recipe for the cucumbers and salt they bring me?" he quipped. "Just bear in mind that I have no bay leaves here in jail."
Earlier, the state prosecutor Yekaterina Frolova said Mr Navalny's testy exchanges with the judge - which included referring to her using the Nazi SS-rank of "Obersturmbannfuhrer" - might even amount to slander, and a new criminal case.
Ms Frolova asked the judge whether it might be the time for state investigative bodies to probe further.
"Everything I said was meant as a compliment," Mr Navalny retorted.
Commenting on the prospect of another defamation process, Leonid Volkov, Mr Navalny's right-hand man, joked the allegations were "indeed serious".
"Navalny called the judge Obersturmbannfuhrer, when given the importance of the case handed to her, her true rank is no less than Standartenfuhrer," he wrote on Twitter.
Back in the court, prosecutor Ms Frolova said Mr Navalny had slighted the war veteran because he stood for everything that the opposition leader despised.
Sentencing should reflect this, she said, before requesting the toughest sanctions available under slander laws.
"The state prosecution asks...," she began. "To shoot me?" interjected Mr Navalny.
Join our new commenting forum
Join thought-provoking conversations, follow other Independent readers and see their replies