Alexei Ulyukayev: Putin's ex-economy minister sentenced to eight years in prison colony for accepting bribe
Harsh sentence for first serving cabinet minister to be arrested since the 1950s will create a huge schism at the heart of power in Russia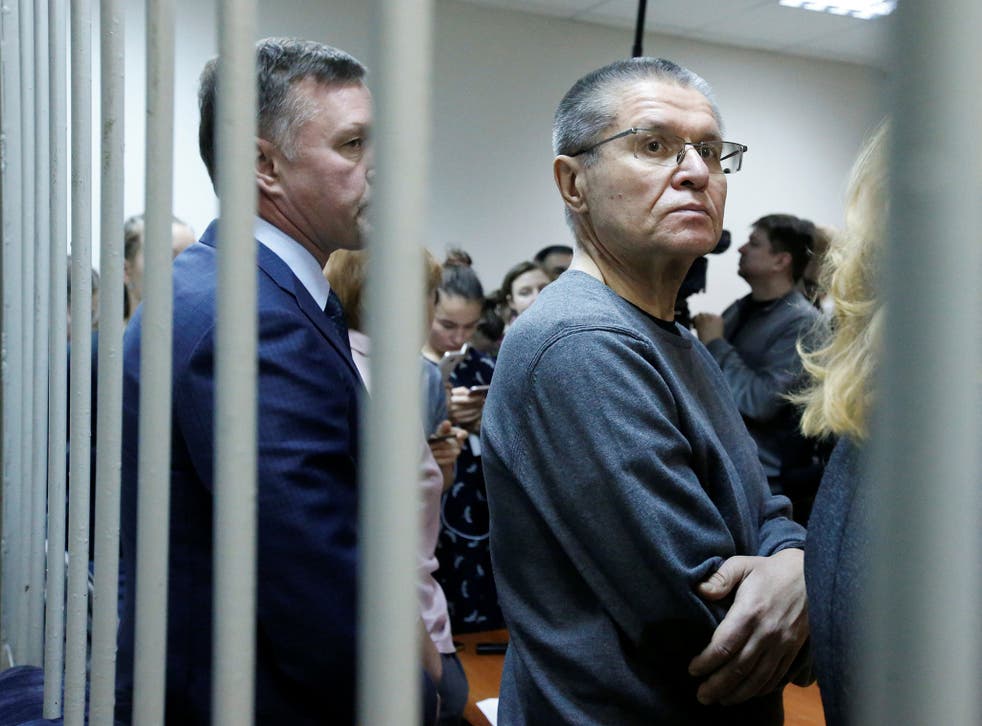 Russia's ex-economics minister, Alexei Ulyukayev, has been found guilty of accepting a bribe and sentenced to eight years in a prison colony, as well as being fined $2m (£1.5m), a Moscow judge announced on Friday.
Judge Larisa Semenova began reading her verdict at 11.30am – aloud, in a mumbled mantra, as is customary in Russia. Already early in her judgment, it was clear that Mr Ulyukayev would be found guilty; this happens in more than 99 per cent of judge-led verdicts. But it took over two hours to establish that he would be given a such a harsh custodial sentence.
Mr Ulyukayev had arrived at the courtroom with a small briefcase, telling reporters he had prepared for a "long and happy life". He looked relaxed, laughing and chatting to lawyers with his hands on his hips. He was ready for a "just verdict", he said, and announced he was writing two books. The year spent under house arrest was "one of the best" of his life: "I've slept well, walked. Got rid of my dual personality."
The former minister's demeanour changed once the guilty verdict became clear. His arms moves into his pockets, and his smiles turned to a stare.
Mr Ulyukayev was responsible for the Russian economy until a sting operation before dawn on 15 November last year. His downfall was orchestrated by state-owned oil company Rosneft's chief, Igor Sechin, a powerful associate of Vladimir Putin. After inviting the former minister to his offices, he handed him a basket of sausages and another locked bag, containing $2m. Mr Ulyukayev was stopped by security agents waiting outside, and became the first cabinet minister to be arrested since Stalin's henchman Lavrenty Beria in 1953.
The former minister insists he believed the bag contained fine wine, and in court challenged Mr Sechin to appear for cross-examination. On four occasions, the Rosneft chief refused.
Today, the judge mumbled through the verdict, somewhat nervously, and often repeating herself. In almost every detail, she sided with Mr Sechin and the prosecution. She was trembling as she read out the sentence.
On 5 October, she agreed, Mr Ulyukayev demanded a $2m bribe from Mr Sechin in Goa, India, for approving a controversial privatisation deal. Mr Ulyukayev repeated the demand in a telephone conversation on 14 November, she said – though this did not seem consistent with recordings or transcripts leaked to BBC Russia. The following day, Mr Ulyukayev arrived at Mr Sechin's office for the cash. Mr Sechin had no ulterior motive, she concluded.
Last week, prosecutors asked for a sentence of 10 years in a prison colony. Mr Ulyukayev, 61, visibly frailer than a year ago, likened this to a "death sentence". With his final words, Mr Ulyukayev insisted on his innocence and compared his case to Stalinist show trials. "Don't ask for whom the bell tolls," he said. "It tolls for you."
The eight-year custodial sentence will create a huge schism at the heart of power. The trial has already shaken the Russian political elite, with many unsettled by the brazenness of an operation against one of their own. The trial was accompanied by a war of leaks, as confidential court materials found their way into the possession of liberal journalists. Prime Minister Dmitry Medvedev said that the events were "beyond his comprehension". On the other hand, President Putin was at the very least aware of the sting operation beforehand.
The Kremlin had a difficult balancing act to reach a resolution that would suit all sides. Today's verdict – siding with Mr Sechin's somewhat imperfect evidence, and sentencing Mr Ulyukayev to such a severe prison sentence – was not that.
Join our new commenting forum
Join thought-provoking conversations, follow other Independent readers and see their replies