Russian gay rights activist facing 'death sentence' as authorities threaten to deport him to Uzbekistan
Journalist Ali Feruz fled Uzbekistan after the country's notorious security services detained and tortured him in 2009
Greg Wilford
Saturday 05 August 2017 18:54 Comments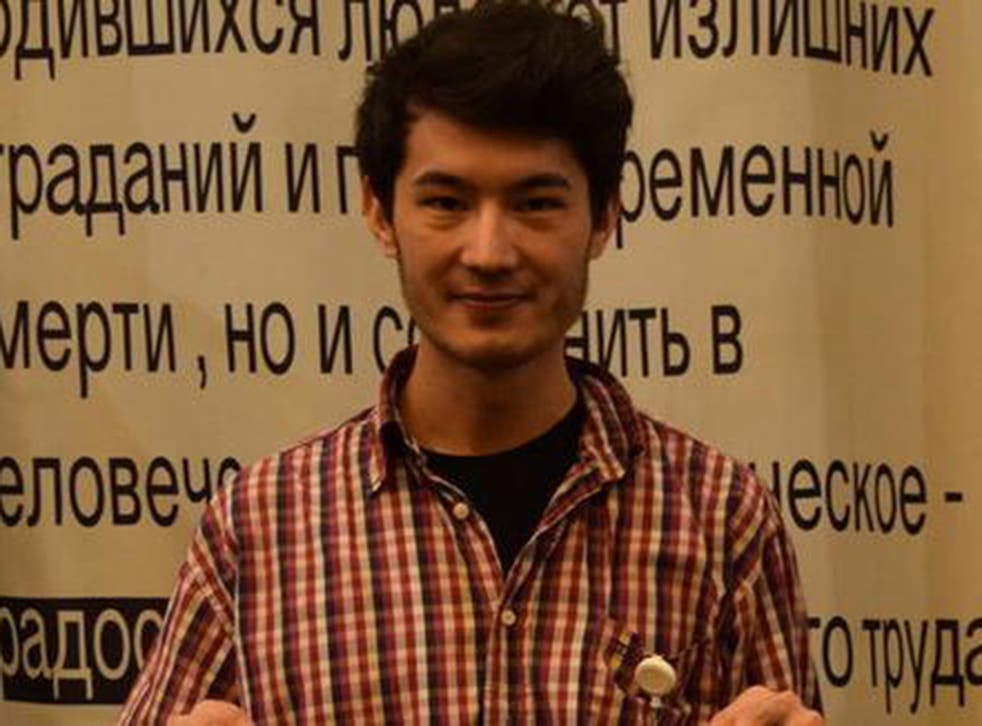 A Russian gay rights activist is living in the "shadow of death" as authorities threaten to deport him to Uzbekistan, where homosexuality is illegal.
Ali Feruz, 30, was detained and allegedly tortured for two days by the Uzbek National Security Service in 2009 and fled the country two years later.
Mr Feruz sought asylum in Russia in 2011 and began working for the investigative newspaper Novaya Gazeta, reporting on refugees and discrimination against women.
But his asylum claim ran into trouble when his passport was stolen a year later, Buzzfeed News reported.
The Russian-born refugee was left without documentation and was unable to seek help at the Uzbekistan embassy because he had recently escaped from the country.
Mr Feruz, also known as Khodoberdi Nurmatov, was arrested on 1 August this year and hauled before a judge at Moscow's Basmanniy Court, who ruled that he should be deported to Uzbekistan because he had been living in the country "illegally".
The journalist reportedly attempted suicide after the judgement, but was stopped by security guards.
His Novaya Gazeta colleague Lena Kostyuchenko told Buzzfeed News: "He said it is better to die than to go back to Uzbekistan. He is in the shadow of death."
Chechnya leader Ramzan Kadyrov: 'We don't have any gays here. Such people are subhuman'
Amnesty International (AI) has raised concerns that Russian courts are colluding with Uzbekistan's notorious security services to deport hundreds of people to the Asian country, where sex between men is a criminal offence with a maximum sentence of three years in prison.
The deportation order is "as close to a death sentence as it can be", AI's Europe and Central Asia deputy director, Denis Krivosheev, told the site.
The European Court of Human Rights postponed the deportation order on Friday, according to Mr Feruz's lawyer Kirill Koroteyev.
It is understood that the journalist now has until September to submit a new asylum claim in Russia.
A spokesman from the Kremlin revealed that Vladimir Putin was aware of the case, which has caught the attention of the EU's Commissioner for Human Rights Nils Muižnieks.
Mr Muižnieks said states have "a duty to ensure a safe and enabling environment for the work of human rights defenders and journalists" in a Facebook post a day after the Russian court ruling.
"It should be recalled that international law prohibits sending a person to a country where there are substantial grounds for believing that the person may be subjected to torture or ill-treatment," he added.
Russian journalists are using the hashtag #ОтвалиОтАли, which means "Hands Off Ali", to draw attention to the case, and a Change.org petition against the deportation ruling has attracted more than 52,000 signatures.
Ms Kostyuchenko, who writes about LGBT persecution in Chechnya, added: "There are people disappearing in silence.
"If [Mr Feruz] went back there we will never know what happens to him. He does not deserve what is happening to him.
Register for free to continue reading
Registration is a free and easy way to support our truly independent journalism
By registering, you will also enjoy limited access to Premium articles, exclusive newsletters, commenting, and virtual events with our leading journalists
Already have an account? sign in
Join our new commenting forum
Join thought-provoking conversations, follow other Independent readers and see their replies