Allies turn on Sarkozy as he makes his pitch to far right
President's party divided on his strategy to court NF voters, fearing he will lose centre-right support
John Lichfield
Tuesday 24 April 2012 23:52 Comments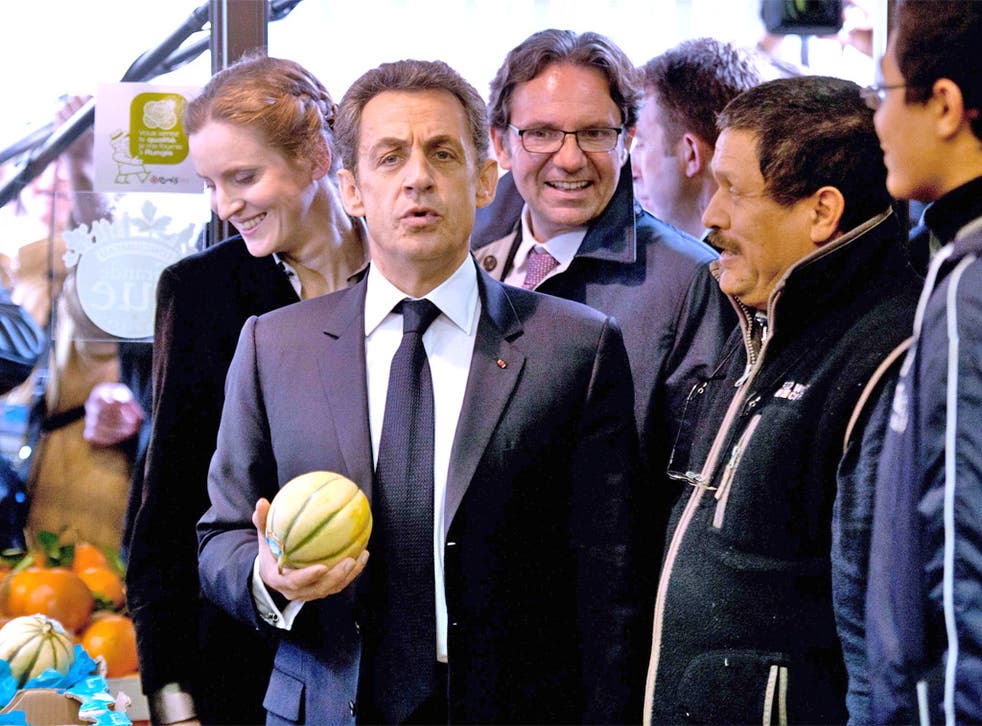 Fighting for his political life, President Nicolas Sarkozy has plunged further to the right, provoking accusations that he is copying the National Front (NF) and even the ultra-conservative wartime regime in Vichy.
The President's all-or-nothing strategy to win the second round of the election has stirred dissension within his own camp, including veiled criticism by his Prime Minister, François Fillon.
However, a group of advisers close to Mr Sarkozy are convinced the thumping vote for the far-right candidate Marine Le Pen last Sunday was a vindication of the President's Eurosceptic, anti-immigrant and Islam-baiting message to voters in the first round.
The Socialist challenger, François Hollande, won the first round with 28.63 per cent of the vote. President Sarkozy qualified for the run-off with 27.06 per cent. Ms Le Pen, meanwhile, scored 17.9 per cent, higher than any past vote for the far-right National Front. Opinion polls suggest Mr Hollande will beat Mr Sarkozy by up to 12 points in the second round on 6 May.
However, President Sarkozy is reported to be convinced that the high score for the xenophobic, anti-European far-right offers him a "mouse-hole" through which he can climb to a second term.
In a speech in Tours, the President set the tone for an aggressive and divisive second-round campaign. He accused Mr Hollande of "insulting" National Front voters, saying that, unlike the left, he did not "hold his nose" when he spoke of far-right voters.
He said that he "respected" their "cry of suffering" and would respond with "precise commitments" on immigration and the threat of Islam to French "identity". "Protectionism is not a rude word," Mr Sarkozy said, when it came to rescuing French jobs and French identity from "European frontiers open to all the winds".
Mr Sarkozy called on his supporters to rally in Paris next Tuesday – May Day – to celebrate "real work" and "real workers". The National Front traditionally parades through Paris on 1 May to commemorate one of its official heroines, Joan of Arc. There are also trades union marches on May Day in cities throughout France.
By calling for his own demonstration of force, in favour of "work" and against "welfare", Mr Sarkozy has been accused by Mr Hollande's camp of trying to "divide" France. He has also been accused by others on the left of reviving the attitudes and language of the collaborationist Vichy regime of 1940-44.
The hard-right strategy, inspired by Mr Sarkozy's ultra-nationalist campaign adviser Patrick Buisson, has infuriated some figures on the pro-European, moderate right in France. A former member of the Sarkozy government, Chantal Jouanno, who was Environment Minister, criticised the President's approach yesterday. "The correct response [to the NF vote] is not to abandon our own ideas and veer off to the right," she said in a television interview.
Mr Fillon made a more coded attack on the President's strategy. He ticked off Ms Jouanno for breaking ranks and denied – against all the evidence – that Mr Sarkozy was careering after NF votes. But he then went on to say that the "spirit" of the French Fifth Republic constitution demanded that presidential candidates should "unite" the nation during the second-round campaign, "not zig-zag in pursuit of specific electors".
Mr Hollande is also chasing NF voters but insists he is offering a message of "hope, confidence and national unity", not one of "fear and division". He campaigned yesterday in the Aisne in northern France, where he scored 27 per cent of the vote on Sunday, just ahead of Ms Le Pen with 26.3 per cent.
Quite apart from its constitutional correctness, some people in the President's camp fear that Mr Sarkozy's more divisive approach is tactically suicidal. "Patrick Buisson believes that this big vote for Le Pen was part of a rising nationalist tide but it is just as much a rejection of five years of Sarkozy," one parliamentary member of Mr Sarkozy's party told The Independent yesterday. "We won't sway the real Sarkozy-haters who voted NF with this rhetoric but we are giving François Hollande hundreds of thousands of votes in the centre."
Register for free to continue reading
Registration is a free and easy way to support our truly independent journalism
By registering, you will also enjoy limited access to Premium articles, exclusive newsletters, commenting, and virtual events with our leading journalists
Already have an account? sign in
Join our new commenting forum
Join thought-provoking conversations, follow other Independent readers and see their replies