Amanda Knox murder conviction: Italian court overturns verdict for US student and Raffaele Sollecito in the killing of Meredith Kercher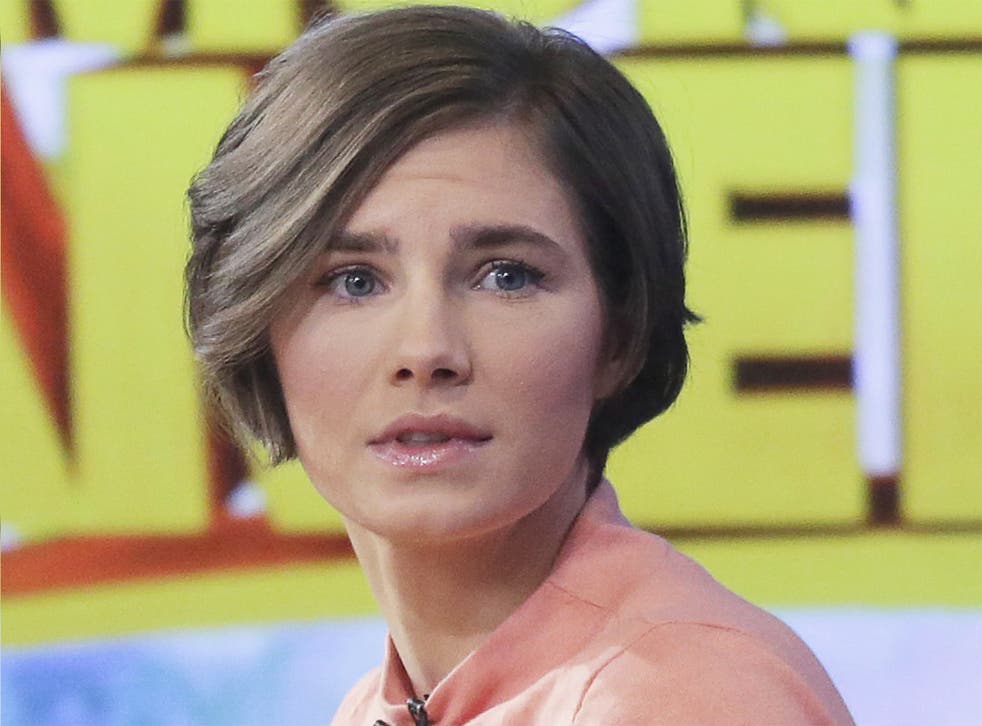 Amanda Knox and her ex-boyfriend Raffaele Sollecito have been sensationally cleared of killing British student Meredith Kercher after a tortuous legal process that lasted more than seven years and saw five trials.
Judges in Italy's Supreme Court of Cassation dismissed murder charges against both late last night after deliberating for over 10 hours. The pair cannot be retried on the charges and thus ends one of the most controversial and highly-publicised murder cases of recent times.
Ms Knox was said last night to be "overjoyed" at the verdict and her spokesman in Seattle said, "The truth has won out."
In Italy, her lawyer Carlo Dalla Vedova declared exultantly, "Finished!" and added: "It couldn't be better than this."
Ms Kercher, a 21-year-old, was found murdered on 2 November 2007, in the apartment that she shared with Ms Knox and two other students in the central Italian town of Perugia. Her throat had been slashed and she had been sexually assaulted.
Ms Knox and Mr Sollecito were arrested a few days later. Both have maintained their innocence ever since. However, they were initially convicted of the killing by a Perugia court in December 2009, before being acquitted and freed in 2011 at which point Ms Knox fled back to the US.
But they were convicted again in 2014 in Florence after the Supreme Court of Cassation court overturned the acquittals and ordered a new appeals trial.
Minutes after the verdict at 10.40 pm last night, Sollecito's lawyer Giulia Bongiorno said: "This is a very important day for both Sollecito and Italian justice.''
In pictures: The trial of Amanda Knox and Raffaele Sollecito

Show all 14
Earlier in the day, Ms Bongiorno, in a last ditch bid to secure Sollecito's acquittal, told the Supreme Court judges that the Florence appeals court had made mistakes and contradictions of "colossal proportions".
She likened Mr Sollecito to the naïve fictional film character Forrest Gump, saying he was "someone innocent finding himself involved in spectacular events without being aware of what was happening".
Supporters of Ms Knox and Mr Sollecito, and many independent observers say the prosecution has failed over a period of seven years to provide convincing forensic evidence of the pair's involvement in the killing.
Ms Bongiorno said today that "only a dragonfly" could have moved around the blood spattered murder scene, without leaving substantial evidence behind.
Traces of Mr Sollecito's DNA on Ms Kercher's bra strap were ruled inadmissible as evidence due to crime scene contamination and shoddy practice by investigators.
There was no other DNA trace of Mr Sollecito in the room where Ms Kercher was stabbed to death.
Rudy Guede, a petty criminal has already been jailed for killing Ms Kercher. His DNA was found at the murder scene and inside Ms Kercher, who had been sexually assaulted.
Ms Knox and Mr Sollecito were cleared on first appeal in 2011 when an independent expert review found that DNA evidence that figured in their initial conviction had been fatally flawed.
But in March 2013 the Supreme Court agreed with prosecutors that this acquittal was "contradictory and illogical", partly because the lack of stab marks on the victim's arms and hands suggested that she had been unable to defend herself because two other people had held her down, while she was attacked.
Ahead of yesterday's verdict Knox's lawyer Carlo Dalla Vedova, said she was on "tenterhooks". "Amanda has not closed her eyes, she cannot sleep," he said.
After returning to the US in 2011, Ms Knox declared that she would only be brought back to Italy "kicking and screaming".
After the acquittal, the Kercher family's lawyer, Francesca Maresca, expressed their surprise.
Perugia bar owner Diya "Patrick" Lumumba, the man Ms Knox falsely accused of the killing soon after the crime, was in court to witness the verdicts.Many observers believe her slanderous accusation against Lumumba, which Knox says was the result of unduly aggressive questioning, was a chief factor in her initial conviction.
Both Knox and Sollecito served four years in prison.
Register for free to continue reading
Registration is a free and easy way to support our truly independent journalism
By registering, you will also enjoy limited access to Premium articles, exclusive newsletters, commenting, and virtual events with our leading journalists
Already have an account? sign in
Register for free to continue reading
Registration is a free and easy way to support our truly independent journalism
By registering, you will also enjoy limited access to Premium articles, exclusive newsletters, commenting, and virtual events with our leading journalists
Already have an account? sign in