American climber whose children almost died in Mont Blanc avalanche says he has 'no regrets' amid criticism
The attempt infuriated French authorities concerned about risky attempts
Lizzie Dearden
Monday 28 July 2014 16:33 Comments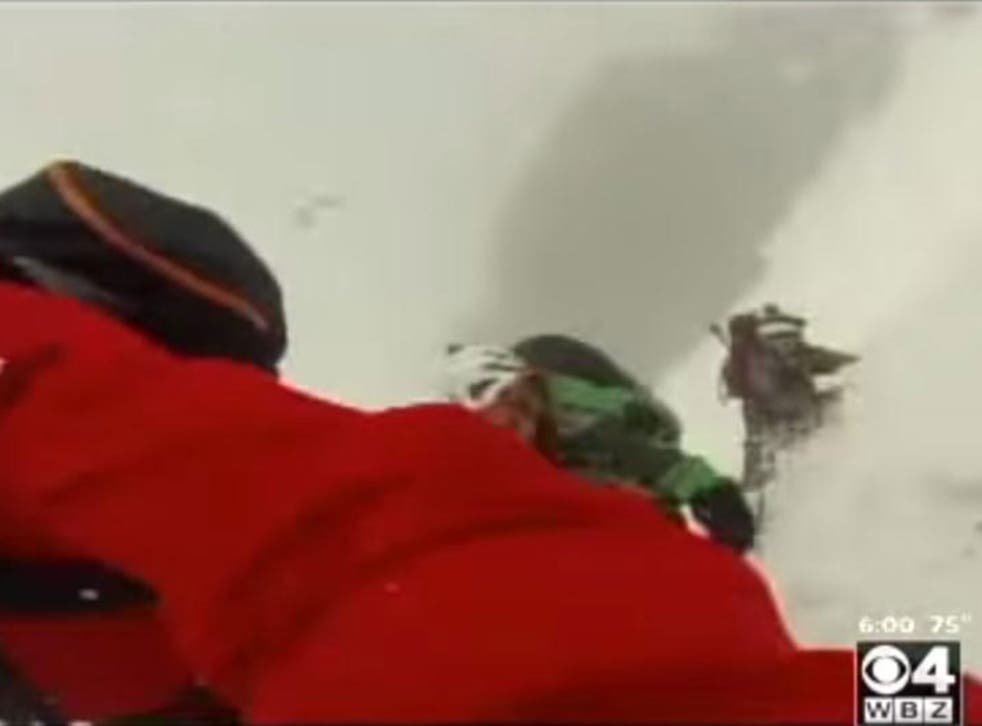 An American climber who tried to break a world record for taking his children up Mont Blanc has been condemned for recklessness after they were almost killed in an avalanche.
Patrick Sweeney infuriated French mountain officials and local politicians by saying he had "no regrets" over taking the risk in June.
He posted a video on YouTube of the moment when an avalanche almost knocked his 11-year-old daughter, Shannon, and nine-year-old son, PJ, off the 15,000ft mountain.
Mr Sweeney, who claims to be an experienced climber, was attached to his two children by a rope and anchored himself with an ice axe to stop them being swept away.
He told CBS Boston they had trained for three months but when the avalanche came his daughter said it "sounds like snakes".
Insisting he had no regrets about the climb, he said: "It's a heck of a lot better than having them sitting at home wasting their minds on Minecraft or TV or something like that, and if they can learn this lesson of courage while they're young, then I've done an excellent job as father."
His wife and youngest child had stayed at home during the expedition and his son, PJ, is reportedly already asking to try again.
Had they made it to the top, the boy would have broken the world record for the youngest person to climb Mont Blanc, which is currently held by Asher Silver from London, who climbed the mountain aged 10 in 2009.
Jean-Marc Peillex, Mayor of the Saint-Gervais region, which includes Mont Blanc, condemned taking children on the record attempt.
"If they were in France, Mr Sweeney would deserve to have his children taken away," he told Le Figaro.
"Mount Blanc is not an amusement park. And yet it's becoming a financial temple."
Mr Peillex shares a growing concern that many "amateurs" put themselves at risk attempting the climb and do not have enough respect for the changing risks and dangers of Mont Blanc.
Although he does not believe legal action against the family will succeed, the Mayor has launched a legal complaint against Mr Sweeney for endangering the lives of others in the hope of discouraging other "adrenaline junkies".
A Ukrainian climber died after falling 200 metres from where the Sweeney family got into trouble, Mr Peillex added.
He recently refused to send a rescue helicopter to take a Polish climber who decided he was too tired to do the descent down the mountain.
Denis Crabières, president of the national mountain guides' union told France Info radio Mr Sweeney was "trying to break the record for stupidity".
Two Irish mountaineers died after falling from Mont Blanc on Sunday, bringing the death toll to four in three days, following an accident involving two climbers from Finland.
Rescuers said the two climbers had been "very well equipped", but their rope reportedly undone as they were ascending up the 13,000-feet "Giant's Tooth".
Authorities are increasingly concerned about the number of climbers attempting dangerous ascents.
Register for free to continue reading
Registration is a free and easy way to support our truly independent journalism
By registering, you will also enjoy limited access to Premium articles, exclusive newsletters, commenting, and virtual events with our leading journalists
Already have an account? sign in
Join our new commenting forum
Join thought-provoking conversations, follow other Independent readers and see their replies