Amnesty researcher 'abducted and tortured' in Russia
Russian national Oleg Kozlovsky allegedly threatened with rape and execution after documenting protests in the southern republic of Ingushetia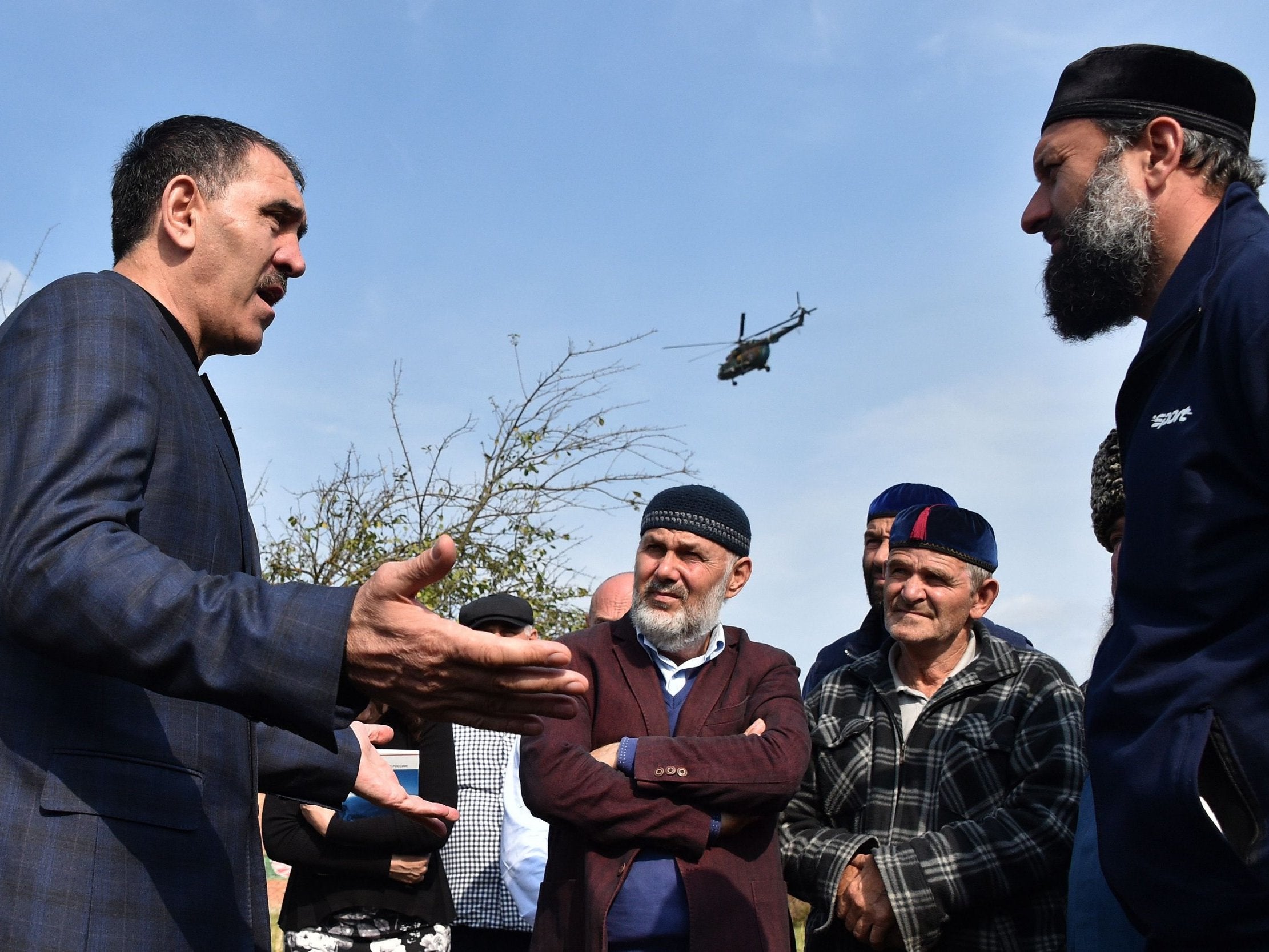 Amnesty International researcher Oleg Kozlovsky has given details of his alleged abduction and torture at the hands of security officers in the southern Russian republic of Ingushetia, 900 miles south of Moscow.
Mr Kozlovksy travelled to the capital, Magas, on 5 October to document ongoing protests against a controversial border deal with neighbouring Chechnya. His ordeal began with a knock on his hotel door the following evening. On the other side was a man offering an introduction to an opposition protest leader.
On Monday, following a week of silence, Mr Kozlovsky listed the terrifying chain of events that, he says, happened after he agreed to follow the man.
He was first taken to a car, where he said he was met by two other men who presented themselves as law enforcement officers. After interrogating him, the men took away his phone, video camera, took him to a field, and then stripped him of his clothes.
They took photographs and threatened to publish them on the internet. They threatened rape and threatened violence against his children. They beat him and broke his ribs.
Then, with a gun to his head, they staged a mock execution.
Mr Kozlovsky, who has been evacuated out of Russia by Amnesty, tells The Independent that he never believed his abductors would follow through with the execution. His killing would bring "no benefit to them, only scandal", he reasons.
But he was worried that things could spiral out of control.
"I couldn't rule out that things might get crazy enough, and took their threats to my family entirely seriously."
Protests against a controversial land swap agreement, now in their second week, have awoken these impoverished, sleepy, mostly Muslim lands at the foothills of the Caucasus.
A new agreement was supposed to have resolved a long-running border dispute between Ingushetia and neighbouring Chechnya, the only regions of Russia not to be separated by legal administrative boundaries (a consequence of the Chechen declaration of independence in 1991 and subsequent wars).
Chechnya leader Ramzan Kadyrov: 'We don't have any gays here. Such people are subhuman'
Critics claim the agreement instead serves the expansionist ambitions of Chechnya's irascible leader, Ramzan Kadyrov, and represents a capitulation by the Ingushi leadership.
The protests against the agreement have been surprisingly well organised, and, so far, peaceful. After initially ratifying the agreement, deputies in the local Ingush parliament gave in to popular pressure and cancelled their vote.
While the protests are sensitive, there is no obvious reason why Mr Kozlovsky would be targeted so violently. Ingushetia is considered to be relatively safe for journalists and activists. Local security services are very active but restrictions are rarely imposed – unlike in Mr Kadyrov's Chechnya, which declared a ban on human rights activists last month.
That said, it is not the first time researchers and journalists have been met with extreme violence inside the republic. In 2016, men in balaclavas inflicted a terrifying arson attack on a minibus carrying journalists and human rights activists. Chechen security forces were thought to have been behind the attack.
A decade earlier, in 2007, human rights activist Oleg Orlov was abducted along with three Russian journalists. Ekaterina Sokrianskaia, director at the Conflict Analysis and Prevention Centre was working in Ingushetia at the time. She says this week's "almost identical" abduction brought back memories.
World news in pictures
Show all 50
"They too were marched to a field, subjected to a mock execution and told never to come back."
Then, Ingush security officials were suspected, and a European Court agreed. It is likely this abduction was also carried out by "local Ingush security forces or by their proxies", Ms Sokrianskaia said, hoping to discredit the protests and deter journalists.
A statement from the interior ministry of Ingushetia said they had been unable to verify the Amnesty claims. It also said Mr Kozlovsky had failed to report the matter to police.
Last night, Ingush leader Yunus-Bek Yevkurov suggested the incident could have been a set-up to discredit his government.
In an interview with state TV, he said: "The abductors said they were security officials ... but there is not a word about how this could be a provocation from any number of sides. It has simply been decided that it is the work of the state."
Identification of the suspects is likely to be straightforward, given the prevalence of CCTV in the area. Mr Kozlovsky has filed a statement to Russian state investigators, but few expect a positive response from a body so closely associated with the country's security apparatus.
Mr Kozlovsky told The Independent he believed his abductors probably knew little about him but had become "agitated" by his note-taking.
"They wanted to know who was getting the information, and this was their way of finding out," he says. "The frightening thing is they didn't seem to know any other way."
Join our commenting forum
Join thought-provoking conversations, follow other Independent readers and see their replies