Anders Breivik: Mass murderer 'to be allowed visits by his girlfriend' after human rights court win
The killer has exchanged hundreds of letters with a woman known only as 'Victoria' who claims to be in love with him
Hardeep Matharu
Thursday 21 April 2016 10:44 Comments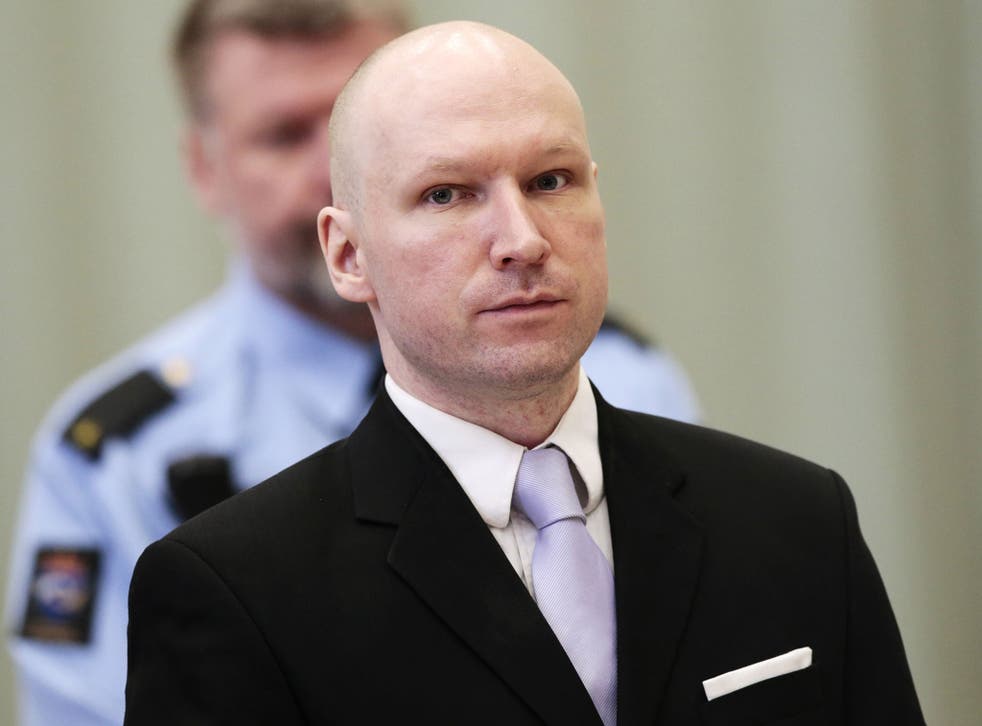 Mass murderer Anders Breivik may be allowed visits from a woman who claims to be in love with him after a court ruled that being kept in isolation in prison had violated his human rights.
A court in Oslo ruled in the killer's favour on one of two claims for alleged human rights violations yesterday.
The right-wing extremist, who has declared himself to be a Nazi, was convicted in 2012 after shooting dead 69 people attending a Labour party youth camp on the island of Utoya and planting a bomb in Oslo that killed eight people.
District judges said yesterday that his detention in prison had violated Article 3 of the European Convention on Human Rights, which relates to "inhuman or degrading" punishment.
The verdict said: "The prohibition of inhuman and degrading treatment represents a fundamental value in a democratic society. This applies no matter what – also in the treatment of terrorists and killers."
The ruling could now mean that the killer is allowed visits by a woman known only as 'Victoria' – a female admirer who calls herself his girlfriend and claims that she is in love with Breivik, reports The Times.
Skien Prison: Where Anders Breivik is incarcerated

Show all 5
According to the newspaper, the pair have exchanged hundreds of letters and she is believed to be the person he speaks to when he is allowed to make calls.
But, she has so far been refused permission to meet him.
Breivik is held as the only inmate in a high-security wing of Skien prison, where he is serving a 21-year sentence.
He is allowed some correspondence but it is strictly controlled and he is forbidden from communicating with other right-wing extremists.
The government argued that the restrictions were well within the European Convention of Human Rights and were required to ensure that Breivik remains unable to build militant extremist networks.
Bjorn Ihler, a survivor of the attacks at Utoya, tweeted yesterday: "What Breivik did was inhumane, which is why it's crucial to treat him humanely. He doesn't set the premises for how we treat others.
"Our best weapon in fighting extremism is humanity. The ruling in the Breivik case shows that we acknowledge the humanity of extremists too."
Referring to the UK's referendum on whether to leave the EU, to be held on 23 June, he later added: "Wonder what the connection - #Breivik and #Brexit is? The European Convention on Human Rights is not a EU thing and Norway's not an EU member."
Register for free to continue reading
Registration is a free and easy way to support our truly independent journalism
By registering, you will also enjoy limited access to Premium articles, exclusive newsletters, commenting, and virtual events with our leading journalists
Already have an account? sign in
Join our new commenting forum
Join thought-provoking conversations, follow other Independent readers and see their replies