Angela Merkel promises to tackle Donald Trump on climate change at G20 summit
'We cannot wait to act until the science has convinced every last doubter'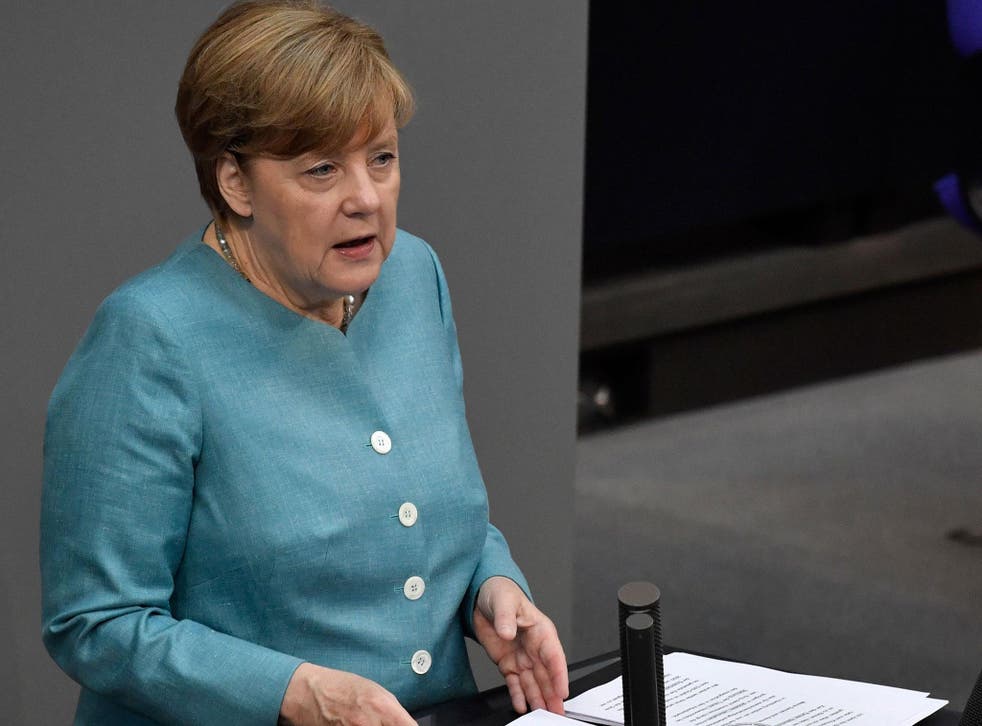 German Chancellor Angela Merkel said the EU is "more determined than ever" to make the Paris accord against climate change a success following the US decision to withdraw from the agreement, and insisted she would not "overlook tensions" with America on Donald Trump's first attendance at the G20.
Ms Merkel stressed in a speech to the German parliament that the EU stands fully behind its commitment to the agreement.
"We cannot expect easy discussions on climate change at the G20 summit," she said. "Our differences with the US are clear.""
She added that "the Paris agreement is irreversible and it is not negotiable."
Anglea Merkel makes dig at Trump during Mexico visit by condemning the building of walls
The German Chancellor will host the summit of leaders of the Group of 20 economic powers in Hamburg on 7 and 8 July.
Ahead of that summit, she is hosting a meeting of the European leaders who will take part in the summit later on Thursday at the chancellery in Berlin.
"We are convinced that climate change is one of the greatest challenges facing humanity, an existential challenge," she told the German parliament. "We cannot wait to act until the science has convinced every last doubter."
She said she had agreed a plan with France's newly elected President Emmanuel Macron to deepen cooperation in the European Union and the Eurozone, adding that the EU needed to take on more responsibility for tackling security concerns it faced, including a threat from "terrorism".
The bloc's remaining members would remain united in their negotiations with Britain over its planned departure from the EU, she added in Thursday's speech to lawmakers.
In pictures: President Donald Trump on tour

Show all 39
The German Chancellor also said she hoped for a "clear signal" from the summit in favour of free markets and against isolationism.
She told the German parliament "protectionism cannot be a solution" to the world's problems.
The Trump administration's "America first" approach to trade has caused widespread concern elsewhere, as has its decision to withdraw from the Paris accord on climate change.
Ms Merkel said discussions about climate issues in Hamburg won't be easy and there is no point glossing over disagreements.
She added that those talks must "serve the substance and aims of the Paris accord".
Join our new commenting forum
Join thought-provoking conversations, follow other Independent readers and see their replies