Is Angela Merkel's time as Germany's leader finally running out?
Chancellor's problems first arose after poor election results last year, followed by collapsing government talks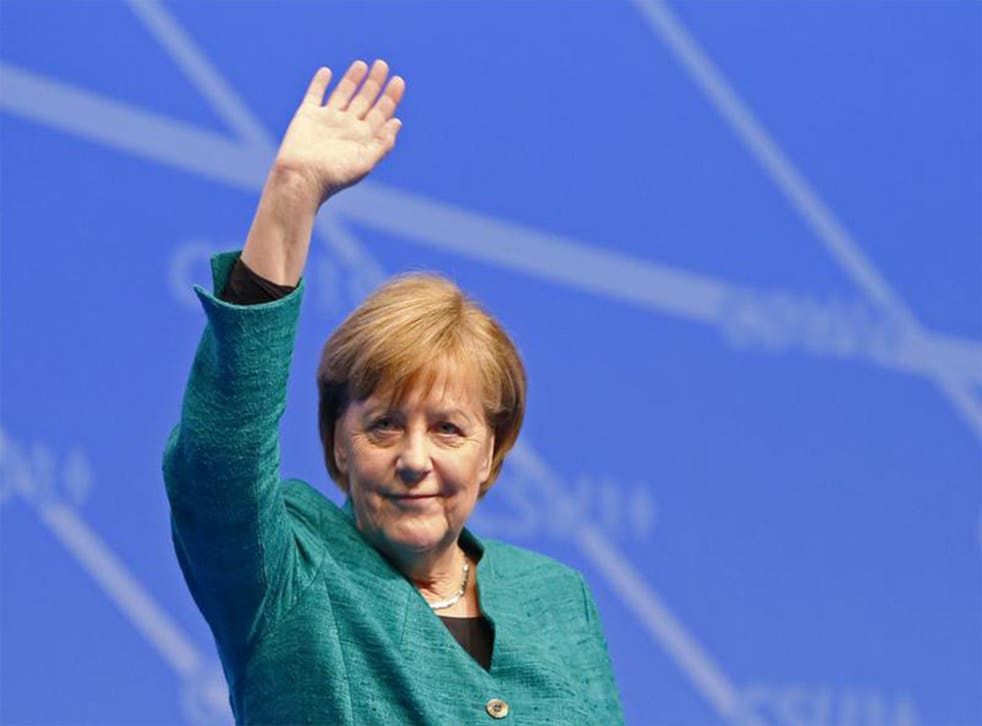 For a dozen years, Angela Merkel seemingly floated above the laws of political gravity, making her calm and consensual leadership style as much a part of the German landscape as fairytale castles, precision engineering and beer-saturated Octobers.
But the early days of her 13th year as Chancellor have been marked by a bracing return to earth. Every political career ends, and Ms Merkel's finale may be coming faster than just about anyone had predicted. Her rapidly diminishing political stock threatens to leave a void not only in Germany, but across the West, just as she had emerged as the most robust internationalist counterpoint to Trump-style nativism.
Ms Merkel's troubles started with a bitterly disappointing election result in September. They grew when her first attempt at forging a new government collapsed in November. And they have been compounded in recent days, as polls have shown German voters tiring of her leadership.
Ms Merkel now has what many regard as a last shot to cobble together a coalition and ward off an embarrassing electoral do-over that could see her lose her grip on power.
"Time is running out," said Stefan Kornelius, a Merkel biographer. "She is under immense pressure to somehow make this happen."
But even if she succeeds, significant damage has already been done. Once regarded as invincible, Ms Merkel is suddenly vulnerable in a way that has shifted the German political conversation to a topic long whispered about but rarely publicly debated before: who should come next?
There are many contenders, their names bandied about in German newspapers and magazines in recent days. But Ms Merkel's saving grace – for now, at least – may be that there is no obvious successor.
There's certainly no one who could immediately fill the outsize role that Ms Merkel has played in global affairs. Though not always willingly, the low-key East German with a PhD in quantum chemistry has become de facto leader of Europe and keeper-of-the-flame for those who regard President Donald Trump's brand of politics as a threat to core western values.
"The world is engulfed by Trumpism and populism and vulgarianism," said Mr Kornelius, a journalist with Munich's Süddeutsche Zeitung newspaper. "The alternative is not even visible any more. Ms Merkel has to prove that the alternative can still exist."
She might not have the chance.
Over her dozen years in office, Ms Merkel has guided Germany to robust economic health, with strong GDP growth and low unemployment. Her decision to welcome more than one million asylum seekers in 2015-2016 galvanised the far right but was supported by the political mainstream. She has navigated a series of European crises, from the war in Ukraine to Greek debt.
Before the September elections, political observers had widely assumed that Ms Merkel would once again coast to victory, with a clear shot at matching the record 16-year tenure of her onetime mentor, Helmut Kohl.
Instead, her centre-right Christian Democratic Union suffered its worst result since 1949, including the loss of a million of its voters to the far-right Alternative for Germany (AfD) party.
World news in pictures

Show all 50
While the CDU still came out on top of a fractured field, Ms Merkel was forced to pursue an unwieldy deal among her own conservative bloc, the pro-business Free Democrats and the environmentalist Greens.
When the Free Democrats unexpectedly backed out, Ms Merkel had to go to plan B: a revival of the grand coalition between the centre-right and the centre-left that has governed Europe's largest economy for the past four years.
Substantive talks are only now getting underway, with a deal not expected before April, if one comes at all. It's already the longest that post-war Germany has ever gone after an election without a government.
Although voters didn't initially appear to blame Ms Merkel, polls suggest she has increasingly become the target of frustration with the very un-German gridlock and dysfunction.
A survey published by the Bild newspaper in late December showed that nearly half the country did not want her to complete a fourth term. A poll released days later by Die Welt had even worse news for Ms Merkel: Nearly half the country would like her to step down right away.
"She is tasked with putting together a government, and she hasn't done it," said Thomas Kleine-Brockhoff, director of the Berlin office of the German Marshall Fund and a former presidential adviser. "There's a failure on her side that the constitution attributes to her and that the people seem to attribute to her."
More than that, Mr Kleine-Brockhoff said, Ms Merkel's core argument for staying in power may be fraying. The 63-year-old has long positioned herself as the guarantor of stability for a country that prizes that quality. Yet in the current talks, he said, her presence may be more destabilising than not.
The Social Democrats, the government's would-be junior partner, are desperate to get rid of Ms Merkel. Her tenure has corresponded with a free-fall in the party's popularity as the chancellor has shifted to the centre and co-opted the Social Democrats' core issues. The party's rank and file will have to approve any deal, which could prove a hurdle.
Even Ms Merkel's own party, which has long been disciplined in supporting her, may have a reason to see her go early, since it will want to ensure an orderly transition to her successor.
"We will be seeing the last period of government for Angela Ms Merkel, and it will be heavily influenced by, if not overshadowed by, the question of succession," Mr Kleine-Brockhoff said.
Although leading politicians from the CDU and its Bavarian sister party, the Christian Social Union (CSU), have generally been circumspect about their desire for the top job, that's beginning to change.
Jens Spahn, a 37-year-old who is considered a rising star on the CDU's right flank, has urged Ms Merkel not to give an inch in talks with the Social Democrats and for the CDU and CSU to form a government on its own if negotiations fail.
But there may be some self-interest in that advice: Without a stable coalition government, Germany could be forced to hold new elections far earlier than planned, perhaps as soon as this year. And it's unclear whether Ms Merkel would lead her party in another vote.
"That's a secret that's hidden in her heart," said Jürgen Hardt, a veteran CDU member of Parliament and the party's spokesman on foreign affairs.
Mr Hardt said there is no question that Ms Merkel should remain as chancellor and have the opportunity to lead a new coalition government.
"There's no one else who is able to get so much support from the Bundestag and from the public," Mr Hardt said, referring to the German Parliament.
But he also said it was time for her to promote possible successors, and to allow a younger generation to prove itself.
"There are too few new faces on the political scene in Germany," said the 54-year-old. "The CDU and the CSU have to be aware that sometimes, politics is about presenting something new."
It's been a long time since Germany has done that. Of the world leaders who have stuck around as long as Ms Merkel, most are autocrats who resort to iron-fisted tactics.
Ms Merkel, if anything, has positioned herself as the anti-autocrat – a defender of traditional democratic values at a time when those are seeming evermore outdated.
If she leaves, said Jürgen Falter, a politics professor at the University of Mainz, "it would weaken the European Union and it would weaken those who want the West to be led in a more rational way than Trump is able to do."
Already, Ms Merkel's voice has been more muted on major European matters, including Britain's European Union exit and euro zone reforms initiated by French President Emmanuel Macron. Although she continues to lead a caretaker government, it cannot make any significant moves until the parties reach a coalition deal.
With months of talks probably still ahead, Ms Merkel has struggled not to show impatience with a process that she surely knows is sapping German influence, and her own, by the day.
"The world," she told the nation in her traditional New Year's Eve address, "will not wait for us."
The Washington Post
Join our new commenting forum
Join thought-provoking conversations, follow other Independent readers and see their replies