Angela Merkel: Europe must stay the course with painful reform
German leader says budget cuts are the only to end Europe's economic crisis
Tony Paterson
Wednesday 26 September 2012 11:07 Comments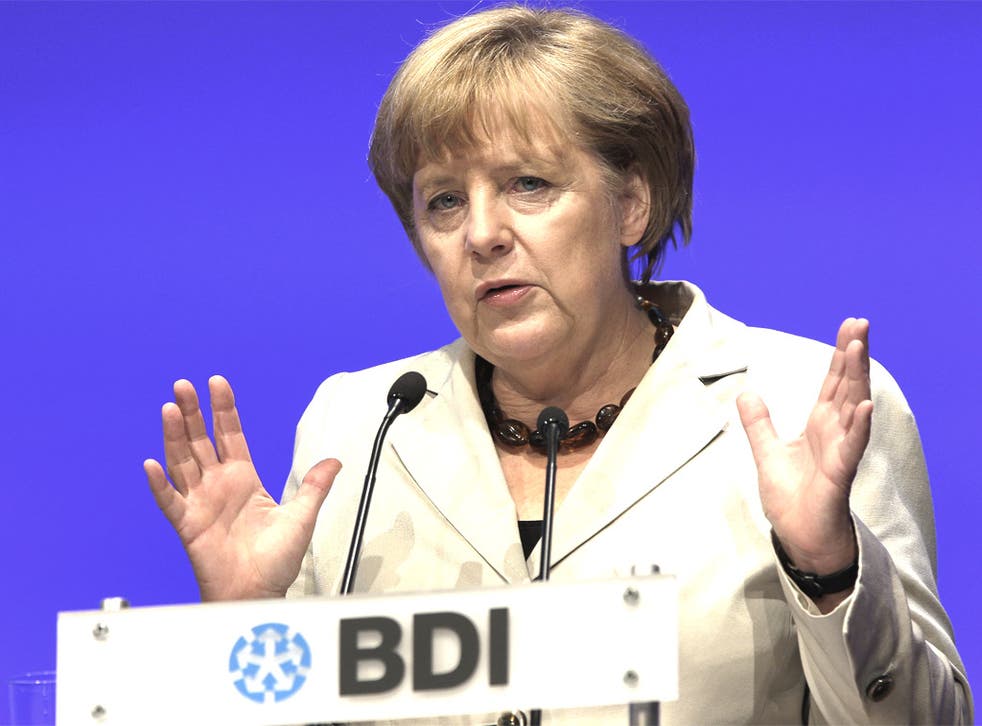 Angela Merkel issued a blunt warning to Germany's ailing eurozone neighbours yesterday, telling them that pressing ahead with painful reforms and tough budget policies was the only way of resolving Europe's intractable and deepening economic crisis.
The Chancellor made her remarks in a speech to the Federation of German Industries on another day of turmoil in the currency bloc. The Spanish government faced mass anti-austerity protests in Madrid, while Greece was reported to be billions of euro off-track in meeting the terms of its bailout. Meanwhile, the ratings agency Standard and Poor's once again highlighted the grim state of the EU economy, forecasting that the eurozone would not return to growth until at least 2014.
Against such a gloomy backdrop, Ms Merkel insisted: "We need to take a deep breath to overcome this crisis. We must make the efforts that will allow Europe to emerge from the crisis stronger than it went in."
The German leader conceded that hard-won reforms in southern Europe had helped, but said there was still work to do. The markets, she added, had doubts about their ability pay back their debts. Her comments were overshadowed by the continuing crises in Spain and Greece. The government in Athens conceded yesterday that it would need between €13bn to €15bn more in funding if it were given the two-year extension to the bailout plan it has been requesting.
EU officials also confirmed a weekend report which claimed Greece's bailout terms were at risk because of a deficit of €20bn – twice the amount previously thought. "Some say €14bn, some say €20bn, some say €30bn," an official was quoted as saying.
He said the true amount would not be known until after the so-called "troika" of inspectors from the International Monetary Fund, European Central Bank (ECB) and European Commission had completed their assessment of Greece's progress in meeting its reform targets. Their verdict may not be delivered until November.
Whether Madrid will ask for a fresh bailout, which goes beyond the €100bn pledged by eurozone finance ministers in the summer to aid its ailing banking sector, remains a key issue. Spain is under pressure to apply for a limited assistance programme from the ECB which would allow the bank to buy Spanish bonds and bring down short-term borrowing costs.
But Spain's Prime Minister, Mariano Rajoy, who is already facing opposition to his austerity drive, has so far refused to countenance some of the tough additional conditions that could be attached to any aid programme.
In particular, he has ruled out the idea of cutting pensions, which account for one of Spain's heaviest financial burdens. There were suggestions yesterday that Mr Rajoy would defer requesting a bailout until after a key regional election this October in his home province of Galicia in Spain's north-west.
Meanwhile, the vehement opposition to ECB intervention in the bond market, voiced recently by German MPs and Jens Weidmann, the head of the Bundesbank, has signalled that Germany does not want Spain to go ahead and request ECB assistance either. Mr Weidmann has described the ECB measures as "close to state financing via the printing press".
Register for free to continue reading
Registration is a free and easy way to support our truly independent journalism
By registering, you will also enjoy limited access to Premium articles, exclusive newsletters, commenting, and virtual events with our leading journalists
Already have an account? sign in
Join our new commenting forum
Join thought-provoking conversations, follow other Independent readers and see their replies