Angela Merkel: 'It's our damned duty to help refugees'
The German Chancellor's comments come in the wake of rising criticism of Germany's large migrant intake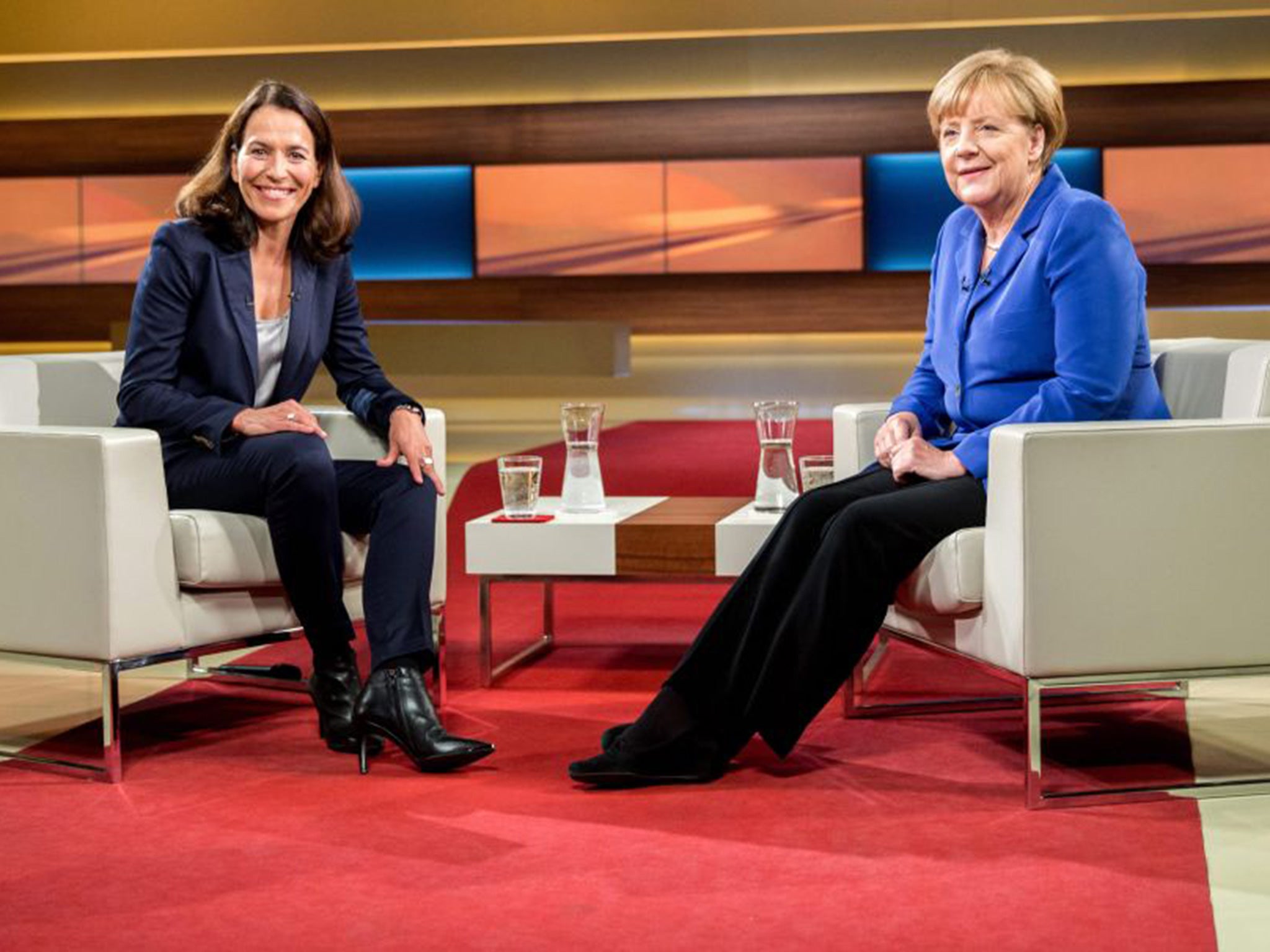 Chancellor Angela Merkel has made an extraordinary appearance on prime time German television to deliver a spirited defence of her open door migrant policy, insisting that it was her "damned duty" to help refugees and that stopping the intake was an illusion.
Ms Merkel chose to answer growing criticism of policies which have allowed an estimated 300,000 refugees to enter Germany over the past month, by appearing as the sole guest on a political chat show chaired by Germany's ARD television channel journalist Anne Will.
The Chancellor said that as head of a Christian party she refused to take part in a "competition" to discover "those who are the most unfriendly to refugees, will stop them coming in". She added: " We cannot close our borders, we have got a 3,000 kilometre long frontier. We would have to build a fence. There is no such thing as a stop to the intake."
Ms Merkel described the predominantly Syrian and Afghan refugees arriving in Germany as "people who are running for their lives." She added: "I am proud that we are giving a friendly welcome to refugees," and insisted that taking them was her "damned duty."
Her unusually candid remarks met with a deluge of approval online. Even Germany's normally critical Der Spiegel magazine online site described Ms Merkel's televised response to the crisis as one of the "most honest" of her political career.
The Chancellor's TV appearance was her latest bid to show that she had regained control of a refugee crisis which many in Germany claim has run out of control. Unconfirmed government reports have suggested that the country will take in a total of 1.5 million refugees this year – nearly double the original estimate.
On Tuesday, Ms Merkel announced that she was effectively taking personal control of the influx by setting up a refugee crisis unit in her Chancellery which would co-ordinate her government's efforts to contain the situation.
Recent opinion polls suggest that public enthusiasm for Ms Merkel's stance is waning and that 59 per cent of Germans now think that it was wrong to open the doors to refugees. A majority now want the influx stopped.
In graphics: Refugees in the EU
Show all 3
Bavaria, the southern German state which has borne the brunt of the refugee intake has complained repeatedly that it is being overwhelmed by refugees. The state's conservative government threatened yesterday to send back migrants crossing into Bavaria from Austria even if this meant breaking the law.
There has also been a surge in far right protests against the influx. On Wednesday some 8,000 people attended the third anti-migrant rally in as many weeks in the eastern city of Erfurt. The protest was organised by the xenophobic Alternative for Germany party. Polls suggest the AfD currently commands around 7 percent of the vote.

Join our commenting forum
Join thought-provoking conversations, follow other Independent readers and see their replies