Angela Merkel defends Nato allies after criticism from US vice president Mike Pence over Iran deal
German chancellor offers strong defence of nuclear agreement and multilateral cooperation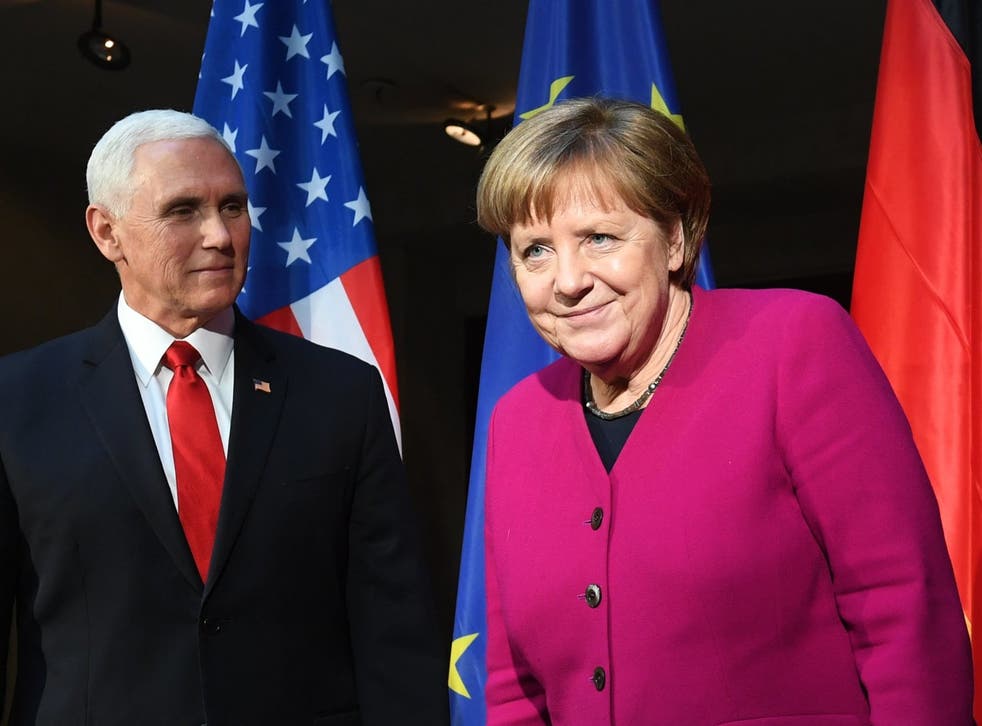 Rancour and recriminations were the order of the day with allies as well as adversaries turning on each other in one of the most important gatherings of the Munich Security Conference in recent years.
Efforts were supposed to be made, at least among western countries, to find common ground on a range of issues from the Middle East after the end of the Isis caliphate to cyber warfare, Brexit, extremism and climate change.
Instead the US vice president Mike Pence attacked European states for not joining Washington in pulling out of the nuclear deal with Iran and failing to fully follow the American line on the Venezuelan crisis.
Repeatedly praising Donald Trump for his allegedly "remarkable" and "extraordinary" qualities which have made "America stronger than ever before", enabling it to "lead on the world stage again", Mr Pence derided Nato allies.
His speech was greeted with muted cheering, with Mr Trump's daughter Ivanka and son-in-law Jared Kushner clapping enthusiastically, but a significant number of those present staying silent and some of his remarks being greeted with whispered mockery.
World news in pictures

Show all 50
The criticism was not just one way. Angela Merkel warned of the dangers in American isolationism and staunchly defended multilateral institutions under threat from US policy.
The German chancellor defended the Iran deal, condemning Mr Trump's decision to withdraw from it, and questioned his decision to pull troops out of Syria and Afghanistan. Ms Merkel also rebuffed US demands that her government scrap a gas deal with Moscow under which a new pipeline, Nord Stream 2, being built under the Baltic, will bring Russian gas directly to Germany.
She highlighted a statement by a US official that German cars were a security threat to America, to show the attitude to trade held by some in Washington. "We are proud of our cars and so we should be ... If it is viewed as a security threat to the United States then we are shocked," said Ms Merkel, adding that many were manufactured in the US and exported to countries like China.
Warning of attacks on international organisations of the type Mr Trump is in the habit of making, Ms Merkel commented: "We cannot just smash it, we need to cooperate ... Now that we see pressure on the classic order we are used to, the question now is, 'Do we fall apart into pieces of a puzzle and think everyone can solve the question best for himself alone?'".
It would be wiser, she said, "to put yourself in the others' shoes ... and see whether we can get win-win solutions together".
Germany is among international powers – along with Britain, France, Russia and China – which signed the nuclear agreement with Tehran. All these countries, as well as the UN Atomic Energy Authority, stress that the deal was working in preventing Iran developing a nuclear arsenal and that Tehran was abiding by its obligations.
European countries have organised a payment mechanism under which businesses and banks would, in theory, be able to trade with Iran without incurring American sanctions. Mike Pence said: "The time has come for our European partners to withdraw from the disastrous Iran nuclear deal and join with us as we bring the economic and diplomatic pressure. The time has come for our European partners to stop undermining US sanctions against this murderous revolutionary regime."
When Mr Pence went on to accuse Iran of sponsoring terrorism there were some whispered comments among some in the room about Gulf states, which are major purchasers of American arms, funding extremist Islamist groups. There were also sotto voce comments about the murder of the journalist Jamal Khashoggi for which officials close to Mohammed bin Salman, the Saudi crown prince, an American ally close to Mr Kushner, have been blamed.
Support free-thinking journalism and attend Independent events
Mr Pence is part of the largest American delegation ever sent to the Munich conference. It includes senior Democrats like Joe Biden and Nancy Pelosi who are vocal critics of Mr Trump. Mr Biden is expected to criticise current US policy in a number of fields, including foreign policy, when he speaks at a session.
It was not surprising, in this acrimonious atmosphere, to hear the Russian foreign minister Sergei Lavrov round on the west for a catalogue of alleged wrongdoing past and present, from the "illegal bombing of Serbia" and "organising a coup in Kiev" to the "aggressive" stance being taken by western politicians.
British defence secretary Gavin Williamson, who had attacked Russia in a speech at the conference on Friday for its role in a number of conflicts, got a special mention. "If you listen to some people like the minister of war – sorry the minister of defence – of the United Kingdom then you might get an impression that nobody except Nato has the right to be anywhere," said Mr Lavrov.
Register for free to continue reading
Registration is a free and easy way to support our truly independent journalism
By registering, you will also enjoy limited access to Premium articles, exclusive newsletters, commenting, and virtual events with our leading journalists
Already have an account? sign in
Register for free to continue reading
Registration is a free and easy way to support our truly independent journalism
By registering, you will also enjoy limited access to Premium articles, exclusive newsletters, commenting, and virtual events with our leading journalists
Already have an account? sign in
Join our new commenting forum
Join thought-provoking conversations, follow other Independent readers and see their replies