Angela Merkel urges David Cameron to rethink EU migrant benefit restrictions or face isolation
British officials hope leaders' summit in Brussels will establish 'political will' among EU members on UK's demands
Oliver Wright
Political Editor
Wednesday 16 December 2015 21:30 Comments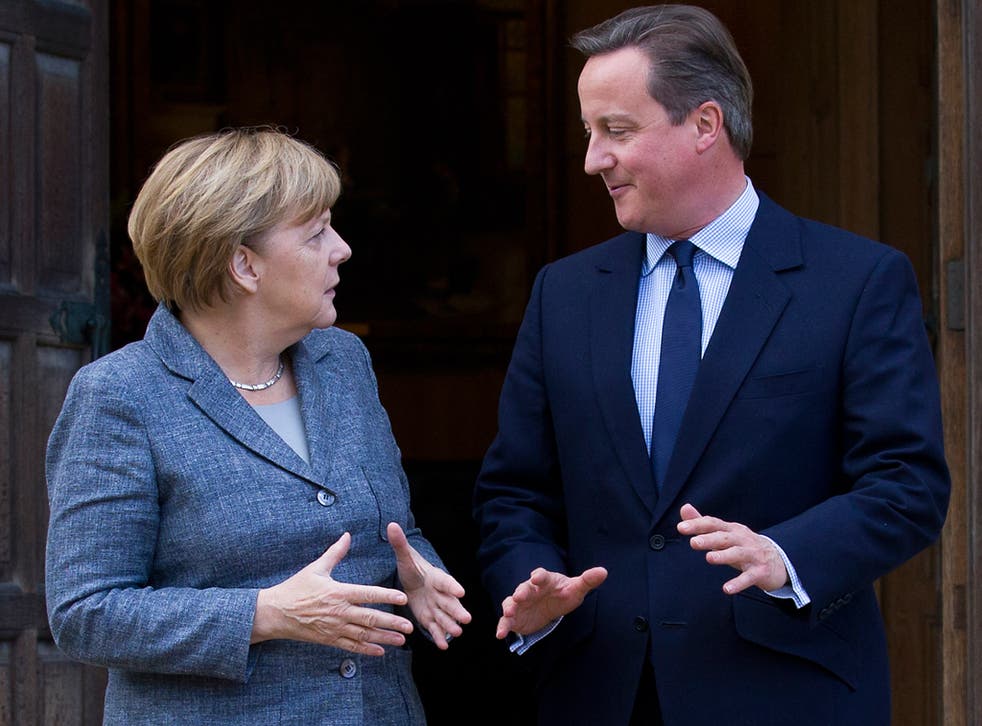 Angela Merkel has issued a stark warning to David Cameron on the eve of Thursday night's summit of European leaders – saying he must compromise on his proposal to restrict benefit payments to EU migrant workers or face isolation.
British officials say they hope that the meeting in Brussels would establish the broad "political will" among EU members to find an acceptable deal on UK demands to be finalised in the new year.
But they admitted that currently there were no concrete proposals on the table around migrant benefits that would meet Mr Cameron's demands and said that there was a "very narrow" path to a resolution.
Germany: Merkel defends stance on refugees, urges moral action from EU
Among the potential compromises under consideration is a plan to extend the time a migrant joining the UK workforce would remain under the benefits regime of the country they left. This would delay access to benefits such as tax credits, but for a significantly shorter period than the four-year outright ban.
Brussels is also looking at options for an "emergency brake", which could impose temporary restrictions if Britain could prove its public services could not cope with a surge in migration.
But British Government sources said so far these proposals were little more than "murmurings" and suggested the onus was on other EU leaders to come up with proposals that met Mr Cameron's demands.
Eurosceptic Tory MPs

Show all 7
In Germany Ms Merkel made it clear that she would only go so far to support Mr Cameron and would not compromise on the 28-member bloc's core principles.
"On the one hand, we want to reach an agreement with which the British Government can successfully campaign, in the forthcoming referendum, to remain in the EU," she told the Bundestag.
"On the other hand, we don't want to, and we won't, call into question the core principles of European integration. These include in particular the principle of free movement and the principle of non-discrimination between European citizens."
Britain's renegotiation demands will be discussed over dinner at the summit tonight which will start with Mr Cameron laying out his case for reform.
While broad agreement is expected to be reached on protections for non-eurozone countries, boosting competitiveness, excluding Britain from the idea of ever-closer union and giving national parliaments more of a say on EU affairs, curbing in-work migrant benefits is a significant sticking point.
In the House of Commons Mr Cameron insisted a "good deal" was possible. "This government was the first to cut the EU budget, it was the first to veto a treaty, the first to bring back substantial powers to Britain," he said. "We have got a great record on Europe and we will bring back a good deal for the British people."
Speaking earlier, the former Prime Minister Sir John Major, whose own leadership was undermined by bitter internal rows over Europe, said he believed that ultimately Britain should stay in the EU.
"I can't put myself inside David Cameron's mind," he said. "My view is that this renegotiation is important but that it shouldn't decide whether or not we remain inside the EU because of the importance of the issue."
Despite being no "starry-eyed European", he argued against "splendid isolation" – saying that "flirting with leaving, at a moment when the whole world is coming together, seems to me to be very dangerous and against our long-term interests".
Register for free to continue reading
Registration is a free and easy way to support our truly independent journalism
By registering, you will also enjoy limited access to Premium articles, exclusive newsletters, commenting, and virtual events with our leading journalists
Already have an account? sign in
Join our new commenting forum
Join thought-provoking conversations, follow other Independent readers and see their replies