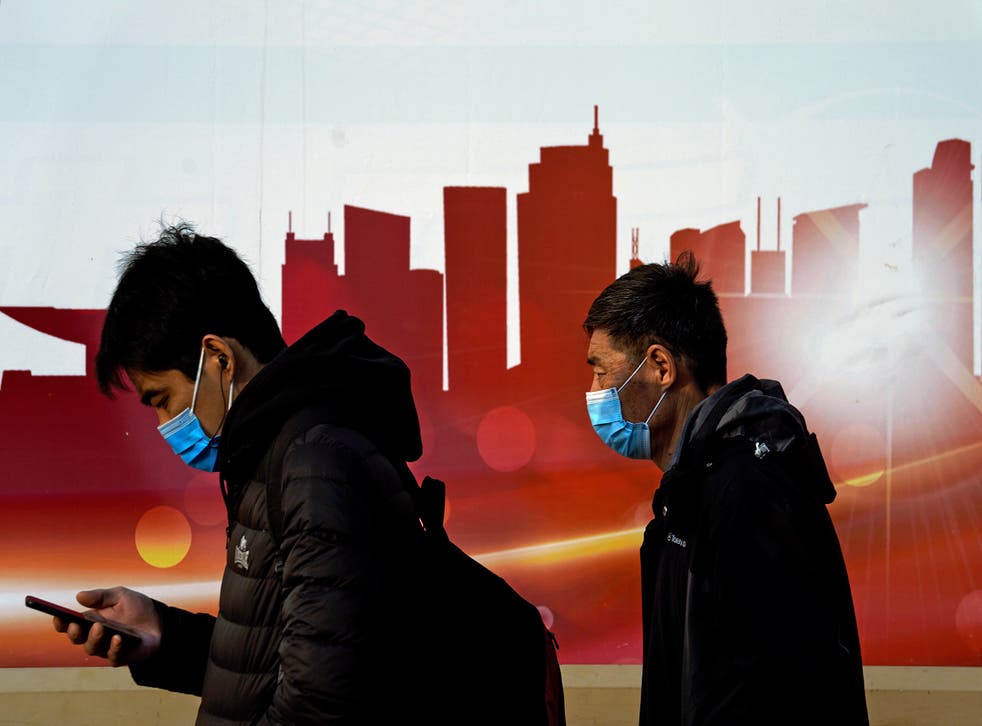 Here are the AP's latest coverage plans, top stories and promotable content. All Times EST. For up-to-the minute information on AP's coverage, visit Coverage Plan at https://newsroom.ap.org.
_______________
ONLY ON AP
_______________
VIRUS-OUTBREAK-UNUSED-PHONE-APPS — An Associated Press analysis finds that new smartphone technology for alerting people about possible exposure to the coronavirus has been slow to catch on. The notification system, designed by Apple and Google and praised by security experts for protecting user privacy, is only available in 18 states and territories. And adoption remains low. Public health officials are struggling to get the word out amid rampant COVID-19 misinformation. User privacy concerns, tech issues, and political polarization are also keeping the number of downloads low. By Bryan Anderson and Matt O'Brien. SENT: 1,070 words, photos. With VIRUS OUTBREAK-EXPLAINING PHONE APPS (sent). —————————-
TOP STORIES
—————————-
VIRUS OUTBREAK — As the coronavirus epidemic worsens, U.S. health experts hope Joe Biden's administration will put in place something Donald Trump's has not — a comprehensive national testing strategy. Such a strategy, they say, could systematically check more people for infections and spot surges before they take off. The health experts say it would be an improvement from the current practice, which has professional athletes and students at elite universities getting routine tests while many other Americans stand in line for hours — if they get tested at all. SENT: 1,160 words, photos. By Mike Stobbe and Matthew Perrone. With VIRUS OUTBREAK-US SURGE — With a COVID-19 vaccine perhaps just days away in the U.S., most of California headed into another lockdown because of the surging outbreak and top health officials warned Americans that this is no time to let their guard down. SENT: 700 words, photos; VIRUS OUTBREAK-THE LATEST (sent)
ELECTION 2020-FUTURE SHOCK -- Even after he exits the White House, President Donald Trump's efforts to challenge the legitimacy of the election and seeking to overturn the will of voters could have staying power. Trump's tactics are already inspiring other candidates, and his moves have been embraced by a wide array of Republicans. Jennifer Granholm, a former Democratic governor of Michigan, says the president is "poisoning democracy" and setting a troubling precedent. By Christina Cassidy. SENT: 1,100 words, photos. This is the Monday Spotlight
VIRUS OUTBREAK-FAILING GRADES — The first report cards of the new school year are arriving with a lot more Fs than usual, and it's not just parents who are getting distressed. School districts from coast to coast have reported the number of students failing classes has risen by as many as two or three times — a sign of the struggles many students are having with distance learning. By Carolyn Thompson. SENT: 1,000 words, photo.
VIRUS OUTBREAK-BRITAIN-VACCINATIONS — Final checks are taking place on the deliveries of the coronavirus vaccine developed by American drugmaker Pfizer and Germany's BioNTech before its rollout to hospitals across the U.K. in super-cold containers. Around 800,000 doses of the vaccine are expected to be in place for the start of the immunization program on Tuesday, which will be the country's biggest ever and which is being closely watched all around the world. By Pan Pylas. SENT: 950 words, photos.
TRUMP-2024 FREEZE — President Donald Trump's increasingly overt flirtations with running again in 2024 are freezing the potentially vast field of Republican candidates. GOP White House hopefuls are essentially left to watch what Trump does next instead of courting fundraisers, building networks and visiting early-voting states — the usual campaign planning steps — for fear of angering Trump and risking turning off his large and loyal base. Strategists say Trump is essentially leaving the party in a holding pattern, with could-be-candidates unable to prepare as they try to avoid crossing a notoriously unforgiving president who has an enormous Twitter bullhorn and little tolerance for perceived disloyalty. By Jill Colvin. SENT: 1,150 words, photos.
VIRUS-OUTBREAK-EUROPE-NURSING-HOMES — Virus cases among the elderly are again on the rise across Europe, causing havoc and rising death tolls in nursing homes despite the lessons of a tragic spring. Authorities are in a race to save lives as they wait for crucial announcements on mass vaccinations. Portugal has deployed military units to train nursing home staff in disinfection. In France, Germany and Italy, visits by relatives are being restricted again or banned altogether. By Aritz Parra. SENT: 1,090 words, photos.
—————————-
WHAT WE'RE TALKING ABOUT
—————————-
BRITAIN-TV-THE-CROWN — Netflix rejects calls to add disclaimer to "The Crown." SENT: 310 words, photo.
SCI-SPACE-STATION — Double Dragons: SpaceX launches space station supplies. SENT: 470 words, photos.
VIRUS OUTBREAK-VATICAN CHRISTMAS — Pope: Christmas a sign of hope amid difficulties of pandemic. SENT: 150 words, photos.
URUGUAY-OBIT-TABARÉ-VÁSQUEZ — Uruguay's 1st socialist president, Tabaré Vázquez, dies. SENT: 650 words, photos.
GERMANY-WWII BOMB — German experts defuse WWII-era bomb found in Frankfurt. SENT: 160 words, photo.
CRUISE-MISSING MAN — The U.S. Coast Guard says a man went missing after falling into the water from a dinner-cruise ship in the Gulf Coast in Florida. SENT: 130 words.
————————-——-
MORE ON THE VIRUS OUTBREAK
————————-——-
VIRUS OUTBREAK-CHINA-VACCINES — Provincial governments across China are placing orders for experimental, domestically made coronavirus vaccines, though health officials have yet to say how well they work or how they may reach the country's 1.4 billion people. SENT: 750 words, photos. WITH VIRUS-OUTBREAK-INDONESIA — 1.2M doses of China-made COVID vaccine arrive in Indonesia. SENT: 210 words, photos.
VIRUS OUTBREAK-SUDAN-ETHIOPIA — Ethiopia's month-long war in its northern Tigray region has severely hampered efforts to fight one of Africa's worst coronavirus outbreaks, as the fighting has displaced almost 1 million people and strained local humanitarian services to the breaking point. SENT: 730 words, photos.
VIRUS-OUTBREAK-AUSTRIA — Several communities in the Austrian Alps put mass coronavirus testing on hold and others were urged to do the same after a storm dumped huge amounts of snow, sending some avalanche warnings to their highest level. SENT: 460 words, photos.
VIRUS-OUTBREAK-BAR-OWNER-ARREST — The co-owner of a New York City bar that authorities said has been defying coronavirus restrictions was taken into custody early after running over a deputy with a car, authorities said. SENT: 360 words, photos.
LA SCALA-MISSED DEBUT — Soprano Lisette Oropesa was to be the first American to sing a title role in the gala season opener at La Scala since Maria Callas in the 1950s. Then Italy's virus cases surged. SENT: 850 words, photos.
PAKISTAN-VIRUS — Seven patients being treated for the coronavirus died after their hospital in northwest Pakistan ran out of oxygen supplies. SENT: 210 words.
Find more coverage on the Virus Outbreak on the featured topic page in AP Newsroom.
——-————————————-
WASHINGTON/POLITICS
——-————————-————
VIRUS OUTBREAK-CONGRESS — With time running out, lawmakers from both parties are closing in on a proposed COVID-19 relief bill that would provide $300 federal weekly unemployment benefits but not include $1,200 in direct payments to most Americans, leaving that for President-elect Joe Biden to wrangle with a new Congress next year. The $908 billion aid package would be attached to a $1.4 trillion year-end spending bill required to avert a government shutdown this coming weekend. UPCOMING: 550 words, photos by 2:30 p.m.
INAUGURATION — Public health guidance to avoid big parties in the age of coronavirus is about to collide with what is typically one of America's biggest celebrations of all: the swearing-in of a new president. While lots of details are still to be worked out, this Jan. 20 is sure to be more subdued than prior inauguration days. SENT: 1,040 words, photos.
EXPLAINING-ELECTION-2020-LEGAL-CHALLENGES — There have been about 50 election-related cases brought by the campaign of President Donald Trump and his allies. The Associated Press hasn't written a story on every lawsuit, though in every case journalists do look at the allegations and responses, motions and evidence, as well as the responses of the judges or other jurists involved. If there is scant evidence and legal questions that have been dismissed or adjudicated elsewhere, AP would track those cases, but not necessarily do a story. SENT: 640 words, photos.
ELECTION-2020-SENATE-GEORGIA — Candidates for one of two U.S. Senate seats still hanging in the balance will face off in a debate that is drawing strong interest beyond Georgia. That is because the seat — now held by incumbent Republican Kelly Loeffler and being challenged by Democrat Raphael Warnock — is one of two that will tip control of the Senate to either Republicans or Democrats. SENT: 480 words, photos. UPCOMING: Will be updated with debate, which begins at 7 p.m.
————————-——-
INTERNATIONAL
————————-——-
IRAN-US — The top U.S. Navy official in the Mideast says that America has reached an "uneasy deterrence" with Iran after months of regional attacks and seizures at sea, even as tensions remain high between Washington and Tehran over the Islamic Republic's nuclear program.. SENT: 650 words, photos.
ISRAEL-PALESTINIANS — A prominent Saudi prince harshly criticized Israel at a Bahrain security summit that was remotely attended by Israel's foreign minister, showing the challenges any further deals between Arab states and Israel face in the absence of an independent Palestinian state. SENT: 660 words, photos. WITH ISRAEL-PALESTINIANS-BOY-WOUNDED — Israeli authorities have cleared police of any wrongdoing in the case of a 9-year-old boy who lost an eye after apparently being shot in the face by an Israeli officer earlier this year. SENT: 630 words, photo.
BREXIT — European Union and British negotiators Sunday entered what is potentially the final attempt to strike a deal over future trade ties, even though "significant differences remain" on three essential points. SENT: 630 words, photos.
BELARUS-PROTESTS — More than 300 people were detained in the Belarusian capital on Sunday, where crowds of people took to the streets for the 18th consecutive weekend, demanding the ouster of the country's authoritarian leader who won a sixth term in office in an election widely seen as rigged. SENT: 480 words, photos.
MEXICO-US-AGENTS — Mexico's President Andrés Manuel López Obrador is proposing to restrict U.S. agents in Mexico and remove their diplomatic immunity, a move that threatens cooperation with the incoming administration of Joe Biden, whom López Obrador has yet to congratulate. SENT: 760 words, photos.
VENEZUELA-ELECTION — Venezuela's congressional election on Sunday will almost certainly give President Nicolás Maduro control over the country's last major independent institution, but will do little to improve his image at home and abroad. SENT: 880 words, photos.
URUGUAY-OBIT-TABARÉ-VÁSQUEZ — Uruguay's first socialist president,Tabaré Vásquez has died of cancer. It's a disease the physician turned politician dedicated much of his life to fighting. SENT: 690 words, photos.
INDONESIA-CORRUPTION — Indonesia's anti-corruption commission formally detained the country's social affairs minister after he surrendered to authorities to face charges of taking bribes related to the government's COVID-19 aid distribution.. SENT: 400 word, photos.
EGYPT-RIGHTS — An Egyptian court has upheld a prosecutors' decision to freeze the assets of three workers at one of the country's most prominent human rights groups. SENT: 420 words, photo.
KUWAIT — Kuwaitis elected a new parliament in an election that saw two-thirds of lawmakers and the country's only female legislator lose their seats, election results released show. SENT: 550 words, photos.
ROMANIA-ELECTION — Romanians are voting in a legislative election that many hope will restore some stability in one of the poorest European Union nations after five years of political and social turmoil. SENT: 610 words, photos.
———————-————-
NATIONAL
———————-————-
NATIVE AMERICANS-DATA — The lack of visibility of Native Americans in exit poll data on network television hit a nerve in Indian Country in the days following the election. Some Natives responded with an outcry while others turned to humor to address what many describe as a longstanding problem. Native Americans make up less than 2% of the U.S. population and often are listed as "other" or denoted with an asterisk in datasets. SENT: 1,040 words, photos.
———————-————-
HEALTH & SCIENCE
———————-————-
JAPAN-ASTEROID — A Japanese capsule carrying the first samples of asteroid subsurface shot across the night atmosphere before successfully landing in the remote Australian Outback, completing a mission to provide clues to the origin of the solar system and life on Earth. SENT: 800 words, photos.
CHINA-MOON PROBE — China's government says a probe that landed on the moon has transferred rocks to an orbiter in preparation for returning lunar samples to Earth for the first time in nearly 45 years SENT: 230 words, photos.
———————-————-
ENTERTAINMENT
———————-————-
REL--BOOK OF JOB — Against the backdrop of a pandemic's blight and wounds from an acrimonious election, a group of acclaimed actors including Bill Murray will stage an online reading of a religious text with remarkable relevance to the current moment: the Book of Job. SENT: 990 words, photos. UPCOMING: Will be updated late Sunday with performance.
ITALY-LA-SCALA-MISSED-DEBUT — Soprano Lisette Oropesa was to be the first American to sing a title role in the gala season opener at La Scala since Maria Callas in the 1950s. Then Italy's virus cases resurged, with an outbreak in both La Scala's chorus and orchestra, forcing the country's premier opera house to cancel for the first time one of the top events on Europe's cultural calendar. Despite the disappointment of missing her La Scala season-opener debut, Oropesa, 37, still hopes to reprise the title role in Donizetti's opera in Milan once performances can return to Italy's theaters. SENT: 820 words, photos.
——————
SPORTS
——————
FBC—T25-COLLEGE FOOTBALL POLL — Alabama is No. 1 for the fifth week in a row and has extended its streak of consecutive poll appearances to 210, the third longest in the history of The Associated Press college football poll. SENT: 640 words, photos.
BKW—T25-WHO'S NO. 1? — It didn't take long for there to be a new No. 1 in The Associated Press women's basketball poll. With top-ranked South Carolina's loss to No. 8 N.C. State on Thursday night it opened the door for a new choice in the top spot in the poll when comes out Monday. Since it's early in the season, there are a few teams that have a good shot to ascend to the top position in the poll. UPCOMING 500 words, photos by 8 p.m.
—————————-———-
HOW TO REACH US
—————————-———-
At the Nerve Center, Dave Clark can be reached at 800-845-8450 (ext. 1600). For photos, (ext. 1900). For graphics and interactives, (ext. 7636). Expanded AP content can be obtained from http://newsroom.ap.org. For access to AP Newsroom and other technical issues, contact apcustomersupport(at)ap.org or call 877-836-9477.