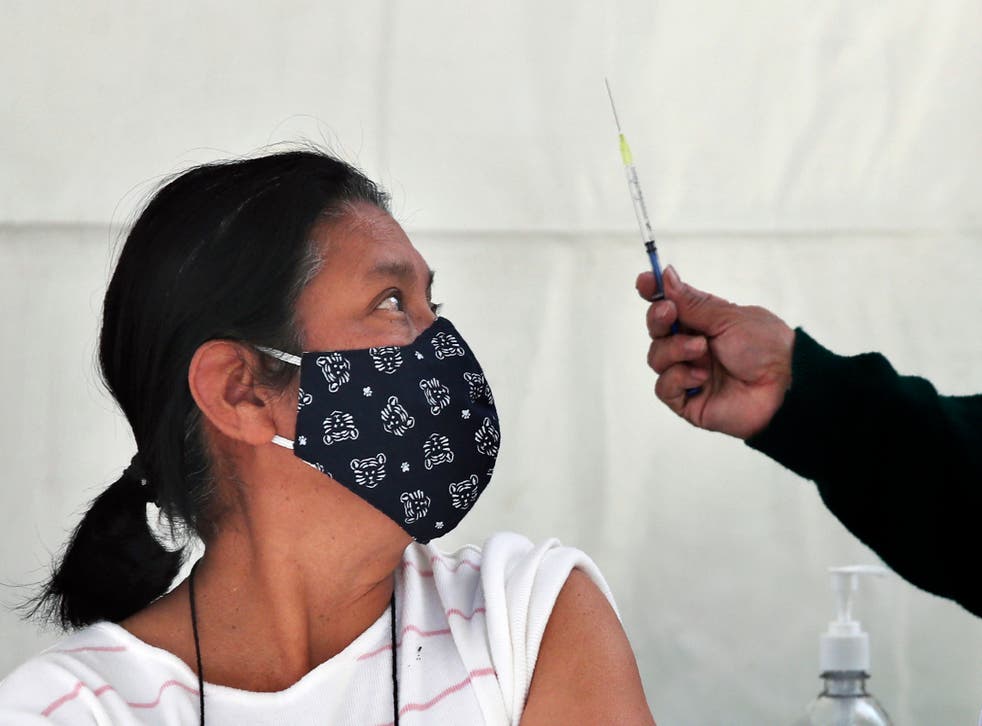 Here are the AP's latest coverage plans, top stories and promotable content. All Times EST. For up-to-the minute information on AP's coverage, visit Coverage Plan at https://newsroom ap.org.
____________
ONLY ON AP
____________
CAPITOL BREACH-EXTREMISTS — The attack on the U.S. Capitol Jan. 6 has reignited the debate over how law enforcement should handle domestic extremist groups. In nearly half of the more than 200 federal cases stemming from that day, attackers appeared inspired by conspiracy theories, right-wing propaganda, and racist or extremist ideologies, according to an Associated Press review of court records and social media posts. By Michael Kunzelman and Amanda Seitz. SENT: 1,160 words photos.
VIRUS OUTBREAK-N95 SHORTAGES — One year into the COVID-19 pandemic, the U.S. finds itself with many millions of N95 masks pouring out of American factories and heading into storage. Yet there still aren't nearly enough in hospitals. The logistical breakdown is due to federal failures over the past year to coordinate supply chains By Jason Dearen, Juliet Linderman and Martha Mendoza. SENT: 1,860 words, photos, video.
_____________
TOP STORIES _____________
VIRUS OUTBREAK — When the coronavirus pandemic took hold in India, there were fears it would sink the fragile health system of the world's second-most populous country. Infections climbed dramatically for months and at one point India looked like it might overtake the United States as the country with the highest case toll. But infections began to plummet in September, and now the country is reporting about 11,000 new cases a day, compared to a peak of nearly 100,000, leaving experts perplexed. By Krutika Pathi and Aniruddha Ghosal. SENT: 1,080 words, photos. With VIRUS OUTBREAK-THE LATEST.
VIRUS OUTBREAK-SOUTH AFRICA-VACCINES — Health care workers at the Ndlovu Care Group in rural South Africa are among those eagerly awaiting the first jabs of the Johnson & Johnson vaccine. The country's inoculation campaign has been disrupted by a last-minute change. Officials have decided to use the Johnson & Johnson vaccine, even though it is not approved for general use anywhere in the world, after a small study raised questions about how effective the AstraZeneca vaccine is against the South African variant. By Andrew Meldrum. SENT: 890 words, photos.
VIRUS-OUTBREAK-FRANCE-YOUTH-IN-DESPAIR — The long lines of young people waiting for food aid that stretch through Paris neighborhoods several times a week are a dramatic symbol of the toll the coronavirus pandemic has taken on France's youth. The pandemic has devastated economies the world over. In France, the economic fallout has weighed particularly heavily on young people — and their woes have only been compounded by disruptions to their studies and social interactions. By Sylvie Corbet. SENT: 1,050 words, photos.
BIDEN-FOREIGN LEADERS — Twelve times since he took office, President Joe Biden has dialed up a world leader after reinstituting what was a long-held White House standard mothballed by Donald Trump: vigorous preparation. Gone are unnecessary digressions and over-the-top cajoling or haranguing of fellow heads of state. By Aamer Madhani and Rob Gillies. SENT: 1,170 words, photos.
AFGHANISTAN-NATO-ANALYSIS — After 20 years of military engagement and billions of dollars spent, NATO and the United States still grapple with the same, seemingly intractable conundrum — how to withdraw troops from Afghanistan without abandoning the country to even more mayhem. An accelerated U.S. drawdown over the past few months, led by the previous U.S. administration, has signaled what may be in store for long-suffering Afghans. By Kathy Gannon. SENT: 1,050 words, photos.
REDISTRICTING FIGHTS — As redistricting conflicts heat up across the country, Republicans and Democrats are wrestling with how far to press their advantage. Republicans hope to build on their success in the last round 10 years ago, even as some population and political trends work against them. Democrats are facing a test of their commitment to the changes they've long argued are needed to create a level playing field. By Nicholas Riccardi. SENT: 1,010 words, photo.
______________________________
WHAT WE'RE TALKING ABOUT ______________________________
SOCIAL-MEDIA-PARLER-RELAUNCH — Right-wing friendly Parler announces re-launch. SENT: 550 words, photo.
OBIT-JOHNNY PACHECO — Johnny Pacheco, an idol in world of salsa, dies at age 85. SENT: 360 words, photos.
________________________________
MORE ON THE VIRUS OUTBREAK ________________________________
VIRUS OUTBREAK-NEW ZEALAND — For a second consecutive day, New Zealand reported no new community cases of the coronavirus, raising hopes that a lockdown in Auckland will be lifted Wednesday. SENT: 300 words, photos.
Find more coverage on the Virus Outbreak on the featured topic page in AP Newsroom.
_________________
INTERNATIONAL
_________________
MYANMAR — Peaceful demonstrations against Myanmar's military takeover resume, following violence against protesters a day earlier by security forces and after internet access was blocked for a second straight night. SENT: 620 words, photos. With MALAYSIA-MYANMAR-MIGRANTS — Malaysia to deport 1,200 Myanmar migrants amid concerns.
IRAQ — Rockets struck outside an airport near where U.S. forces are based in northern Iraq, killing one U.S.-led coalition contractor and wounding at least eight other people, Iraqi security and coalition officials say, sparking fears of new hostilities. SENT: 640 words.
RWANDA-HOTEL-RWANDA-TRIAL — As the terrorism trial for Paul Rusesabagina, whose story inspired the film "Hotel Rwanda," is poised to begin, his family says the critic of longtime Rwandan President Paul Kagame has no chance at a fair trial and might die from poor health behind bars. SENT: 560 words. UPCOMING: photos.
HONG-KONG-PROTESTS-TRIAL — Two former Hong Kong lawmakers pleaded guilty to illegal assembly charges, as a trial opened for them and seven other prominent democracy activists in what is seen as a crackdown on dissent in the semi-autonomous Chinese territory. SENT: 360 words, photos.
SKOREA-JAPAN-HISTORY-DISPUTE — A South Korean woman who was sexually enslaved by Japan's World War II military called for the leaders of both countries to settle an impasse over the issue by seeking judgment from the International Court of Justice. SENT: 680 words.
IRAQ-AMERICAN-UNIVERSITY — Iraqi government officials maintain that the American University in Baghdad, which opened this week, is critical to shoring up the country's flailing state of higher education. SENT: 790 words, photos.
————————
NATIONAL ————————
WINTER-WEATHER — A sprawling blast of winter weather across the U.S. is likely to blame for the deaths of two people in Texas, where an unusually snowy emergency knocked out power for more than four million people, shut down grocery stores and air travel and closed schools ahead of frigid days still to come. SENT: 570 words, photos, video. With WINTER WEATHER-THE LATEST.
MARDI GRAS — Coronavirus-related limits on access to Bourbon Street, shuttered bars and frigid weather all were expected to prevent what the city usually craves at the end of Mardi Gras season — streets and businesses jam-packed with revelers. SENT: 310 words, photos.
——————————
BUSINESS/ECONOMY
——————————
VACCINES-GROCERY-WORKERS — Most grocery employees, who gained recognition last spring as among the most indispensable of the pandemic's front-line workers, are still waiting their turn to receive COVID-19 vaccines. By Business Writers Alexandra Olson, Dee-Ann Durbin and Anne D'Innocenzio. SENT: 1,280 words, photos.
FINANCIAL-MARKETS — Asian shares advanced, lifted by the economic recovery, vaccine rollouts and signs that new coronavirus cases may be abating. By Business Writer Yuri Kageyama. SENT: 440 words, photos.
_______________________
HOW TO REACH US _______________________
At the Nerve Center, Jerome Minerva can be reached at 800-845-8450 (ext. 1600). For photos, Shuji Kajiyama (ext. 1900). For graphics and interactives (ext. 7636). Expanded AP content can be obtained from http://newsroom.ap.org. For access to AP Newsroom and other technical issues, contact apcustomersupport(at)ap.org or call 877-836-9477.
Register for free to continue reading
Registration is a free and easy way to support our truly independent journalism
By registering, you will also enjoy limited access to Premium articles, exclusive newsletters, commenting, and virtual events with our leading journalists
Already have an account? sign in
Register for free to continue reading
Registration is a free and easy way to support our truly independent journalism
By registering, you will also enjoy limited access to Premium articles, exclusive newsletters, commenting, and virtual events with our leading journalists
Already have an account? sign in