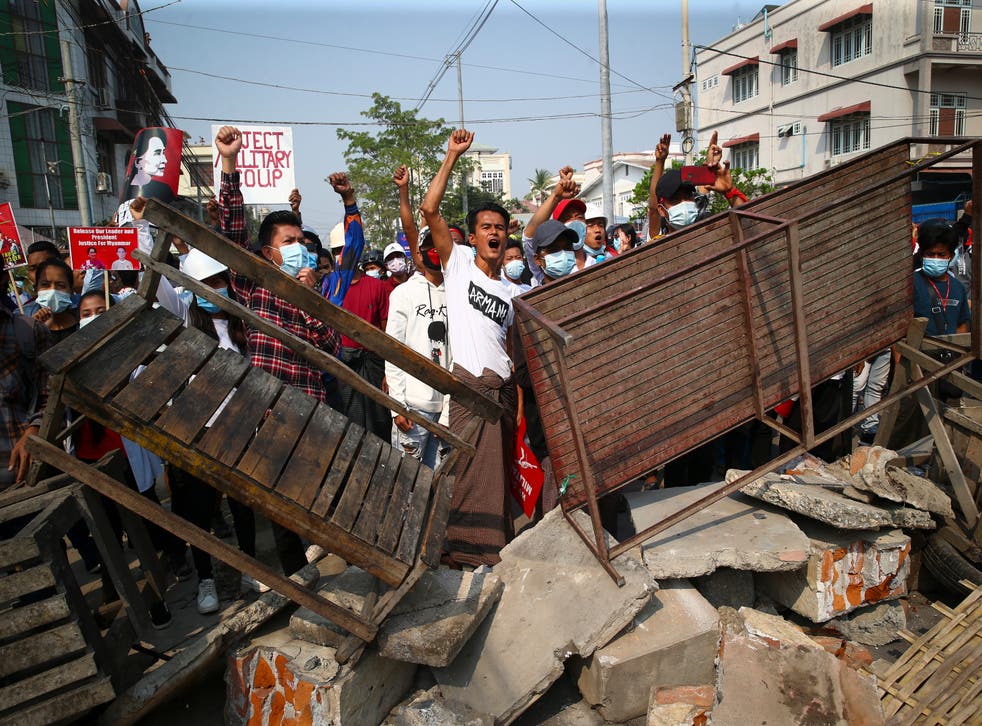 Here are the AP's latest coverage plans, top stories and promotable content. All times EST. For up-to-the minute information on AP's coverage, visit Coverage Plan at https://newsroom.ap.org.
_____________
TOP STORIES
_____________
VIRUS OUTBREAK-J&J — The U.S. now has a third vaccine to prevent COVID-19. The Food and Drug Administration on Saturday cleared a Johnson & Johnson shot that works with just one dose instead of two. Health experts have anxiously awaited a one-and-done option to help speed vaccinations. The virus has already killed more than 510,000 people in the U.S. and is mutating in increasingly worrisome ways. The FDA said J&J's vaccine offers strong protection against what matters most: serious illness, hospitalizations and death. One dose was 85% protective against the most severe COVID-19 illness, in a massive study that spanned three continents. By Lauran Neergaard and Matthew Perrone. SENT: 1038 words, photos.
MYANMAR - Security forces in Myanmar have made mass arrests and appeared to use lethal force as they intensify their efforts to break up protests a month after the military staged a coup. There were reports of gunfire as police in Yangon the biggest city, fired tear gas and water cannons while trying to clear the streets of demonstrators who are seeking to have the elected government of Aung San Suu Kyi restored to power. A violent crackdown also occurred in Dawei, a much smaller city in southeastern Myanmar, where local media reported at least three people were killed during a protest march. The Yangon protesters later regrouped and are planning to march to a police station to demand the release of medical students. SENT: 668 words, photos.
VIRUS OUTBREAK-GOP-POLITICS — Every House Republican voted early Saturday against a popular $1.9 trillion pandemic relief package that would send $1,400 checks to most Americans and hundreds of billions more to help open schools, revive struggling businesses and strengthen state and local governments. Senate Republicans are expected to oppose a similar measure in the coming weeks. As the nation struggles to recover from the worst health and financial crises in generations, strategists in both parties agree that it's risky for Republicans to assume their political playbook, which benefited the party politically after the 2008 financial crisis, will lead to the same ballot-box success. Polling suggests that an overwhelming majority of voters supports the Democrats' pandemic relief plan. By Steve Peoples. SENT: 1133 words, photos.
VIRGINIA MARIJUANA LEGISLATION — Virginia lawmakers have given final approval to a bill that will legalize marijuana for adult recreational use. But legalization will not occur until 2024, when retail sales of the drug would also begin. A compromise bill cleared the state House and Senate on Saturday evening. That makes Virginia the first Southern state to vote to legalize marijuana. It joins 15 other states and the District of Columbia. The legislation now goes to Democratic Gov. Ralph Northam, who supports legalization. Several Democrats said they hoped Northam would send the legislation back to them with amendments, including speeding up the date for legalization. By Denise Lavoie and Sarah Rankin. SENT 807 words, photos.
CUOMO SEXUAL HARASSMENT — A second former aide has come forward with sexual harassment allegations against New York Gov. Andrew Cuomo The Democratic governor responded Saturday with a statement saying he never made advances toward her and never intended to be inappropriate. Charlotte Bennett was a health policy adviser in the Democratic governor's administration until November. She told The New York Times that Cuomo asked her inappropriate questions about her sex life, including whether she had ever had sex with older men. Another former aide, Lindsey Boylan, recently accused Cuomo of subjecting her to unwanted kissing and inappropriate comments. Cuomo denied the allegations. By Dave Collins. SENT 982 words, photos.
CAPITOL BREACH-LEGAL DEFENSE — Some Donald Trump supporters charged with storming the U.S. Capitol are employing a long-shot defense strategy: blaming the former president. Facing damning evidence against their clients, some lawyers have argued that they wouldn't be charged with joining the violent mob if Trump hadn't incited them to act. Legal experts are skeptical, and one judge has already shot down the idea. By Michael Kunzelman and Alanna Durkin Richer. SENT: 1,000 words, photos. WITH: CAPITOL BREACH-OFFICER'S DEATH — Federal investigators probing the death of a U.S. Capitol Police officer killed in the Jan. 6 riot have zeroed in on a suspect seen on video appearing to spray a chemical substance on the officer. SENT: 450 words, photos.
_______________________________
WHAT WE'RE TALKING ABOUT
_______________________________
IRAQ TRAILBLAZING OIL WOMEN — In Iraq, a handful of women are eschewing the dreary office jobs typically handed to female petrochemical engineers and choosing instead to become trailblazers in the country's oil industry by taking up the grueling work at rig sites across the country. SENT: 993 words, photos.
ZOOM CALL-OPERATING ROOM — The Medical Board of California said it would investigate a plastic surgeon who appeared in a videoconference for his traffic violation trial while operating. SENT: 350 words.
HALF-DOME-SKIERS — Two men have navigated down the precipitous shoulder of Half Dome in Yosemite National Park and alternately skied and rappelled back to the valley floor in an unusually daring feat. SENT: 480 words, photos, video.
HOUSE-MOVE-MASSACHUSETTS — Authorities have cleared the way for a 19th-century home in Massachusetts to be moved intact to a new site about a mile away. SENT: 185 words.
_________________________________
MORE ON THE VIRUS OUTBREAK
_________________________________
VIRUS OUTBREAK-CONGRESS — The House approves a $1.9 trillion pandemic relief bill that was championed by President Joe Biden the first step in providing another dose of aid to a weary nation as the measure now moves to a tense Senate. By Alan Fram. SENT: 1,080 words, photos. WITH: VIRUS OUTBREAK-CONGRESS-HIGHLIGHTS — Highlights of the COVID-19 relief bill advancing in Congress (sent).
VIRUS-OUTBREAK — Communities across the U.S. are seeing plummeting demand for coronavirus testing. The drop comes at a significant moment in the outbreak: Experts are cautiously optimistic that COVID-19 is receding after killing more than 500,000 Americans. But they are concerned that emerging variants could prolong the epidemic. By Matthew Perrone. SENT: 925 words, photos.
VIRUS-OUTBREAK-TRIBES-FEDERAL-RECOGNITION — As COVID-19 disproportionately affects Native American communities, many tribal leaders say the pandemic poses particular risks to tribes without federal recognition. Lacking a political relationship with the United States means those tribes are denied federal coronavirus relief funding for state, local and tribal governments. SENT: 930 words, photos.
VIRUS-OUTBREAK-GERMANY-CHILDREN — Psychiatrists, psychologists and pediatricians in Germany have voiced growing alarm that school closings and social distancing are magnifying the fear, disruption and stress of the coronavirus pandemic for the country's 13.7 million children and teenagers. SENT: 890 words, photos.
BRITAIN-CAPTAIN TOM'S FUNERAL — A World War II-era plane has flown over the funeral service of Captain Tom Moore to honor of the veteran who single-handedly raised millions of pounds for Britain's health workers by walking laps in his backyard. SENT: 520 words, photos, video.
________________________
WASHINGTON/POLITICS
________________________
BIDEN-SENATE-ANALYSIS — The early ambitions of Joe Biden's presidency are quickly running into the guardrails of archaic Senate rules, testing his willingness to remake an institution he reveres to fulfill many of the promises he has made to Americans. SENT: 1,020 words, photos.
DEMOCRAT-AS-ADJECTIVE — Amid calls to dial back hyperpartisanship, two letters are among the obstacles standing in the way. Republicans routinely drop the "i-c" when referring to the Democratic Party or its policies. Academics and partisans disagree on the significance. Is it a harmless political tactic or a maliciously subtle vilification? By Julie Carr Smyth. SENT: 1,350 words, photos.
JANET YELLEN-PROFILE — Treasury Secretary Janet Yellen is an outsider now at the heart of President Joe Biden's inner sanctum, a Ph.D. economist who treats her staff as peers rather than underlings. As a former chair of the Federal Reserve, Yellen carries the authority of a public servant who already helped save the economy once. Now, at age 74, she has been called back for a twilight encore after being ushered off the stage by Donald Trump. By Josh Boak. SENT: 1,700 words, photos. Abridged of 1,000 words also available.
___________
NATIONAL
___________
GEORGE FLOYD-OFFICER TRIAL-UNEASY CITY — Barbed wire and concrete barriers surround the courthouse where the white former Minneapolis police officer charged with killing George Floyd is due to go on trial. It's a sign of the deep uneasiness hanging over the city where violence erupted after the Black man's death and protests reverberated around the world. By Steve Karnowski. SENT: 790 words, photos. This is the Sunday Spotlight
TEXAS-BLACKOUTS-INMATES —An unusually heavy winter storm knocked out electricity to millions of Texas homes and left many people without water service. It also left inmates at the state's largest county jail vulnerable, hungry and cold. Advocates and lawyers say Harris County Jail inmates have told them of stinking jail toilets that couldn't be flushed, no access to clean water when the county was under a boil water advisory, and jail food being rationed. SENT: 1,005 words, photos.
LOUISIANA-POLICE-DEATH-PENALTY-PROBE — A Louisiana State Police trooper has been suspended without pay for kicking and dragging a handcuffed Black man whose in-custody death remains unexplained and the subject of a federal civil rights investigation. SENT: 535 words, photos.
DEATH-PENALTY-OKLAHOMA — As many as 10 death row inmates in Oklahoma could escape execution because of a recent U.S. Supreme Court ruling. The inmates are challenging their convictions in state court following the high court's ruling last year. Dubbed the McGirt decision, the ruling determined that much of eastern Oklahoma remains an American Indian reservation. SENT: 690 words, photos.
BUDDHIST-TEMPLE-VANDALISM — Authorities are investigating a vandalism and fire at a Buddhist temple in the Little Tokyo section of downtown Los Angeles. The incident comes amid a rise in hate crimes against Asian Americans. However, police say it was too early to label Thursday's incident a hate crime because the investigation is in the early stages. SENT: 306 words, photos.
_________________
INTERNATIONAL
_________________
HONG KONG — Hong Kong police have detained 47 pro-democracy activists on charges of conspiracy to commit subversion under the sweeping national security law. SENT: 92 words.
IRAN-UNREST —Iran's impoverished southeast experienced wide disruptions of internet service over the past week, internet experts said, as unrest gripped the remote province after a string of fatal border shootings. SENT: 553 words, photo.
PAKISTAN-RISING-MILITARY — Militant attacks are on the rise in Pakistan amid a growing religiosity that has brought greater intolerance, prompting one expert to voice concern the country could be overwhelmed by religious extremism. SENT: 910 words, photos.
SAUDI ARABIA — Saudi Arabia said it has intercepted a missile attack over its capital and bomb-laden drones targeting a southern province, the latest in a series of airborne assaults it has blamed on Yemen's rebel Houthis. SENT: 450 words, photos.
NIGERIA-SCHOOL ATTACK — Dozens of students, teachers and relatives abducted two weeks ago from a school in northern Nigeria have been freed. SENT: 440 words, photos.
___________________
HEALTH & SCIENCE
___________________
ITALY-POMPEI — Officials at the Pompeii archaeological site in Italy announced the discovery of an intact ceremonial chariot, one of several important discoveries made in the same area outside the park near Naples following an investigation into an illegal dig. SENT: 350 words, photos.
___________________
ENTERTAINMENT
___________________
GOLDEN GLOBES — When drained of glamour, what's left of the Golden Globes? That's one of the biggest questions heading into 78th annual awards on Sunday night. The show will have little of what makes the Globes one of the frothiest and glitziest events of the year. SENT: 849 words, photos
________
SPORTS
________
BKN--LEBRON-ZLATAN-CRITICISM — LeBron James insists he will never just shut up and dribble. The Lakers great was criticized by former Galaxy soccer star Zlatan Ibrahimovic, who says it's a "mistake" for athletes to pursue political causes. Says James: "I understand how powerful this platform and my voice is." SENT: 600 words, photos.
___________________
HOW TO REACH US
___________________
The Nerve Center can be reached at 800-845-8450 (ext. 1600). For photos, (ext. 1900). For graphics and interactives (ext. 7636). Expanded AP content can be obtained from http://newsroom.ap.org. For access to AP Newsroom and other technical issues, contact apcustomersupport(at)ap.org or call 877-836-9477.