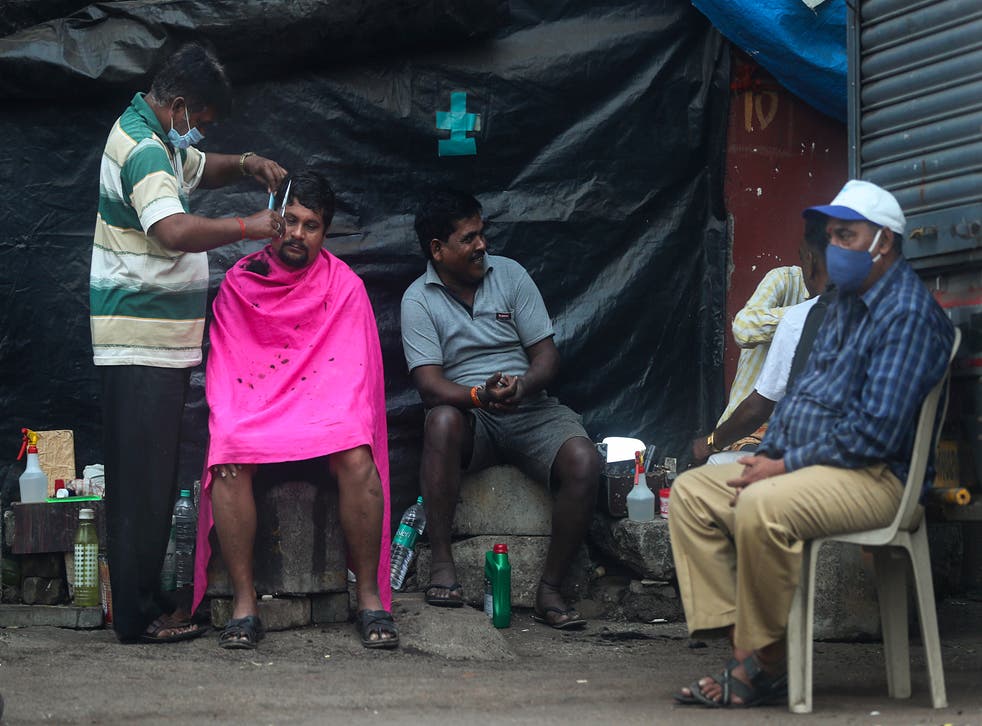 Here are the AP's latest coverage plans, top stories and promotable content. All Times EST. For up-to-the minute information on AP's coverage, visit Coverage Plan at https://newsroom.ap.org.
_____________________
NEW & DEVELOPING
_____________________
Adds: VIRUS OUTBREAK-INDIA VACCINE; CONGRESS; LARRY KING-CORONAVIRUS; EXPLOSION-NASHVILLE
______________
ONLY ON AP
______________
BLACKWATER PARDONS — One of four former U.S. government contractors pardoned by President Donald Trump in the shooting deaths of Iraqi civilians says he feels like "I acted correctly." Evan Liberty spoke to The Associated Press in his first interview since being pardoned late last month. The guards were convicted in the deaths of 14 civilians, including women and children, during a 2007 shooting at a crowded Baghdad traffic circle. Even for a president who has repeatedly exercised his pardon power on personal associates and political supporters, Trump's clemency for the contractors was met with especially intense condemnation, both in the United States and the Middle East. By Eric Tucker. SENT: 1,270 words, photos
______________
TOP STORIES
______________
VIRUS OUTBREAK-INDIA VACCINE — India has authorized two COVID-19 vaccines, paving the way for a huge inoculation program to stem the coronavirus pandemic in the world's second most populous country. India's drugs regulator on Sunday gave an emergency authorization for the vaccines developed by Oxford University and U.K.-based drugmaker AstraZeneca and another by the Indian company Bharat Biotech. India is the second-worst affected by the coronavirus after the U.S. SENT: 630 words, photos. UPCOMING: Developing.
CONGRESS — Congress is preparing to convene for the start of a new session, swearing in lawmakers during a tumultuous period as a relative handful of Republicans work to overturn Joe Biden's victory over President Donald Trump and the coronavirus surge imposes limits at the Capitol. By Congressional Correspondent Lisa Mascaro. SENT: 840 words, photos. House and Senate to convene at noon EST.
CONGRESS-ELECTORAL COLLEGE — A growing number of Republican lawmakers are joining President Donald Trump's extraordinary effort to overturn the U.S. election, pledging to reject the results when Congress meets next week to count the Electoral College votes and certify President-elect Joe Biden's win. SENT: 1,150 words, photos, video.
SENATE-GEORGIA — President-elect Biden is going all-in to help Democrats win two Senate runoffs in Georgia that will determine party control in the critical early years of his administration, a widespread effort that not long ago would have been unthinkable in a Republican-dominated state in the Deep South. SENT: 920 words, photos.
RISKIEST PLACES — U.S. experts have calculated the riskiest and safest counties in the country for disasters, and Los Angeles is on the shakiest ground. The new National Risk Index by the Federal Emergency Management Agency shows that the risk of 18 natural hazards including hurricanes, tornadoes, earthquakes, volcanoes, floods and heat waves is also high in New York, Miami and Philadelphia. Loudoun County in Virginia, other Washington D.C. suburbs, areas near Boston and Long Island rank as some of the safest places. By Science Writer Seth Borenstein.
IRAN — International inspectors say Iran plans to enrich uranium up to 20% at its underground Fordo nuclear facility. The announcement Saturday by the International Atomic Energy Agency means Iran's program would be a technical step away from weapons-grade levels as it increases pressure on the West over its tattered atomic deal. By Jon Gambrell. SENT: 925 words, photo.
VIRUS OUTBREAK-TRIBES-VACCINE TRIALS — As coronavirus vaccines were being developed around the world, few Native American tribes signed up to participate. The reasons range from unethical practices of the past to the quick nature of the studies amid the pandemic. Native researchers say without participation from tribal communities, tribes won't know which vaccine might best be suited for their citizens. By Felicia Fonseca. SENT: 1,190 words, photos. This is the Sunday Spotlight
_______________________________
WHAT WE'RE TALKING ABOUT
_______________________________
LARRY KING-CORONAVIRUS — CNN says its former talk show host Larry King has been hospitalized with COVID-19 for more than a week. SENT: 145 words, photos.
OBIT-FLOYD LITTLE — Floyd Little, the great running back who starred at Syracuse and for the Denver Broncos, has died at 78. SENT: 1,065 words, photos.
OBIT-WESTPHAL — Paul Westphal, a Hall of Fame player who won a championship with the Boston Celtics in 1974 and later coached in the league and in college, has died at 70. SENT: 715 words, photos.
GENEROUS OFFICER — A Massachusetts police officer is winning praise for providing Christmas dinner for two women accused of trying to steal groceries for their children. SENT: 120 words, photo.
ODD-HIPPIES-WELCOME — LaGrange County in Indiana has repealed its "anti-hippie ordinance" — a 1971 law that was intended at blocking huge gatherings like the 1969 Woodstock music festival. SENT: 150 words.
________________________________
MORE ON THE VIRUS OUTBREAK
_________________________________
VIRUS OUTBREAK — As communities across the country feel the pain of a surge in coronavirus cases, funeral homes in the hot spot of Southern California say they must turn away grieving families as they run out of space for the bodies piling up. SENT: 690 words, photos. With VIRUS OUTBREAK-THINGS TO KNOW, VIRUS OUTBREAK-THE LATEST.
VIRUS OUTBREAK-CONGRESSMAN-ELECT FUNERAL — Louisiana Congressman-elect Luke Letlow was remembered Saturday as a man who loved people and felt called to serve others. The 41-year-old incoming Republican member of the U.S. House died Tuesday from COVID-19 complications. SENT: 565 words, photo.
VIRUS OUTBREAK-ASIA — More Australian states and territories are imposing travel restrictions to prevent the coronavirus spreading from new outbreaks in New South Wales and Victoria states. SENT: 430 words, photos.
VIRUS OUTBREAK-BRITAIN — The British government is facing mounting pressure to keep all schools in England closed for at least two more weeks as a result of surging coronavirus cases. SENT: 735 words, photos.
VIRUS OUTBREAK-FRANCE-RAVE — A French prosecutor said police detained seven people, including two alleged organizers, after an underground New Year's Eve rave party drew at least 2,500 people in western France despite a coronavirus curfew and other restrictions. At least 1,200 fines were issued. SENT: 330 words, photo.
Find more coverage on the Virus Outbreak on the featured topic page in AP Newsroom.
_______________________
WASHINGTON/POLITICS
_______________________
McCONNELL-PELOSI-VANDALISM — The homes of House Speaker Nancy Pelosi and Senate Majority Leader Mitch McConnell were vandalized with graffiti demanding more money to individuals to help cope with the coronavirus pandemic. SENT: 380 words, photos.
_________________
INTERNATIONAL
_________________
PERSIAN GULF-TENSIONS — A mock funeral procession in Iraq has marked the one-year anniversary of the U.S. drone strike near Baghdad that killed top Iranian general Qassem Soleimani and top Iraqi militia leader Abu Mahdi al-Muhandis. SENT: 400 words, photos.
PAKISTAN-MINERS KILLED — A Pakistani official says gunmen opened fire on a group of minority Shiite Hazara coal miners in a southwestern province after abducting them, killing 11. SENT: 225 words.
ISRAEL-PROTESTS — Thousands of Israelis protested again against Prime Minister Benjamin Netanyahu, demanding that the long-serving leader resign over corruption charges against him and for allegedly mishandling the coronavirus crisis. SENT: 230 words, photos.
NORWAY-LANDSLIDE — Rescue teams searching for survivors four days after a landslide carried away homes in a Norwegian village have found no signs of life amid the ruined buildings and debris. Three bodies have been recovered; seven people are missing. SENT: 520 words, photos.
_____________
NATIONAL
_____________
EXPLOSION-NASHVILLE — Before he blew himself up in a Christmas Day attack that devastated blocks of downtown Nashville, Anthony Warner sent materials about his views to people he knew, federal investigators said Saturday. SENT: 180 words, photos.
DIRT BIKE RIDER CHARGED — A renowned Baltimore dirt bike rider who appeared in an HBO drama about the city's riding scene faces murder charges for the stabbing death of her partner on New Year's Day, police said. SENT: 190 words.
HEAD-ON CRASH-9 DEAD — Seven children and two adult drivers were killed in head-on collision in Central California on New Year's Day, authorities said. SENT: 180 words.
AQUARIUM-BELUGAS-RESEARCH — A Connecticut aquarium has agreed to delay its acquisition of five beluga whales for research amid a lawsuit by an animal rights group trying to stop the delivery. SENT: 345 words, photo.
PUERTO RICO-NEW GOVERNOR — Puerto Rico's new governor is vowing to achieve statehood for the U.S. territory and fight against poverty, corruption and COVID-19. SENT: 705 words, photos.
_____________________
BUSINESS/ECONOMY
_____________________
CHINA-US-DELISTED COMPANIES — China says it will take necessary countermeasures in response to the New York Stock Exchange's announcement this week that it will delist three major Chinese telecoms, in the latest flare-up of tensions between Beijing and Washington. SENT: 270 words, photos.
_________________
ARTS/ENTERTAINMENT
_________________
OBIT-JOAN MICKLIN SILVER — Joan Micklin Silver, who forged a path for female directors and independent filmmakers with movies including "Hester Street" and "Crossing Delancey," has died. She was 85. SENT: 690 words, photo.
_________________
SPORTS
_________________
FBC-T25-ORANGE BOWL — Devon Achane had two late touchdown runs, including a 76-yarder with 3:44 left that put Texas A&M ahead to stay, and the fifth-ranked Aggies beat No. 14 North Carolina 41-27 in the Orange Bowl to cap a winless bowl season for the Atlantic Coast Conference. By AP Sports Writer Tim Reynolds. SENT: 660 words, photos.
FBC-T25-FIESTA BOWL — Breece Hall ran for 136 yards and two touchdowns, Brock Purdy accounted for two scores and No. 12 Iowa State grinded out a 34-17 win over No. 25 Oregon in the Fiesta Bowl. SENT: 800 words, photos.
_________________
HOW TO REACH US
___________________
At the Nerve Center, Desiree Seals can be reached at 800-845-8450 (ext. 1600). For photos, ext. 1900. For graphics and interactives, ext. 7636. Expanded AP content can be obtained from http://newsroom.ap.org. For access to AP Newsroom and other technical issues, contact apcustomersupport(at)ap.org or call 877-836-9477.