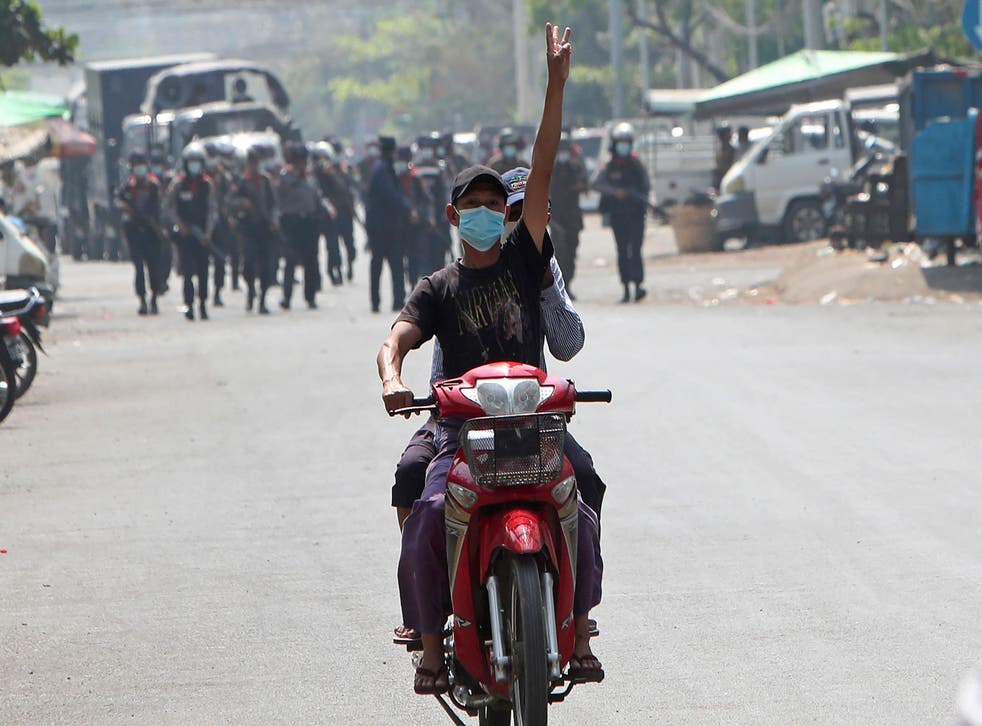 Here are the AP's latest coverage plans, top stories and promotable content. All Times EST. For up-to-the minute information on AP's coverage, visit Coverage Plan at https://newsroom.ap.org.
—————————
ONLY ON AP
——————-———
CAPITOL RIOT-DISINFORMATION NATION — A faction of local, county and state GOP officials nationwide is pushing misinformation and conspiracy theories online — from provocative banter to outright threats — forcing a reckoning within the party. The online messages are amplified by algorithms that boost extreme content, exerting outsized influence on the officials' communities, city councils, county boards and state assemblies. By Garance Burke, Martha Mendoza, Juliet Linderman and Larry Fenn. SENT: 2,870 words, photos video. An abridged version of 1,130 words is also available.
_____________
TOP STORIES
_____________
SYRIA-IRAQ-UNITED STATES — A U.S. airstrike in Syria targeted facilities belonging to a powerful Iranian-backed Iraqi armed group, killing one of their militiamen and wounding a number of others, an Iraqi militia official says. The airstrike was the first military action undertaken by the Biden administration. By Qassim Abdul-Zahra, Lolita C. Baldor and Robert Burns. SENT: 810 words, photos.
VIRUS-OUTBREAK-PANDEMIC-PASSPORTS — Governments say getting vaccinated and having the proper documentation to prove it will smooth the way to recovery from the COVID-19 pandemic, and such efforts have gotten a head start in Israel. But that also raises the prospect of further dividing the world along the lines of wealth and access to vaccines, creating ethical and logistical issues that have alarmed decision-makers globally. By Laurie Kellman. SENT: 1,030 words, photos.
VIRUS-OUTBREAK-ROMANIA-HOSPITALS — Romania reported its first COVID-19 case a year ago this week. Since then, the country's underfunded medical system has turned its focus to treating patients with coronavirus. But that has left many Romanians with other health problems deprived of the critical care they need, including patients who are HIV positive or have cancer. Romania's government is acknowledging the problem and has announced plans to reorganize the country's hospitals so that more non-COVID-19 patients can get access to health care. By Nicolae Dumitrache and Stephen McGrath. SENT: 700 words, photos.
UNITED STATES-AFGHANISTAN — America's longest war is approaching a crossroads. President Joe Biden's choices in Afghanistan boil down to this: withdraw all troops by May and risk a resurgence of extremist dangers, or stay and possibly prolong the war in hopes of compelling the Taliban to make peace. By National Security Writer Robert Burns. SENT: 950 words, photos. With GERMANY—AFGHANISTAN — German defense minister visits troops in Afghanistan.
BIDEN-ECONOMY — The Senate parliamentarian's decision that Democrats' minimum wage hike has to be dropped from a massive COVID-19 relief bill the party is trying to speed through Congress comes as Democrats prepare for House approval Friday of an initial version of the $1.9 trillion package. By Alan Fram. SENT: 850 words, photos. Also see BIDEN below.
BIDEN-CABINET-BIAS-QUESTIONS — When Wyoming U.S. Sen. John Barrasso snapped at Deb Haaland during her confirmation hearing for Interior secretary, many in Indian Country were incensed. By Felicia Fonseca and Matthew Brown. SENT: 1,000 words, photos.
———————————————————————
WHAT WE'RE TALKING ABOUT
——————————————————————-
MCCONNELL-TRUMP — McConnell says he'd support Trump if he wins 2024 nomination. SENT: 480 words, photo.
COSTCO-MINIMUM-WAGE — Costco to raise starting hourly wage to $16. SENT: 330 words, photo.
OBIT-PETER-GOTTI-GAMBINO-FAMILY Gambino crime family's elder Gotti, Peter, dies in prison. SENT: 280 words, photo.
MIKE-TYSON — Hulu sets Mike Tyson miniseries, but the boxer punches back. SENT: 190 words, photo.
CAVALIERS-POLICE-DIALOGUE — Cavs, Indians, Browns unite police, area youth for change. SENT: 460 words, photo.
LONG-LOST-CAT-FOUND — Cat that vanished 15 years ago reunited with owner. SENT: 490 words, photo.
INDIA-BATHING-FESTIVAL-PHOTO-GALLERY — Hindu festival draws crowds of bathers to rivers. SENT: 290 words, photos.
————————————————————————-
MORE ON THE VIRUS OUTBREAK
—————————————————————————
VIRUS-OUTBREAK-ASIA — South Korea administered its first available shots of coronavirus vaccines to people at long-term care facilities, launching a mass immunization campaign that health authorities hope will restore some level of normalcy by the end of the year. SENT: 790 words, photos. With VIRUS-OUTBREAK-THE-LATEST.
HONG KONG-VACCINES — Hong Kong began administering its first COVID-19 vaccines to the public, kicking off its program that will eventually offer free vaccinations to all 7.5 million residents. SENT: 400 words, photos.
JAPAN-VIRUS OUTBREAK — The state of emergency Japan set up to curb the spread of the coronavirus will be lifted in six urban areas this weekend and remain in the Tokyo area for another week. SENT: 350 words, photos.
VIRUS-OUTBREAK-MIDEAST — Two U.S. Navy warships operating in the Mideast have been affected by the coronavirus, authorities say, with one already at port in Bahrain and another heading to port now. SENT: 370 words, photos.
VIRUS OUTBREAK-SOMALIA-RESURGENCE — A resurgence of COVID-19 cases is hitting Somalia hard, straining one of the world's most fragile health systems, while officials await test results to show whether a more infectious variant of the coronavirus is spreading. SENT: 580 words, photos.
————————————————-
WASHINGTON/POLITICS
————————————————-
MICHIGAN CONSERVATIVE PIVOT — Michigan Republicans, once the national model for the party's mainstream, have lurched sharply rightward in the past decade. SENT: 1,100 words, photos.
BIDEN — Biden will put his empathy skills on display during a Texas visit with a dual mission: surveying damage caused by severe winter weather and encouraging people to get their coronavirus shots. SENT: 780 words, photos.
GEORGIA ELECTION-INVESTIGATION — The Georgia prosecutor investigating potential efforts by Donald Trump and others to influence last year's general election has a message for people who are eager to see whether the former president will be charged: Be patient. SENT: 830 words, photos.
——————-
NATIONAL
——————-
MILITARY-BASE-CONTAMINATED-WATER — The U.S. Air Force says it will be distributing bottled water to thousands of residents and business owners near its base in suburban Phoenix until at least April, marking the latest case of chemicals from military firefighting efforts contaminating the water supply in a nearby community. SENT: 700 words, photo.
RACIAL-INJUSTICE-KENTUCKY — A bill that would limit the use of "no-knock" warrants passed the Kentucky Senate unanimously, the latest effort to reform law enforcement tactics after the death of Breonna Taylor, a woman who was fatally shot when Louisville police broke down her door in the middle of the night. SENT: 490 words, photo.
TRUMP ADVISER-ARREST — The indictment lodging fraud charges against Trump's former chief strategist Steve Bannon should not be dismissed despite his pardon, prosecutors told a judge, citing ill effects an indictment can leave on someone even without a conviction. SENT: 340 words.
_________________
INTERNATIONAL
_________________
MYANMAR — Security forces in Myanmar's largest city fired warning shots and beat truncheons against their shields while moving to disperse more than 1,000 anti-coup protesters. SENT: 540 words, photos.
—————————————-
BUSINESS/TECH
——————————————
FINANCIAL-MARKETS — Asian shares skidded, with Tokyo's benchmark dropping 4% after rising bond yields triggered a broad sell-off on Wall Street that handed the Nasdaq composite index its steepest one-day loss since October. By Business Writer Elaine Kurtenbach. SENT: 860 words, photos.
AUSTRALIA-DIGITAL-PLATFORMS — Facebook announced preliminary agreements with three Australian publishers, a day after the Parliament passed a law that would make the digital giants pay for news. SENT: 500 words, photo.
————————————
ENTERTAINMENT
————————————-
FILM-REVIEW-BILLIE-EILISH:-THE-WORLD'S-A-LITTLE-BLURRY — If you're coming to "Billie Eilish: The World's a Little Blurry" hoping for a primer on the music sensation, you've come to the wrong place. By Film Writer Lindsey Bahr. SENT: 810 words, photos.
CHINA-BOX-OFFICE-BOOM — The thrills and chills of the big screen are back in the world's biggest film market. SENT: 640 words, photos.
—————-
SPORTS
—————-
TIGER-WOODS-CRASH — Tiger Woods was moved to another Los Angeles hospital after undergoing surgery to his right leg after being badly injured in a car crash. SENT: 470 words, photos.
BEIJING-UYGHURS-SPONSORS — Activists and lawyers are targeting the IOC's most high-profile sponsors tied to next year's Beijing Winter Olympics as a way to bring light to reported human rights abuses in China against Muslim Uyghurs and other ethnic minorities. By Sports Writer Stephen Wade. SENT: 1,090 words, photos.
___________________
HOW TO REACH US ___________________
At the Nerve Center, Jerome Minerva can be reached at 800-845-8450 (ext. 1600). For photos, Wally Santana (ext. 1900). For graphics and interactives (ext. 7636). Expanded AP content can be obtained from http://newsroom.ap.org. For access to AP Newsroom and other technical issues, contact apcustomersupport(at)ap.org or call 877-836-9477.
Register for free to continue reading
Registration is a free and easy way to support our truly independent journalism
By registering, you will also enjoy limited access to Premium articles, exclusive newsletters, commenting, and virtual events with our leading journalists
Already have an account? sign in
Register for free to continue reading
Registration is a free and easy way to support our truly independent journalism
By registering, you will also enjoy limited access to Premium articles, exclusive newsletters, commenting, and virtual events with our leading journalists
Already have an account? sign in