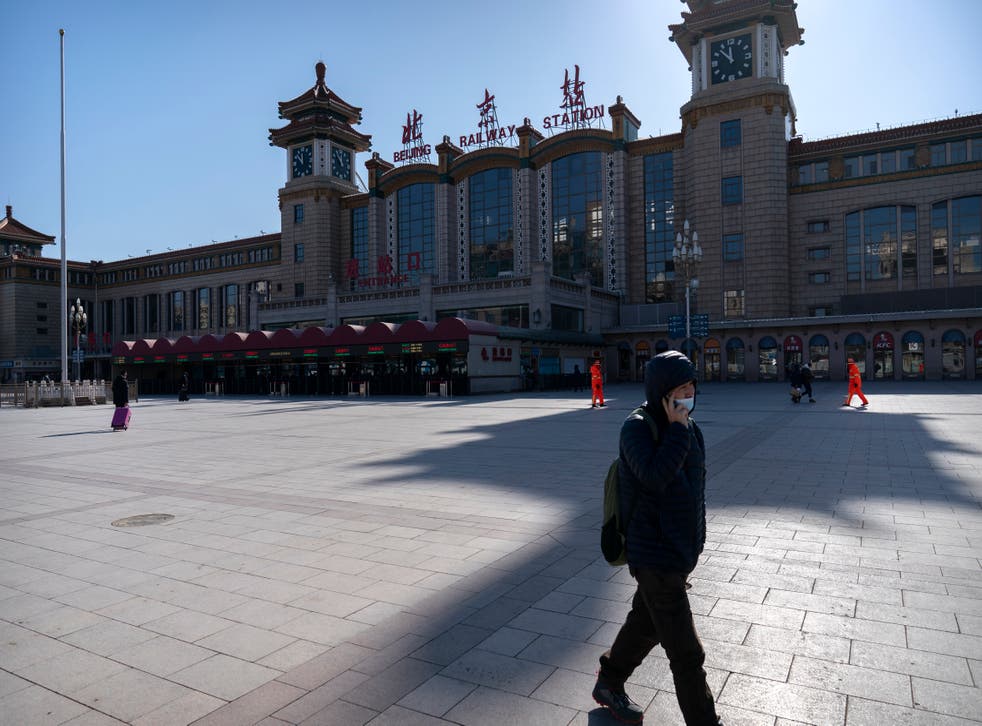 Here are the AP's latest coverage plans, top stories and promotable content. All Times EST. For up-to-the minute information on AP's coverage, visit Coverage Plan at https://newsroom.ap.org.
—————————-
TOP STORIES
—————————-
BIDEN-ECONOMY — President Joe Biden's $1.9 trillion COVID-19 relief package presents a first political test — of his new administration, of Democratic control of Congress and of the role of Republicans in a post-Trump political landscape. The immediate challenge is whether Biden will be able to muscle the package through Congress with bipartisan support or leave it to a party-line vote. By Lisa Mascaro. SENT: 970 words, photos
VIRUS OUTBREAK-CHINA-WHO MISSION — A World Health Organization team has emerged from quarantine in the Chinese city of Wuhan to start field work in a fact-finding mission on the origins of the virus that caused the COVID-19 pandemic. By Emily Wang Fujiyama. SENT: 530 words, photos. With VIRUS-OUTBREAK-THE-LATEST.
VIRUS-OUTBREAK-VACCINES-MINORITIES — The role that race should play in deciding who gets priority for the COVID-19 vaccine in the next phase of the rollout is being put to the test in Oregon as tensions around equity and access to the shots emerge nationwide. By Gillian Flaccus. SENT: 890 words, photos.
REPUBLICANS-TAYLOR GREENE — Republicans have a Marjorie Taylor Greene problem. Again. Before she joined Congress this month, Greene supported Facebook posts that advocated violence against leading Democrats and the FBI. While some Republicans condemned the activity, it was hardly a surprise. By Will Weissert and Brian Slodysko. SENT: 950 words, photo.
PAKISTAN-PEARL — Pakistan's Supreme Court orders the release of a Pakistani man convicted and later acquitted in the gruesome beheading of American journalist Daniel Pearl in 2002. The court also dismissed an appeal of Ahmad Saeed Omar Sheikh's acquittal by Pearl's family. SENT: 100 words, photo. UPCOMING: Developing, will be updated.
ISRAEL-POLITICS-ULTRA-ORTHODOX — As he seeks reelection, Prime Minister Benjamin Netanyahu has turned to a straightforward strategy: Count on the rock-solid support of his ultra-Orthodox political allies and stamp out the coronavirus pandemic with one of the world's most aggressive vaccination campaigns. By Josef Federman. SENT: 1,100 words, photos.
———————————————————————
WHAT WE'RE TALKING ABOUT
———————————————————————
VIRUS OUTBREAK-STRAHAN — AP sources: Michael Strahan tests positive for COVID-19. SENT: 150 words, photo.
INDIA-TIKTOK — Chinese app TikTok cuts jobs in India following ban. SENT: 200 words, photo.
FATAL-FIRE-ILLINOIS — Mother, four children killed in fire at suburban Chicago home. SENT: 250 words, photos.
————————————————————————
MORE ON THE VIRUS OUTBREAK
————————————————————————
VIRUS OUTBREAK-HOW VACCINES ARE MADE — With demand for COVID-19 vaccines outpacing the world's supplies, a frustrated public and policymakers want to know: How can we get a lot more, fast? By Medical Writer Lauran Neergaard. SENT: 1,150 words, photos.
VIRUS OUTBREAK-VIRAL QUESTIONS-VARIANTS — Many variants of the coronavirus are circulating around the world, but scientists are primarily concerned about three. SENT: 370 words, graphic.
VIRUS-OUTBREAK-ASIA — Efforts to dissuade Chinese from traveling for Lunar New Year appeared to be working as Beijing's main train station was largely quiet and estimates of passenger totals were smaller than in past years. SENT: 900 words, photos.
VIRUS-OUTBREAK-SRI-LANKA — Sri Lanka's president welcomes the first 500,000 doses of a COVID-19 vaccine from India, which has donated the shots to eight countries in the region. SENT: 290 words, photo.
VIRUS-OUTBREAK-VIETNAM — Vietnam reported 82 new coronavirus cases, hours after confirming the first two infections in nearly two months. SENT: 200 words, photo.
Find more coverage on the Virus Outbreak on the featured topic page in AP Newsroom.
—————————————————-
WASHINGTON/ POLITICS
——————————————————
REPUBLICANS-WYOMING — A nationwide fight for the GOP's future is getting fierce in Wyoming. House Republicans are expected to vote in the coming days on whether to oust congresswoman Liz Cheney from their third-ranking leadership post over her vote to impeach Trump. SENT: 1,080 words, photo.
BIDEN-EXECUTIVE ORDERS-EXPLAINER — Biden has already signed dozens of executive orders targeting policies of the last administration, but the governing tool often comes with fleeting impact. SENT: 1,070 words, photos.
BIDEN-SPACE FORCE — While Biden has quickly undone many initiatives by Donald Trump, Space Force seems likely to survive, even if the new administration pushes it lower on the list of defense priorities. By National Security Writer Robert Burns. SENT: 940 words, photo.
BIDEN-CLIMATE — In the most ambitious U.S. effort to stave off the worst of climate change, Biden signs executive orders to transform the nation's heavily fossil-fuel powered economy into a clean-burning one, pausing oil and gas leasing on federal land and targeting subsidies for those industries. SENT: 1,150 words, photos, video.
UNITED STATES-DIPLOMACY — The Biden administration pauses or puts under review a wide swath of Trump-era foreign policies as America's new top diplomat, Antony Blinken, takes the helm of the State Department. By Diplomatic Writer Matthew Lee. SENT: 990 words, photos, video. With BIDEN-ARMS CONTROL — Renewed U.S.-Russia nuke pact won't fix emerging arms threats.
CONGRESS-LEAHY — Vermont Democratic Sen. Patrick Leahy, 80, is stepping into what will be one of his most visible and physically grueling roles, presiding over Trump's second Senate impeachment trial. SENT: 930 words, photos.
———————————-
INTERNATIONAL
———————————-
THAILAND-BAR-ARRESTS — Police raided a party at a bar on a popular resort island in southern Thailand and arrested 89 foreigners for violating coronavirus regulations, officials say. SENT: 280 words, photos.
GLOBAL-CORRUPTION — Countries with the least corruption have been best positioned to weather the health and economic challenges of the coronavirus pandemic, according to a closely watched annual study released by an anti-graft organization. SENT: 600 words, photos.
HUNGARY-KOSHER-SLAUGHTERHOUSE — A kosher slaughterhouse in southern Hungary has increased its exports to Belgium since the European Union's highest court upheld a Flanders region law that prohibited slaughtering animals without first stunning them into unconsciousness. SENT: 930 words, photos.
AUSTRALIA-ISRAEL-EXTRADITION — A former teacher extradited from Israel after a six-year legal battle appeared in an Australian court to face child sex abuse charges. SENT: 410 words, photo.
————————
NATIONAL
————————
JEFFREY-EPSTEIN-ASSOCIATE — A British socialite criminally charged with aiding Jeffrey Epstein in his sexual abuse of teenage girls testified in 2016 that she had no memory of anything amiss on his properties in the 2000s despite the accusations from dozens of women and girls that they were sexually abused by Epstein. SENT: 570 words. UPCOMING: photo.
————————————-
BUSINESS/TECH
————————————-
FINANCIAL-MARKETS — Asian shares skidded as a reality check set in about longtime economic damage from the coronavirus pandemic, giving Wall Street its worst day since October. By Business Writer Yuri Kageyama. SENT: 900 words, photos.
APPLE-PRIVACY-SAFEGUARD — Apple says it will roll out a new privacy control in the spring to prevent iPhone apps from secretly shadowing people. By Technology Writer Michael Liedtke. SENT: 460 words, photo.
—————————————-
ENTERTAINMENT
——————————————
OBIT-CLORIS-LEACHMAN — Cloris Leachman, an Oscar-winner for her portrayal of a lonely housewife in "The Last Picture Show" and a comedic delight as the fearsome Frau Blücher in "Young Frankenstein" and self-absorbed neighbor Phyllis on "The Mary Tyler Moore Show," has died. She was 94. By Television Writer Lynn Elber. SENT: 1,100 words, photos. With OBIT-CLORIS-LEACHMAN-REACTIONS.
FILM-SUNDANCE-PANDEMIC — The pandemic has transformed the annual Sundance Film Festival into a largely virtual event, but it has also reshaped many of the films that will unspool there. By Film Writer Jake Coyle. SENT: 1,160 words, photos.
———————
SPORTS
———————-
AUSTRALIAN-OPEN-LET-THE-TENNIS-BEGIN — With a coronavirus-enforced quarantine coming to an end, the world's elite tennis players will go from two of the quietest weeks of their lives in Australia to three of the busiest. By Sports Writer Dennis Passa. SENT: 720 words, photos.
——————————————
HOW TO REACH US
—————————————-
At the Nerve Center, Jerome Minerva can be reached at 800-845-8450 (ext. 1600). For photos, Wally Santana (ext. 1900). For graphics and interactives (ext. 7636). Expanded AP content can be obtained from http://newsroom.ap.org. For access to AP Newsroom and other technical issues, contact apcustomersupport(at)ap.org or call 877-836-9477.
Register for free to continue reading
Registration is a free and easy way to support our truly independent journalism
By registering, you will also enjoy limited access to Premium articles, exclusive newsletters, commenting, and virtual events with our leading journalists
Already have an account? sign in
Register for free to continue reading
Registration is a free and easy way to support our truly independent journalism
By registering, you will also enjoy limited access to Premium articles, exclusive newsletters, commenting, and virtual events with our leading journalists
Already have an account? sign in