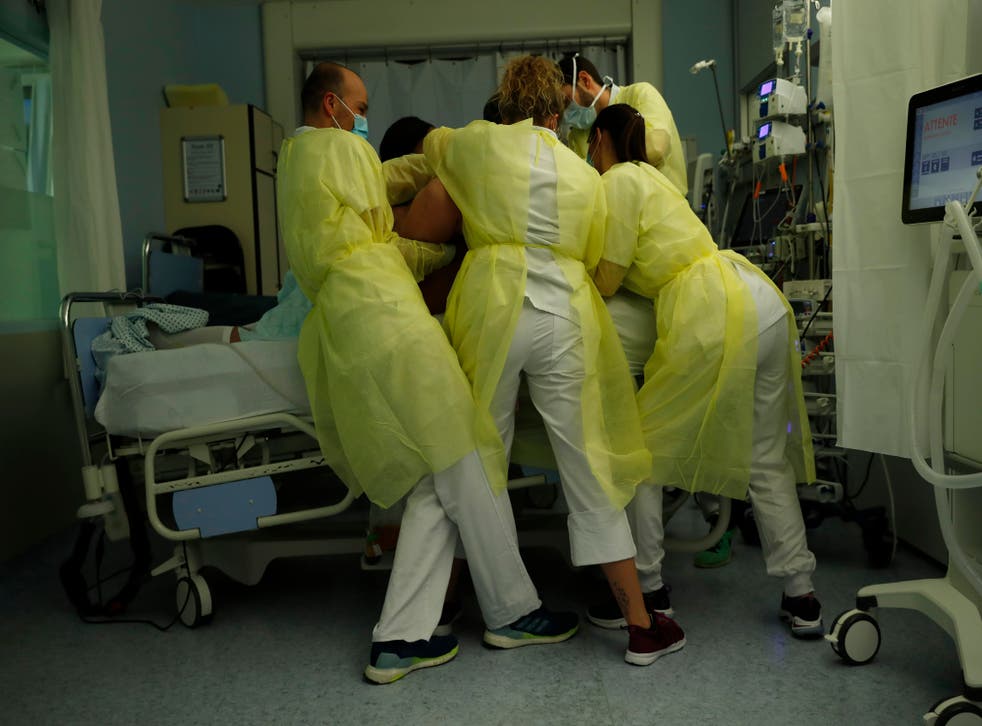 Here are the AP's latest coverage plans, top stories and promotable content. All Times EST. For up-to-the minute information on AP's coverage, visit Coverage Plan at https://newsroom ap.org.
______________
TOP STORIES
_____________
VIRUS-OUTBREAK — The first COVID-19 vaccinations are underway at U.S. nursing homes where the virus has killed more than 110,000 people, even as the nation struggles to contain a surge so alarming it has spurred California to dispense thousands of body bags and line up refrigerated morgue trucks. By Adam Geller and Terry Spencer. SENT: 980 words, photos. Also see VIRUS-OUTBREAK-VACCINE-SAFETY below.
VIRUS-OUTBREAK-RUSSIA-VACCINATION — While excitement and enthusiasm greeted the Western-developed coronavirus vaccine when it was rolled out, the Russian-made version has received a mixed response, with reports of empty Moscow clinics that offered the shot to health care workers and teachers — the first members of the public designated to receive it. Hope that the shot would reverse the course of the COVID-19 crisis has become mixed with wariness and skepticism, reflecting concerns about how it was rushed out while still in its late-stage testing to ensure its effectiveness and safety. By Daria Litvinova. SENT: 1,240 words, photos.
VIRUS-OUTBREAK-MIDEAST-VACCINES-INEQUALITY — Israel will begin rolling out a major coronavirus vaccination campaign next week after the prime minister reached out personally to the head of a major drug company. Millions of Palestinians living under Israeli control will have to wait much longer. Worldwide, rich nations are snatching up scarce supplies of new vaccines as poor countries largely rely on a World Health Organization program that has yet to get off the ground. By Joseph Krauss. SENT: 1,160 words, photo.
TUNISIA-ARAB SPRING-SELF-IMMOLATION — Hundreds of desperate Tunisians have set themselves on fire over the past 10 years in an act of protest, following the example of 26-year-old fruit seller Mohammed Bouazizi, whose self-immolation in 2010 led to the downfall of Tunisia's dictator of 23 years. Bouazizi's public suicide unleashed the Arab Spring uprisings and a decade of crackdowns and civil wars across the region. While Tunisia now has more civil liberties and freedom of expression, it is plagued by an ever-worsening economic crisis. And some Tunisians still turn to that form of suicide to call attention to police harassment, poverty or the lack of opportunity in the country. By Francesca Ebel. SENT: 1,110 words, photos.
RACIAL INJUSTICE-NO-KNOCK RAIDS — A group of activists are taking aim at police tactics that can lead to deadly middle-of-the-night raids they say are carried out overwhelmingly in communities of color. Rather than waiting for direction from lawmakers, the group called "Campaign Zero" has created model legislation they hope will be attractive to President-elect Joe Biden. By Claudia Lauer. UPCOMING: 990 words, photos by 6:30 a.m.
VIRUS OUTBREAK-CONGRESS — Congressional leaders appear to be on the brink of a COVID-19 economic aid package, but there's no deal yet. Agreement seems near on legislation that would extend help to individuals and businesses and ship coronavirus vaccines to millions. By Andrew Taylor. SENT: 1,090 words, photos.
_______________________________
WHAT WE'RE TALKING ABOUT
_______________________________
VIRUS OUTBREAK-INTERIOR SECRETARY — Interior chief latest official to test positive for virus. SENT: 80 words, photo.
BOOKS-BARACK OBAMA — Sales top 3 million for Barack Obama's "A Promised Land." SENT: 150 words, photo.
_________________________________
MORE ON THE VIRUS OUTBREAK
_________________________________
VIRUS OUTBREAK-ASIA-VACCINATION — The World Health Organization said that countries in the Asia-Pacific region are not guaranteed to have early access to COVID-19 shots and urged them to adopt a long-term approach to the pandemic. SENT: 350 words, photo.
VIRUS-OUTBREAK-VACCINE-SAFETY — As COVID-19 vaccinations roll out to more and more people, health authorities are keeping close watch for any unexpected side effects. By Medical Writer Lauran Neergaard. SENT: 930 words, photos, video.
VIRUS-OUTBREAK-EVICTIONS — States and cities that passed eviction moratoriums amid the coronavirus-battered economy are wrestling with what comes next. SENT: 950 words, photos.
VIRUS-OUTBREAK-ASIA — South Korea has added more than 1,000 infections to its coronavirus caseload for the second straight day amid growing fears that the virus is spreading out of control in the greater capital area. SENT: 1,090 words, photos. With VIRUS OUTBREAK-THE LATEST.
VIRUS OUTBREAK-CALIFORNIA — Two people are dying of COVID-19 every hour in California's most populous county as the state set daily records for newly reported cases and deaths and hospitals struggle to keep up with the surge of coronavirus patients. SENT: 700 words, photos. With VIRUS-OUTBREAK-CALIFORNIA-STRIP-CLUBS — California judge extends strip-club exemption from lockdown.
VIRUS OUTBREAK-LIVES LOST-SYRIAN DOCTOR — A doctor who perished from the coronavirus chose to stay, work in war-torn Syria. SENT: 890 words, photos.
VIRUS-OUTBREAK-VIRAL-QUESTIONS-VACCINES-KIDS — COVID-19 vaccinations have started in the U.S., but children won't be able to get them until there's enough study data showing the shots are safe and effective for younger ages as well. SENT: 300 words, graphic.
ONE-GOOD-THING-ESTONIA-STRAY-DOG — Estonians erect statue and give home to beloved stray dog. SENT: 600 words, photos.
Find more coverage on the Virus Outbreak on the featured topic page in AP Newsroom.
________________________
WASHINGTON/POLITICS
________________________
SENATE-GEORGIA — Vice President Mike Pence touches down in Georgia again for a pair of rallies to support incumbent Republican senators David Perdue and Kelly Loeffler ahead of runoff elections on Jan. 5 that will determine control of the U.S. Senate. SENT: 710 words, photos.
BIDEN-CLIMATE — Biden is picking experienced dealmakers and fighters to lead a climate team he'll ask to remake and clean up the nation's transportation and power-plant systems, and as quickly as politically possible. SENT: 950 words, photos. With BIDEN — Biden hails transportation nominee Buttigieg as "new voice."
OPIOID CRISIS-PURDUE — Members of the family who own OxyContin maker Purdue Pharma are scheduled to answer questions from a congressional panel about their role in the nation's long-running opioid addiction crisis. SENT: 540 words, photos. UPCOMING: 800 words after 9 a.m. hearing.
PAN AM 103-AIRLINE BOMBING — The Justice Department expects to unseal charges in the coming days in connection with the 1988 bombing of a Pan Am jet that exploded over Lockerbie, Scotland, killing 270 people. SENT: 430 words, photos.
_________________
INTERNATIONAL
________________
FIJI-CYCLONE — Fiji imposed a nationwide curfew after urging people near the coast to move to higher ground as the island nation prepared for a major cyclone to hit. SENT: 290 words, photos.
__________
NATIONAL
__________
WINTRY-WEATHER — Snow continued to fall during a key period in the coronavirus pandemic, days after the start of the U.S. vaccination campaign and in the thick of a virus surge that has throngs of people seeking tests daily. SENT: 370 words, photos. With WINTRY WEATHER-SNOW DAYS — Another casualty of 2020: The magic of the snow day.
————————————————
BUSINESS/TECH
————————————————-
FINANCIAL-MARKETS — Shares were mostly higher in Asia, buoyed by hopes the U.S. Congress may finally deliver fresh aid to help American businesses and families weather the pandemic. By Business Writer Elaine Kurtenbach. SENT: 820words, photos.
GOOGLE-TEXAS-LAWSUIT — Ten states brought a lawsuit against Google, accusing the search giant of "anti-competitive conduct" in the online advertising industry, including a deal to manipulate sales with rival Facebook. SENT: 740 words, photo.
——————
SCIENCE
——————
CHINA-MOON-PROBE — A Chinese lunar capsule returned to Earth with the first fresh rock samples from the moon in more than 40 years, offering the possibility of new insights into the history of the solar system and marking a new landmark for China's rapidly advancing space program. SENT: 980 words, photos.
——————————————
ARTS/ENTERTAINMENT
——————————————
BOOKS-SHIRLEY JACKSON — More than 50 years after her death, we still have not seen everything by Shirley Jackson. By National Writer Hillel Italie. SENT: 670 words.
————————
SPORTS
————————
SEC CHAMPIONSHIP-HEISMAN CANDIDATES — It's hard to imagine a much more meteoric rise to Heisman Trophy contender than that of Alabama quarterback Mac Jones, until considering the season Florida's Kyle Trask has had. By Sports Writer John Zenor. SENT: 700 words, photos.
BEIJING 2022-HUMAN RIGHTS — A coalition representing ethnic minorities in China is again accusing the International Olympic Committee of ignoring widespread human rights abuses as the country prepares to hold the 2022 Winter Olympics in Beijing. By Sports Writer Stephen Wade. SENT: 520 words, photos.
___________________
HOW TO REACH US
___________________
At the Nerve Center, Jerome Minerva can be reached at 800-845-8450 (ext. 1600). For photos, Shuji Kajiyama (ext. 1900). For graphics and interactives (ext. 7636). Expanded AP content can be obtained from http://newsroom.ap.org. For access to AP Newsroom and other technical issues, contact apcustomersupport(at)ap.org or call 877-836-9477.
Register for free to continue reading
Registration is a free and easy way to support our truly independent journalism
By registering, you will also enjoy limited access to Premium articles, exclusive newsletters, commenting, and virtual events with our leading journalists
Already have an account? sign in
Register for free to continue reading
Registration is a free and easy way to support our truly independent journalism
By registering, you will also enjoy limited access to Premium articles, exclusive newsletters, commenting, and virtual events with our leading journalists
Already have an account? sign in