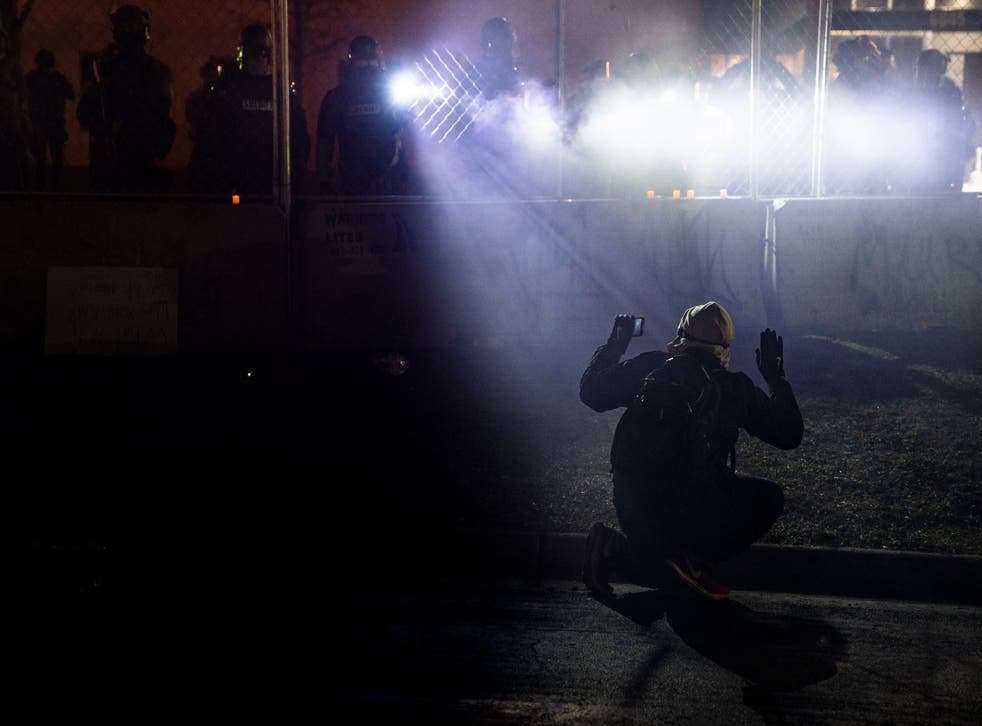 Here are the AP's latest coverage plans, top stories and promotable content. All times EDT. For up-to-the minute information on AP's coverage, visit Coverage Plan at https://newsroom.ap.org.
————————-
TOP STORIES
_____________
POLICE-SHOOTING-MINNESOTA — A white former police officer faced her first court appearance in the traffic-stop shooting of a Black motorist that has engulfed a small Minneapolis suburb with four straight days of bitter conflict between protesters and police. Kim Potter who quit her job on the Brooklyn Center force two days after Daunte Wright's death, was charged with second-degree manslaughter in what her chief said appeared to be a case of confusing her Taser with her handgun. By Scott Bauer and Mike Householder. SENT: 1,000 words, photos, video. With POLICE-SHOOTING-DAUNTE-WRIGHT — Daunte Wright, slain by police, known as jokester, young dad.
GEORGE-FLOYD-OFFICER-TRIAL — George Floyd died of a sudden heart rhythm disturbance as a result of his heart disease, a forensic pathologist testified for the defense at former Officer Derek Chauvin's murder trial, contradicting prosecution experts who said Floyd succumbed to a lack of oxygen from the way he was pinned down. By Amy Forliti, Steve Karnowski and Tammy Webber. SENT: 910 words, photos.
AFGHANISTAN-NEW-RULES-ANALYSIS — The Biden administration's surprise announcement of an unconditional troop withdrawal from Afghanistan by Sept. 11 appears to strip the Taliban and the Afghan government of considerable leverage and could ramp up pressure on them to reach a peace deal. By Kathy Gannon. SENT: 1,110 words, photos. With AUSTRALIA-AFGHANISTAN — Australia to withdraw last 80 troops from Afghanistan. Also see AFGHAN WAR-ANALYSIS below.
CAPITOL BREACH-SECURITY — The top watchdog for the Capitol Police will testify for the first time about the department's broad failures before and during the Jan. 6 insurrection, including missed intelligence predicting a "war" and weapons that were so old that officers didn't feel comfortable using them. By Mary Clare Jalonick. SENT: 1,080 words, photos. UPCOMING: 990 words after 1 p.m. hearing.
RUSSIA SANCTIONS — The Biden administration is preparing to announce new sanctions in response to a massive Russian hacking campaign that breached vital federal agencies, as well as for election interference. They would represent the first retaliatory action announced against the Kremlin for last year's hack, familiarly known as the SolarWinds breach. By Aamer Madhani and Eric Tucker. SENT: 500 words, photos.
VIRUS-OUTBREAK-INDIA — India reported more than 200,000 new coronavirus cases, skyrocketing past 14 million overall as an intensifying outbreak puts a grim weight on its fragile health care system. By Ashok Sharma. SENT: 400 words, photos. With VIRUS-OUTBREAK-THE-LATEST.
______________________________
WHAT WE'RE TALKING ABOUT
_______________________________
DUBAI-JETMAN-KILLED — Report: Dubai "jetman" didn't deploy chute in fatal crash. SENT: 450 words, photo.
NEW ZEALAND-COLORFUL COFFINS — Colorful coffins lighten mood at New Zealand funerals. SENT: 580 words, photos.
GOLD RUSH TOWN-NOOSE LOGO — California Gold Rush town to remove noose from city logo. SENT: 300 words, photo.
TEXANS-WATSON-LAWSUITS — First Texans quarterback accuser drops suit, citing privacy, security. SENT: 540 words, photos.
HIGH SCHOOL NAME-HANK AARON — Atlanta school replacing KKK leader's name with Hank Aaron's. SENT: 220 words, photo.
CDC-AIRLINES-MIDDLE SEATS — Study finds that blocking seats on planes reduces virus risk. SENT: 380 words, photo.
ILLEGAL-GAMBLING-RAIDS-SAN-DIEGO — Dozens of illegal gaming parlors raided in San Diego. SENT: 280 words.
NY PHILHARMONIC RETURNS — New York Philharmonic gives first concert with audience in 13 months. SENT: 700 words, photos.
_________________________________
MORE ON THE VIRUS OUTBREAK
_________________________________
VIRUS-OUTBREAK-VACCINES-HOMELESS — Homeless Americans who have been left off priority lists for coronavirus vaccinations — or even bumped aside as states shifted eligibility to older age groups — are finally getting their shots as vaccine supplies increase. By Medical Writer Carla K. Johnson. SENT: 1,230 words, photos.
VIRUS-OUTBREAK-THAILAND — An outbreak at nightspots in the Thai capital of Bangkok sends new infections surging, suggesting the country may have been lulled into a false sense of security before mass vaccinations begin. SENT: 1,030 words, photos.
VIRUS-OUTBREAK-CAMBODIA — Cambodia's leader ordered a strict stay-at-home two-week lockdown in the capital Phnom Penh to slow a surge in coronavirus cases, warning "we will die unless we act responsibly." SENT: 350 words, photos.
VIRUS-OUTBREAK-VIRAL-QUESTIONS-VACCINE-PASSPORTS — As more people get COVID-19 vaccines, efforts are under way to develop ways to show proof of vaccination or a negative coronavirus test. SENT: 310 words, graphic.
—————————————————-
WASHINGTON/POLITICS
—————————————————
AFGHAN WAR-ANALYSIS — Promising to end America's longest war, President Joe Biden is taking a calculated risk that extremists in Afghanistan can be countered by U.S. and partner forces elsewhere in the region — and that he won't become the president who underestimated the resilience and reach of extremists who still aim to attack the United States. By National Security Writer Robert Burns. SENT: 920 words, photos.
_________________
INTERNATIONAL
_________________
ALGERIA-PROTESTS-AT-CROSSROADS — Algeria's pro-democracy movement is at a crossroads two years after it ousted the country's long-serving leader, confronting fears it's been infiltrated by a group with links to an Islamist party outlawed during a dark era of strife in the 1990s. SENT: 820 words, photos.
RUSSIA-UKRAINE-TENSIONS-EXPLAINER — Tensions are rising over the conflict in eastern Ukraine, with growing violations of a cease-fire and a massive Russian military buildup near its border with the region. SENT: 840 words, photos.
CUBA-COMMUNIST-PARTY — This week's Communist Party congress could be the last with a Castro at the helm of Cuba's all-powerful political institution. SENT: 960 words, photos.
HONG-KONG — Beijing's top official in Hong Kong warned foreign forces not to interfere with the "bottom line" of national security in the city, threatening retaliation amid tensions between China and Western powers. SENT: 410 words, photos.
ONE-GOOD-THING–CYPRUS-BUFFER-ZONE — The endangered Mouflon sheep is one of many rare plant and animal species that have flourished inside a U.N. buffer zone that cuts across ethnically cleaved Cyprus. SENT: 810 words, photos.
____________
NATIONAL
____________
NEIGHBORHOOD-CONFRONTATION-VIDEO — A white Army non-commissioned officer depicted in a viral video accosting and shoving a Black man in a South Carolina neighborhood has been charged with third-degree assault. SENT: 790 words, photo.
FATAL-POLICE-SHOOTING-HOSPITAL — Officers conducting a routine pat-down of a man in a hospital emergency room found a gun in his waistband, spurring a struggle over the weapon and a standoff that ended in officers killing him, according to police body camera footage. SENT: 990 words, photos, videos.
CHICAGO POLICE-SHOOTING — Body camera footage of a Chicago police officer fatally shooting a 13-year-old boy last month will be released, the board that reviews such shootings says. SENT: 480 words, photo.
__________
BUSINESS/ECONOMY
__________
EXPLAINER-LESSONS-FROM-MADOFF — A look at federal regulators' actions to Bernie Madoff before his conduct became publicly known and afterward with an eye to prevention. By Business Writer Marcy Gordon. SENT: 830 words, photos.
FINANCIAL-MARKETS — Asian stock markets were mixed after Wall Street retreated from a record high as major banks reported strong profits. By Business Writer Joe McDonald. SENT: 440 words, photos.
——————————————-
ENTERTAINMENT
—————————————-
ITALY-GUCCI-RIDLEY-SCOTT-FILM — The great-grandchildren of Guccio Gucci, who founded the luxury fashion house that bears his name nearly a century ago in Florence, are appealing to filmmaker Ridley Scott to respect their family's legacy in a new film that focuses on a sensational murder. SENT: 680 words, photos.
——————
SPORTS
——————
INDIANS-WHITE-SOX — Carlos Rodón has thrown the second no-hitter of the young baseball season, losing his bid for a perfect game on a hit batter with one out in the ninth inning, and the Chicago White Sox cruised to an 8-0 victory over the Cleveland Indians. By Baseball Writer Jay Cohen. SENT: 1,090 words, photos.
TOKYO-MORE-PROBLEMS — Two top officials of Japan's ruling LDP party said radical changes could be coming to the Tokyo Olympics. SENT: 500 words, photos.
___________________
HOW TO REACH US
___________________
At the Nerve Center, Jerome Minerva can be reached at 800-845-8450 (ext. 1600). For photos, Shuji Kajiyama (ext. 1900). For graphics and interactives, ext. 7636. Expanded AP content can be obtained from http://newsroom.ap.org. For access to AP Newsroom and other technical issues, contact apcustomersupport(at)ap.org or call 877-836-9477.