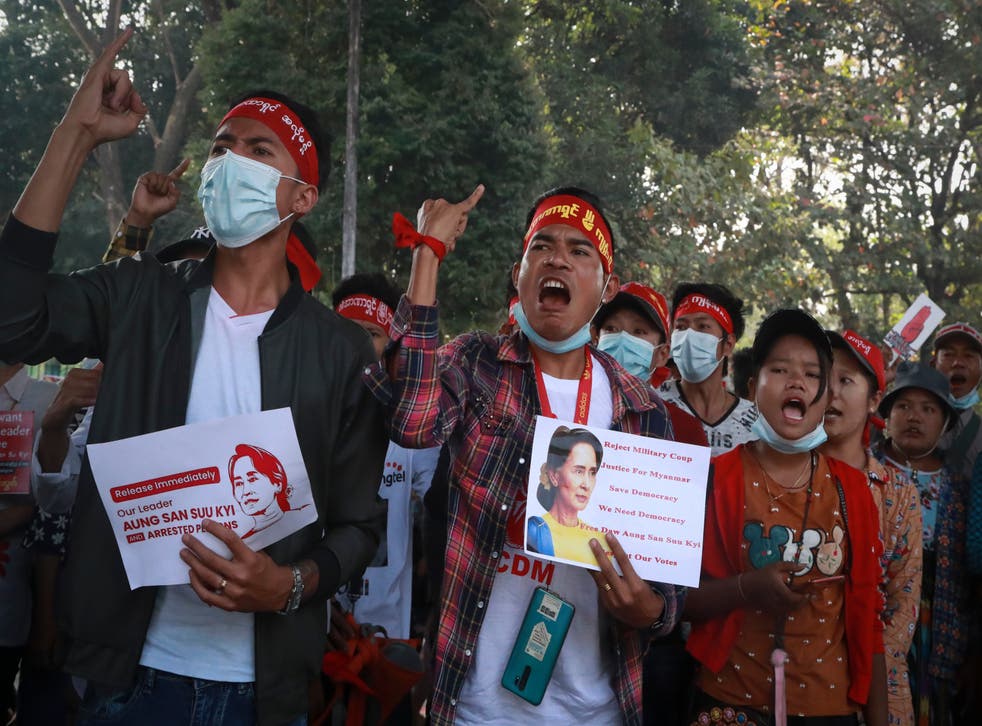 Here are the AP's latest coverage plans, top stories and promotable content. All Times EST. For up-to-the minute information on AP's coverage, visit Coverage Plan at https://newsroom.ap.org.
—————————-
NEW/DEVELOPING
—————————-
Adds: ARKANSAS-GOVERNOR-TRUMP; MILITARY-JET CRASH; SPAIN-PROTESTS; HOUSE MOVE-SAN FRANCISCO; YEMEN; WINTER WEATHER-ELECTRICITY PRICES-Q&A
_____________
TOP STORIES
_____________
WINTER WEATHER-TEXAS DEEPFREEZE — Two days before the storm began, Houston's chief elected official warned her constituents to prepare as they would for a major hurricane. But few foresaw the fiasco that was to come. They could not be prepared. As temperatures plunged and snow and ice whipped the state, much of Texas' power grid collapsed, followed by its water systems. Tens of millions huddled in frigid homes that slowly grew colder or fled for safety. Images of desperate Texans circulated worldwide. By Nooman Merchant. SENT: 2,180 words, photos An abridged version of 1,250 words is available. This is the Monday Spotlight
WINTER WEATHER — Hospitals across the southern United States grappled with ruptured water pipes and patient transfers as the region carried on with efforts to recover from the winter weather that paralyzed parts of the nation. By Juan Lozano, Jonathan Matisse and Adrian Sainz. SENT: 900 words, photos.
VIRUS OUTBREAK-APPROACHING 500K DEATHS — The U.S. stood Sunday at the brink of a once-unthinkable tally: 500,000 people lost to the coronavirus. A year into the pandemic, the running total of lives lost was about 498,000. The figure compiled by Johns Hopkins University surpasses the number of people who died in 2019 of chronic lower respiratory diseases, stroke, Alzheimer's, flu and pneumonia combined. By John Raby. SENT: 520 words, photo.
VIRUS OUTBREAK — One month into Joe Biden's presidency, the government is on a glide path to reach his initial goal of administering 100 million vaccine doses in his first 100 days in office. Now comes the far more ambitious and daunting mission of vaccinating all eligible adults against the coronavirus by the end of the summer. By Zeke Miller. SENT: 1,300 words, photos.
BIDEN-ATTORNEY-GENERAL — The last time Merrick Garland was nominated by the White House for a job, Republicans wouldn't even meet with him. Now, the once-snubbed Supreme Court pick will finally come before the Senate, this time as President Joe Biden's choice for attorney general. Garland, an appeals court judge, is widely expected to sail through his confirmation process, which begins Monday, with bipartisan support. Biden's nominee reflects his goal of restoring the department's reputation as an independent body. Donald Trump had insisted the attorney general must be loyal to him personally. By Michael Balsamo. SENT: 980 words, photos.
MYANMAR — A call for a Monday general strike by demonstrators in Myanmar protesting the military's Feb. 1 seizure of power has been met by the ruling junta with a thinly veiled threat to use lethal force, raising the possibility of major clashes. SENT: 900 words, photos.
VIRUS OUTBREAK-CHILD CAREGIVERS — Tennessee officials last month moved the families of medically vulnerable children up the vaccine priority list. Tennessee bumped them above critical infrastructure workers, grocery store employees and inmates. Other states offering similar eligibility include California, Oregon, Illinois, South Carolina and New Hampshire, but few make it as explicit. By Jonathan Mattise. SENT: 850 words, photos.
———————————————————————
WHAT WE'RE TALKING ABOUT
——————————————————————-
MILITARY-JET-CRASH — Air Force pilot, student killed in jet crash in Alabama. SENT: 240 words.
HOUSE MOVE-SAN FRANCISCO — 139-year-old house rolls to new San Francisco address. SENT: 160 words, photos.
AMERICAN LEGION-SHOOTING -- 1 dead, 4 injured in shooting at American Legion in Missouri. SENT: 200 words.
CYPRUS-FLAMINGOS-SALT LAKE LEAD — Cyprus activists: Hunters' lead pellets threaten flamingos. SENT: 530 words, photos.
PEOPLE-TRAVOLTA-HOME — John Travolta selling $5M oceanic mansion with 20 bedrooms. SENT: 220 words, photo.
_________________________________
MORE ON THE VIRUS OUTBREAK
_________________________________
VIRUS OUTBREAK-BRITAIN — The British government declared that every adult in the country should get a first coronavirus vaccine shot by July 31, at least a month earlier than its previous target, as it prepared to set out a "cautious" plan to ease the U.K.'s lockdown. SENT: 740 words, photos.
VIRUS OUTBREAK-CALIFORNIA VACCINE — California's new system of delivering, tracking and scheduling coronavirus vaccines is being rolled out in select counties, a first step in Gov. Gavin Newsom's plan to smooth out what has been a confusing and disjointed rollout hampered by limited national supply. SENT: 1,050 words, photos.
VIRUS-OUTBREAK-BLACK-MINISTERS — Health officials in the nation's capital are hoping religious leaders will serve as community influencers to overcome what officials say is a persistent vaccine reluctance in the Black community. "There's distrust … We can't ignore that," says one of the ministers recently vaccinated. SENT: 1,120 words, photos.
VIRUS OUTBREAK-ISRAEL — Forget about oil and arms. Coronavirus vaccines are emerging as the newest currency of choice in the Middle East. Israel's reopening of its economy, combined with a murky prisoner swap with Syria and the arrival of a batch of vaccines in the Gaza Strip, have all underscored how those with access to the vaccines have political power in the turbulent region. SENT: 900 words, photos.
VIRUS OUTBREAK-PALESTINIANS-VACCINES — A shipment of coronavirus vaccines arranged by a rival of President Mahmoud Abbas arrived in the Gaza Strip, giving a lift to the blockaded territory's vaccination efforts and embarrassing the Palestinian leader ahead of national elections. SENT: 580 words.
VIRUS OUTBREAK-SMALL BUSINESS-THE NEXT ACT — As the coronavirus outbreak forced businesses to shut permanently over the past year, owners have had to figure out what to do next. For some entrepreneurs, the answer lay in anticipating the next trend and creating a company to take advantage of it. SENT: 910 words, photos.
VIRUS-OUTBREAK-ITALY-ANNIVERSARY — With wreath-laying ceremonies, tree plantings and church services, Italians marked one year since their country experienced its first known COVID-19 death. Italy, with some 95,500 confirmed virus dead, has Europe's second-highest pandemic toll after Britain. SENT: 430 words, photos.
VIRUS-OUTBREAK-TUNISIA-MUSIC — When Dr. Mohamed Salah Siala began working on the COVID-19 front line in January in a Tunisian hospital he never imagined harnessing his music skills in the fight against the virus. Yet when the 25-year-old decided to get out his violin one day at Hedi Chaker Hospital in city of Sfax and play, he won praise for boosting the morale of virus sufferers who remained isolated and in need of joy. SENT: 520 words, photos.
Find more coverage on the Virus Outbreak on the featured topic page in AP Newsroom.
————————————
WASHINGTON/POLITICS
————————————
ARKANSAS-GOVERNOR-TRUMP — Arkansas' Republican governor is making clear he won't back Donald Trump if the former president runs for the White House in 2024. Asa Hutchinson says "it's time" to move on to different voices in the Republican Party. SENT: 450 words, photo.
_________________
INTERNATIONAL
_________________
SPAIN-PROTESTS — Protests in support of a jailed rapper have turned violent in Barcelona for a sixth consecutive night. Protesters mostly dressed in black have hurled stones and other objects at police officers standing guard outside the National Police headquarters in the center of the Spanish city. SENT: 200 words, photos.
IRAN-NUCLEAR — The head of the United Nations' nuclear watchdog says that Iran will begin offering its inspectors "less access" but will still allow the agency to monitor its atomic program. SENT: 770 words, photos.
YEMEN — The U.N. says Yemen's warring sides did not achieve progress in their latest round of negotiations over a prisoner swap. The talks started late last month in the Jordanian capital of Amman between representatives of the internationally recognized government and the Houthi rebels. SENT: 370 words.
NIGER-ELECTIONS — Deadly violence struck Niger's presidential elections when seven members of the National Electoral Commission were killed when their car hit an explosive device, the government announced. SENT: 590 words.
SUDAN — Sudan announced a managed flotation of its currency in an unprecedented but expected step to meet a major demand by international financial institutions to help transitional authorities overhaul the battered economy. SENT: 740 words, photo.
LIBYA — The interior minister of Libya's U.N.-backed government survived an ambush by gunmen on his motorcade, a brazen attack highlighting the towering challenges that remain for the newly appointed government that is trying to unite the country before elections late this year. SENT: 340 words, photo.
SOMALIA-UAE-TENSIONS — Two days after violence related to Somalia's delayed elections, the country's foreign ministry has accused "external forces" for contributing to the problems. Although no specific country was named, it was clear the statement was referring to the United Arab Emirates which had earlier criticized the violence. SENT: 430 words, photos.
ISRAEL-OIL SPILL — Israel closed all its Mediterranean beaches until further notice days after an offshore oil spill deposited tons of tar across more than 100 miles (160 kilometers) of coastline in what officials are calling one of the country's worst ecological disasters. SENT: 440 words, photos.
EMIRATES-ARMS-SHOW — In spite of the surging coronavirus pandemic, major arms makers descended on a convention center in Abu Dhabi, the capital of the United Arab Emirates, hoping to make deals with militaries across the Middle East. SENT: 840 words, photos.
—————-
BUSINESS
—————-
WINTER WEATHER-ELECTRICITY PRICES-Q&A — Some Texans are facing another crisis: Sky-high electricity bills. That's because those people opted to pay wholesale prices, which were are typically cheaper than fixed-rate prices, but surged after the storm. UPCOMING: 800 words, by 8 p.m., photo.
DATA BREACH-KROGER — Kroger Co. says personal data, including Social Security numbers of some of its pharmacy and clinic customers, may have been stolen in the hack of a third-party vendor's file-transfer service. SENT: 450 words, photo.
________
SPORTS
________
ON TENNIS-DJOKOVIC'S FOCUS— Didn't take long for Novak Djokovic to make his intentions clear: All that matters to him from here on out is catching Roger Federer and Rafael Nadal in the Grand Slam standings. Forget about winning other, run-of-the-mill tournaments or caring about staying ranked No. 1. Which is perfectly fine. There is no need for pretense. SENT: 750 words, photos.
___________________
HOW TO REACH US ___________________
At the Nerve Center, Mae Anderson can be reached at 800-845-8450 (ext. 1600). For photos, ext. 1900. For graphics and interactives, ext. 7636. Expanded AP content can be obtained from http://newsroom.ap.org. For access to AP Newsroom and other technical issues, contact apcustomersupport(at)ap.org or call 877-836-9477.